Open Access This article is
freely available
re-usable
Review
PTEN, Longevity and Age-Related Diseases
1
School of Applied Sciences, Auckland University of Technology, WS306, WS Building, City Campus, St Paul Street, Auckland 1010, New Zealand
2
School of Interprofessional Health Studies, Auckland University of Technology, AF Building, North Shore Campus, 90 Akoranga Drive, Auckland 0627, New Zealand
3
Institute for Applied Ecology New Zealand, Auckland University of Technology, WL Building, City Campus, St Paul Street, Auckland 1010, New Zealand
4
Institute of Biomedical Technology, Auckland University of Technology, WD Building, City Campus, St Paul Street, Auckland 1010, New Zealand
*
Author to whom correspondence should be addressed; Tel.: +64-9-921-9999 (ext. 7381); Fax: +64-9-921-9175.
Received: 4 November 2013; in revised form: 26 November 2013 / Accepted: 9 December 2013 / Published: 13 December 2013
Abstract
:
Since the discovery of PTEN, this protein has been shown to be an effective suppressor of cancer and a contributor to longevity. This report will review, in depth, the associations between PTEN and other molecules, its mutations and regulations in order to present how PTEN can be used to increase longevity. This report will collect recent research of PTEN and use this to discuss PTEN's role in caloric restriction, antioxidative defense of DNA-damage and the role it plays in suppressing tumors. The report will also discuss that variety of ways that PTEN can be compromised, through mutations, complete loss of alleles and its main antagonist, the PI3K/AKT pathway.
Keywords:
PTEN; aging; longevity; caloric; restriction; DNA; damage; gene
1. Introduction
The purpose of the report is to serve as a comprehensive review of the links that have been made between PTEN and the potential effects it may have on ageing. It will cover various issues such the regulators of PTEN, the regulatory effects of PTEN, its cellular functions, its associations with cancer and its direct effects on longevity in the effort to understand the many and varied pathways that PTEN is a part of, and how these intricate and integral pathways are key to effecting longevity. While Ponce de León's dream of a fountain of youth may be unobtainable as of yet, this report will show that extended longevity is highly possible.
With recent and current studies already being done on PTEN's effect on longevity, it is necessary to comprehend the basics of PTEN to be able to understand its role in the myriad pathways of the human cell. These pathways are interconnected and intertwined with many feedback loops, and finding the areas which can be exploited for the betterment of human ageing, whilst at the same time not compromising others to our detriment is a very exhaustive process and running a fine line. This is the reason for this report, to understand those fundamentals to be able to understand the grander picture.
2. PTEN Regulations
2.1. Regulates PTEN
2.1.2. Transcriptional Regulation
2.1.3. Post-Translational Regulation
By far the greatest number of regulatory effects on PTEN occurs post-translation, by the interaction of other proteins and chemicals on the PTEN protein. The various post-translation modifications that may regulate PTEN include phosphorylation, acetylation, oxidation and ubiquitination.
2.2. Regulated by PTEN
2.2.1. In the Cytoplasm
Of the various molecules that are regulated by PTEN, the most well documented is the phosphatidylinositol (3,4,5)-trisphosphate [PtdIns(3,4,5)P3]/Protein Kinase B pathway, otherwise referenced as the PIP3/AKT pathway, which PTEN antagonizes [
10
,
64
]. PTEN dephosphorylates PIP3 by removing the D3 phosphate from the inositol ring, resulting in PIP2 [
10
]. PIP3 is responsible for the recruitment of proteins containing pleckstrin homology domains to the cellular membranes, including the AKT isoforms and PDK1 as evidenced upon PTEN inhibition. The AKT pathway promotes cell survival and proliferation as will be discussed further on.
A study done by Vivanco
et al
. showed that the Jun-
N
-terminal Kinase (JNK) pathway to be activated upon PTEN loss, suggesting it is down-regulated by PTEN [
65
]. Further investigation led the authors to discover this was through the Phosphatidylinositide 3-kinase (PI3K) family of proteins of which PIP3 is a part. While PIP3, as mentioned above, is a well-known regulator of AKT, the activation of JNK was AKT independent. The exact process how PIP3 activates JNK is as yet unclear [
63
]. Xia
et al.
showed how JNK, through its upstream protein mitogen-activated protein kinase kinase-4 (MEKK4), down-regulates the transcription of PTEN by activating the transcription factor NFκB whereby it binds to the promoter sequence of PTEN [
63
]. This suggests a negative feedback loop between PTEN and JNK.
3. Cell Functions
The regulatory effects of PTEN are synonymous with its cellular functions as PTEN functions by affecting a variety of pathways. While the report above focused on the mechanics of PTEN regulations, the report below will focus on the effects of this and how it relates to longevity. In
Figure 1
, one can see the major functions of PTEN mapped out and how they relate to longevity. It is important to note that, while this section of the report deals with each variable individually, one can see in
Figure 1
that it is only through a handful of interactions that PTEN has the potential to increase longevity. This is because of the crucial link that the PI3K/AKT pathway have within the cellular system as will be discussed below.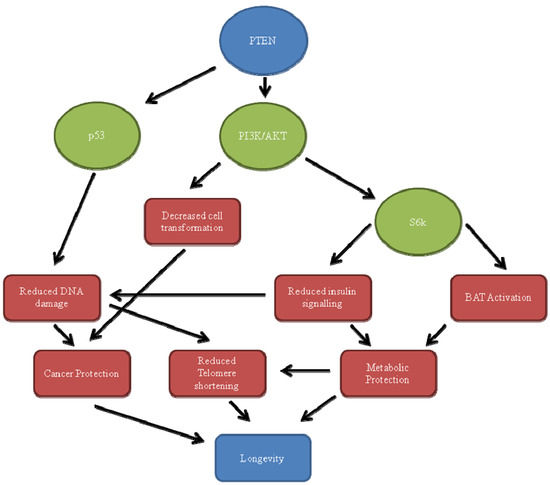 Figure 1. Mechanisms connecting PTEN with longevity. The major functions of PTEN can be seen here: Through down-regulation of the PI3K/AKT pathway (and thus S6K), there is a reduction in cellular transformation, insulin signaling and BAT activation resulting in cancer protection, metabolic protection and reduced telomere shortening. By up-regulating p53, DNA damage is reduced as well as telomere shortening. The result of these is an increased longevity.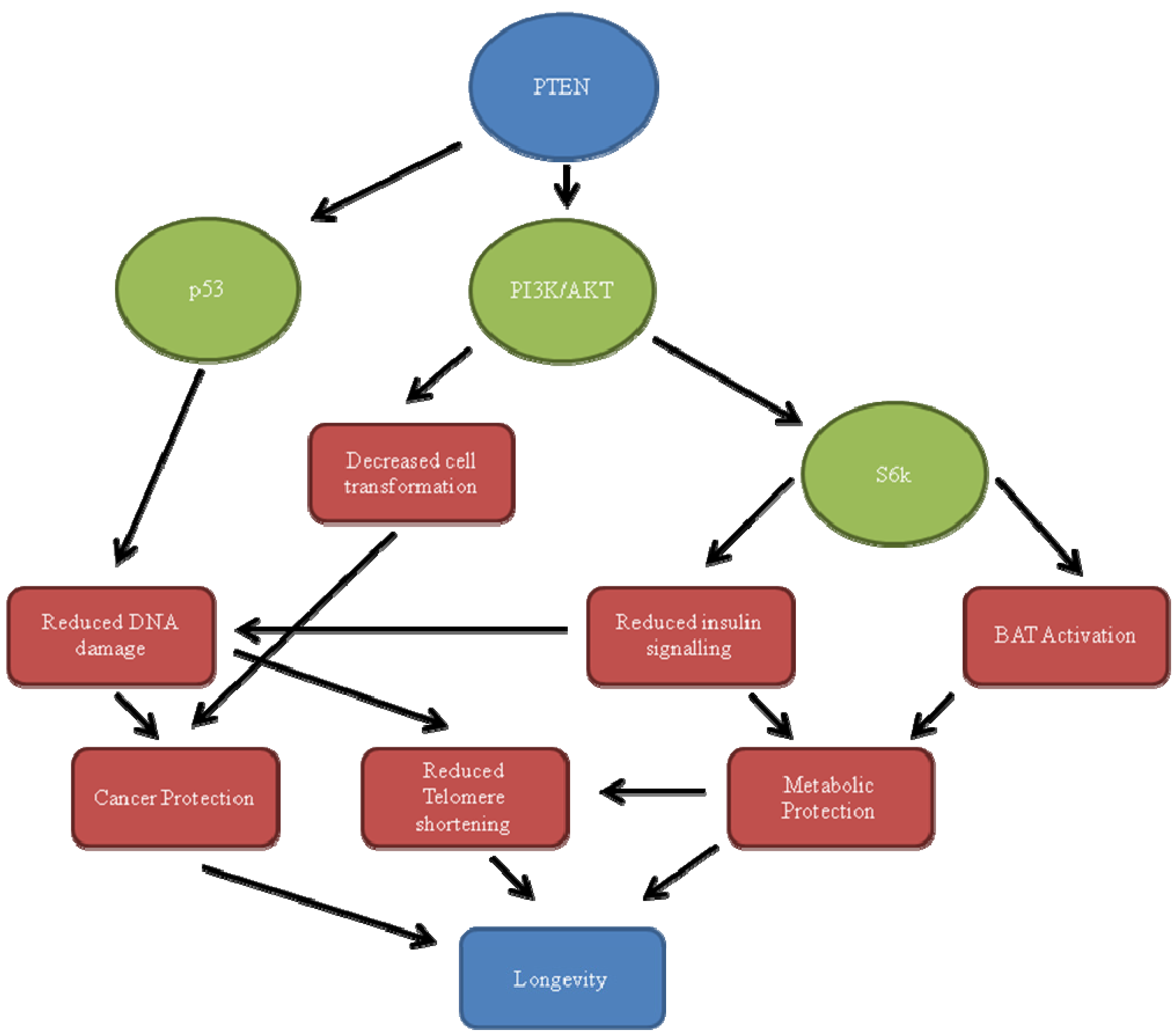 3.2. Membrane
Das
et al.
discovered, through the use of a fluorescent mutant version of PTEN, that PTEN is expressed at the plasma membrane [
99
]. This was in contrast to previous studies showing PTEN to be expressed only in the cytoplasm. More recent immunohistochemical studies have shown the distribution of PTEN various between tissues: in epithelial cells such as skin and colon, between is mostly found in the cytoplasm [
100
,
101
]; in neurons, fibroblasts, adrenal medulla and thyroid most PTEN is in the nucleus [
102
,
103
,
104
]; polarized MDCK cells show that PTEN localizes at the membrane in cell–cell tight junctions [
61
].
A possible explanation for the different localization patterns may involve the 50 amino, C2 domain, on the
C
-terminus of PTEN. As mentioned earlier, this region contains multiple residues for phosphorylation, such as by CK2 and also a PDZ-binding domain that can bind to MAGI2 [
61
,
99
], a protein localized at the cellular membrane. At the membrane, PTEN has been implicated to exert effects on the cytoskeleton and suppress cell migration [
105
]. This has been indicated by an increased migration in PTEN null embryonic fibroblasts. Elevated PIP3 in these cells activates Rac1 and Cdc42, small GTPase mediators of cellular migration [
106
]. Raftopoulou
et al.
showed that phosphorylation of the Thr383 residue on the C2 domain inhibited PTEN's effect on migration [
107
].
3.3. Nucleus
3.3.2. Nuclear Interactions
3.4. DNA Damage
If ageing can be described as the increase in entropy of life sustaining systems, then that increasing entropy is due in large part to the accumulation of damage to DNA. In this report, one has seen that PTEN is a crucial factor regarding longevity. It can aid in caloric restriction, preventing an abundance of the sources of ROS from entering the cell; it enhances p53's antioxidant capabilities, preventing the accumulation of ROS already in the cell; in a complex with p53 it helps repair DNA damage and through suppression of the PI3K/AKT and other pathways it prevents the emergence of tumors, malignant or otherwise. Through all these functions, PTEN promotes longevity. But one of, if not the key factor in longevity is DNA damage. Beyond the prevention of tumors, this prevents aberrant proteins and cells accumulating in tissues and further increasing the deterioration of the life sustaining systems.
3.5. Stem Cells
PTEN's effect on stem cells originates from its influence on the regulation of cell growth and proliferation through the inhibition of PIP3. Three studies [
81
,
143
,
144
] found that PTEN deficiency in neuronal stem cells provided a strong proliferative response and promoted a greatly enhanced self-renewal capacity. This enhanced self-renewal capacity was found to be due to PTEN not being present to arrest the G
0
–G
1
cell cycle and the decreased growth factor dependency of Pten null neural/stem progenitor cells. This was discovered through the deletion of PTEN in murine brains that led to macrocephaly (enlarged brains) and disturbing patterning of brain structures due to increased cell proliferation and decreased cell death. Follow up
ex vivo
experiments showed that PTEN loss dramatically increases total number of neurons in fetal brain and, more importantly, an increase in the number of neuronal stem cells capable of growth.
Zhang
et al.
found that deletion of PTEN in the murine hematopoietic system resulted in the depletion of current hematopoietic stem cells (HSCs) and increased the proliferation of leukemogenic stem cells [
145
]. The result of this was the mice developed myeloproliferative disorders which eventually led to leukemia. Yilmaz
et al.
in turn demonstrated that treating murine PTEN null cells with rapamycin, an mTOR inhibitor, blocked the growth of the leukemogenic stem cells and increased the proliferation of normal HSCs [
146
]. This strengthens the theory that PTEN's effect on stem cells arises through its regulation of the PIP3/AKT pathway.
3.6. Senescence/Apoptosis
3.7. Caloric Restriction
The importance of this to humans is twofold. Firstly, PTEN encourages calorie restriction which, through the decreased activity of the IIS axis and PI3K/AKT pathway, enhances longevity. Secondly, PTEN reduces insulin resistance, assists weight loss and lowers cholesterol, which when taken together means PTEN is crucial in the fight against diabetes, obesity and high blood pressure, again enhancing longevity.
4. Cancer Properties
There are two reasons that PTEN's association with cancer is presented below. The first and most obvious reason is that cancer prevention is a straightforward extension of one's longevity by preventing the possible mortality associated with cancer. While it has no effect on the genetic enhancement of longevity, it cannot be understated that prevention of an illness is key to extended longevity.
The second reason for its inclusion in this report is that PTEN's functions in relation to cancer are closely linked to its nucleic and cellular functions. Its inhibition of the PI3K/AKT pathway and its functions with p53 in DNA-damage are used for normally functional cells as well as often damaged and deteriorated cancer cells. It is by the inhibition of normal PTEN functions that malignant tumors may form.
4.1. Mutations
4.1.1. Complete Loss/Haploinsufficiency
4.1.2. Germline Mutations
Germline mutations of PTEN have mostly been found in hereditary, autosomal dominant cancer syndromes with shared characteristics such as developmental defects and disorders, neurological deficits, multiple benign hamartomas and an increased risk of cancers. The aberrant growth and hamartomas have been shown to penetrate all three germ layers [
180
], evident of a mutation in the germline.
These syndromes are Cowden syndrome, Lhermitte–Duclos disease, Bannayan–Riley–Ruvalcaba syndrome, and Proteus syndromes which collectively make up PTEN hamartoma tumor syndromes (PHTS) [
92
,
181
,
182
,
183
]. These have been associated with the deregulation of the PI3K/AKT pathway and PI3K inhibitors have been suggested as potential treatments [
184
]. Mice with PTEN mutations have been shown to be susceptible to tumors in various organs such as skin, prostate and mammary glands [
13
,
185
,
186
,
187
,
188
].
More recently, studies have reported
PTEN
germline mutations in patients with macrocephaly, mental retardation and autism spectrum disorders, while showing little to none of other PHTS symptoms [
189
]. These studies have shown that as many as 10% of cases involving autism spectrum disorders and macrocephaly had PTEN germline mutations [
190
]. While the connection between PTEN mutations and these neurological disorders remain unclear, much like PHTS, there have been associations made with the PI3K/AKT pathway.
4.1.3. Somatic Mutations
Somatic mutations of PTEN have been documented in a variety of cancers and tumors, both at early and advanced stages. These mutations can lead to several different results: either inactivation of PTEN's phosphatase activity through mutation on the
C
-terminal or partial or total loss of either mRNA and/or protein expression [
191
]. While typically a mutation is accompanied by loss of heterozygosity, resulting in the above mentioned possible haploinsufficiency, some tumors have appeared to evolve mechanisms to reduce concentration of PTEN without visible mutations of the gene [
109
].
Of note is that the frequency of PTEN mutation is nearly as great as that of p53 [
171
] and that both have been associated with total inactivation. Both have been putatively linked to stimulation of the PI3K/AKT pathway. With the closely linked activities of both genes in cancer suppression, cell cycle arrest and DNA-damage repair, it is unsurprising that both would be targeted for mutation.
PTEN mutations have also been studied in model organisms such as Drosophila where it alters cell size, proliferation, apoptosis and cell migration [
78
,
192
,
193
], much like in humans. However, tissue-specific PTEN mutation in mice revealed that, among several phenotypes, PTEN inactivation did not result in tumors but created an environment that selects for tumor growth. This is potentially linked with the above mentioned Cre recombinase experiments.
4.2. Regulatory Effects Causing Cancer
Unsurprisingly, the regulatory effects of/on PTEN implicated in cancer development will have close ties with the previous section on regulation of PTEN. This is because, as PTEN is a tumor suppressor, its effects on tumors are only observed once it becomes inactive or down-regulated. While the earlier section focused on the mechanisms of regulation, this section will focus on the effects.
While the exact mechanisms and causes are as of yet unclear, it can be suggested that the nuclear co-operation between PTEN and p53 in regards to DNA-damage may be significant. These two genes can arrest the cell cycle, leading to senescence and can initiated DSB repair of damaged DNA as well as other antioxidant effects through downstream effectors of p53. The antioxidant properties can prevent damage occurring to DNA; DNA repair mechanisms can repair any damage that does occur, and if these fail, the cell cycle can be arrested to induce senescence. All of those are working to prevent the formation of tumors.
As well as the nuclear functions regarding p53 described above, the suppression of PTEN would obviously lead to the unregulated behavior of the PI3K/AKT pathway leading to uncontrolled proliferation and cell growth. This would result in the proliferation of cells containing, potentially, deleterious segments of DNA, which may result in tumors.
5. Conclusions
To sum up a lengthy report: PTEN has significant implications for extending human longevity through its actions on DNA-damage reduction, antioxidant activity, caloric restriction, inhibition of replication and tumor suppression. The importance cannot be overstated as PTEN overexpression can assist a variety of maladies including weight-related diseases such as diabetes to age-related diseases such as Alzheimer's and Parkinson's. Its function as a tumor suppressor can maintain an anguish-free life. It is because of this variety and necessity of function that PTEN is a vital subject for further research.
Through studies done on invertebrates [
160
,
161
,
162
] and on mammals [
4
] we have seen that the application of this knowledge is successful, that PTEN's effect on longevity is not merely theoretical but practical. That PTEN can enhance longevity is no longer questionable, but neither is it irrefutable. Before any final concluding statements can be made, human trials with PTEN transfection must first be done. The authors of this study are currently working on cell culture trials, which is only the first step.
PTEN alone cannot extend longevity indefinitely, however, Ortega-Molina
et al.
[
4
] found only a 9%–16% increase in longevity, and while this is a significant milestone, this is hardly the fountain of youth that Ponce de León dreamt of. This is not to say that such a dream may not happen, merely that PTEN alone would not accomplish it. Jaskelioff
et al.
presented findings that telomerase can reverse tissue damage in aged mice [
14
]. This rejuvenative quality bodes well as a potential partner for PTEN, and its most important feature, that of telomere extension, could potentially extend longevity as long as needed. PTEN is well suited as a partner for telomerase due to its tumor suppressive quality. This is because of two reasons. Telomerase have been commonly associated with cancer and a tumor suppressor may prevent this. However, more importantly, the longer one lives, the probability of having cancer increases. It is PTEN's tumor suppressive quality that sets it apart from other recent studied genes such as
SIRT1
.
The variety of genes, proteins and enzymes being studied today show how the interconnectivity of the human system also necessitates a complex solution to longevity. Whether this is achieved through the main pathways of telomerase, SIRT1, PTEN or others remains to be seen. What must be done now is testing, and further testing, until an answer is found. With the importance of such work, it deserves no less. While human trials oblige a lengthy testing time, it is an inevitable obstacle that must be overcome if Pons de León's dream is to be fulfilled.
Acknowledgments
The author would like to thank the School of Applied Sciences and the Faculty of Health and Environmental Sciences, Auckland University of Technology for financial support of this project.
Conflicts of Interest
The authors declare no conflict of interest.
© 2013 by the authors. licensee MDPI, Basel, Switzerland. This article is an open access article distributed under the terms and conditions of the Creative Commons Attribution license ( http://creativecommons.org/licenses/by/3.0/).