Comparative Proteomics Analysis of Urine Reveals Down-Regulation of Acute Phase Response Signaling and LXR/RXR Activation Pathways in Prostate Cancer
1
Research Centre for Genetic Engineering and Biotechnology "Georgi D Efremov", Macedonian Academy of Sciences and Arts, Skopje, Krste Misirkov 2, 1000 Skopje, Macedonia
2
University Clinic for Urology, University Clinical Centre "Mother Theresa", 1000 Skopje, Macedonia
3
Institute of Pathology, Medical Faculty, University "St. Cyril and Methodius", 1000 Skopje, Macedonia
*
Author to whom correspondence should be addressed.
Received: 15 November 2017 / Revised: 22 December 2017 / Accepted: 25 December 2017 / Published: 29 December 2017
Abstract
Detecting prostate cancer (PCa) using non-invasive diagnostic markers still remains a challenge. The aim of this study was the identification of urine proteins that are sufficiently sensitive and specific to detect PCa in the early stages. Comparative proteomics profiling of urine from patients with PCa, benign prostate hyperplasia, bladder cancer, and renal cancer, coupled with bioinformatics analysis, were performed. Statistically significant difference in abundance showed 20 and 85 proteins in the 2-D DIGE/MS and label-free LC-MS/MS experiments, respectively. In silico analysis indicated activation, binding, and cell movement of subset of immune cells as the top affected cellular functions in PCa, together with the down-regulation of Acute Phase Response Signaling and Liver X Receptor/ Retinoid X Receptor (LXR/RXR) activation pathways. The most promising biomarkers were 35, altered in PCa when compared to more than one group. Half of these have confirmed localization in normal or PCa tissues. Twenty proteins (CD14, AHSG, ENO1, ANXA1, CLU, COL6A1, C3, FGA, FGG, HPX, PTGDS, S100A9, LMAN2, ITIH4, ACTA2, GRN, HBB, PEBP1, CTSB, SPP1) are oncogenes, tumor suppressors, and multifunctional proteins with highly confirmed involvement in PCa, while 9 (AZU1, IGHG1, RNASE2, PZP, REG1A, AMY1A, AMY2A, ACTG2, COL18A1) have been associated with different cancers, but not with PCa so far, and may represent novel findings. LC-MS/MS data are available via ProteomeXchange with identifier PXD008407.
View Full-Text
►

▼

Figures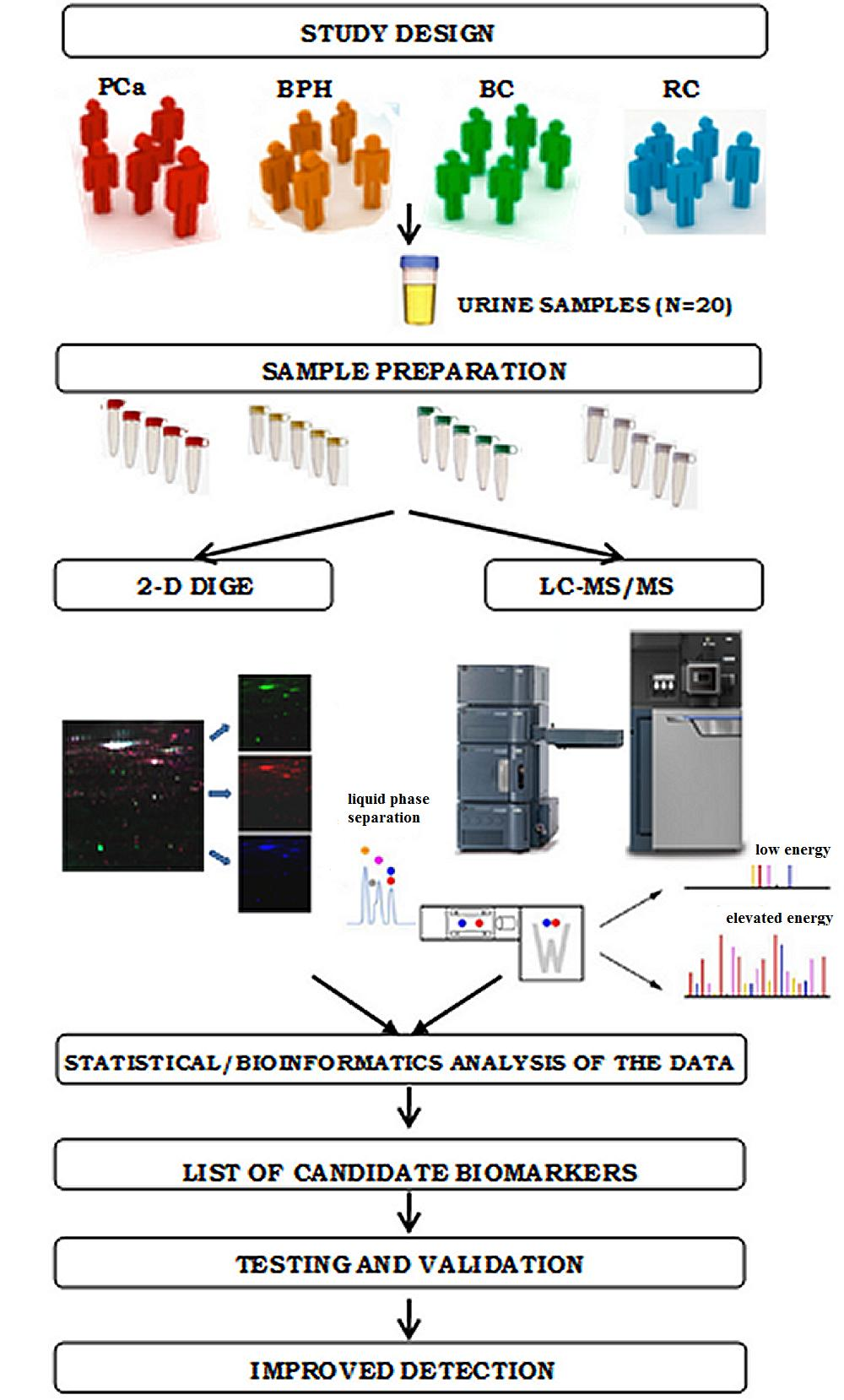 This is an open access article distributed under the
Creative Commons Attribution License
which permits unrestricted use, distribution, and reproduction in any medium, provided the original work is properly cited. (CC BY 4.0).
Share & Cite This Article
MDPI and ACS Style
Davalieva, K.; Kiprijanovska, S.; Maleva Kostovska, I.; Stavridis, S.; Stankov, O.; Komina, S.; Petrusevska, G.; Polenakovic, M. Comparative Proteomics Analysis of Urine Reveals Down-Regulation of Acute Phase Response Signaling and LXR/RXR Activation Pathways in Prostate Cancer. Proteomes 2018, 6, 1.
Note that from the first issue of 2016, MDPI journals use article numbers instead of page numbers. See further details here.
Related Articles
Comments
[Return to top]