Identification of Biomarkers for Resistance to Fusarium oxysporum f. sp. cubense Infection and in Silico Studies in Musa paradisiaca Cultivar Puttabale through Proteomic Approach
1
Department of Post-Graduate Studies and Research in Biotechnology and Bioinformatics, Kuvempu University, Shankaraghatta 577 451, India
2
Department of Biotechnology Engineering, M S Ramaiah Institute of Technology, Bangalore 560 054, Karnataka, India
3
Department of Studies in Biotechnology, University of Mysore, Manasagangotri, Mysore 570 006, India
†
Present address: Department of Biochemistry, Indian Institute of Science, Bangalore 560 012, India
*
Author to whom correspondence should be addressed.
Academic Editors: Ganesh Kumar Agrawal, Sun Tae Kim and Randeep Rakwal
Received: 23 December 2015 / Revised: 12 February 2016 / Accepted: 17 February 2016 / Published: 24 February 2016
Abstract
Panama wilt caused by
Fusarium oxysporum
f. sp.
cubense
(Foc) is one of the major disease constraints of banana production. Previously, we reported the disease resistance
Musa paradisiaca cv.
puttabale clones developed from Ethylmethanesulfonate and Foc culture filtrate against Foc inoculation. Here, the same resistant clones and susceptible clones were used for the study of protein accumulation against Foc inoculation by two-dimensional gel electrophoresis (2-DE), their expression pattern and an
in silico
approach. The present investigation revealed mass-spectrometry identified 16 proteins that were over accumulated and 5 proteins that were under accumulated as compared to the control. The polyphosphoinositide binding protein ssh2p (PBPssh2p) and Indoleacetic acid-induced-like (IAA) protein showed significant up-regulation and down-regulation. The docking of the pathogenesis-related protein (PR) with the fungal protein endopolygalacturonase (PG) exemplify the three ionic interactions and seven hydrophobic residues that tends to good interaction at the active site of PG with free energy of assembly dissociation (1.5 kcal/mol). The protein-ligand docking of the Peptide methionine sulfoxide reductase chloroplastic-like protein (PMSRc) with the ligand β-1,3 glucan showed minimum binding energy (−6.48 kcal/mol) and docking energy (−8.2 kcal/mol) with an interaction of nine amino-acid residues. These explorations accelerate the research in designing the host pathogen interaction studies for the better management of diseases.
View Full-Text
►

▼

Figures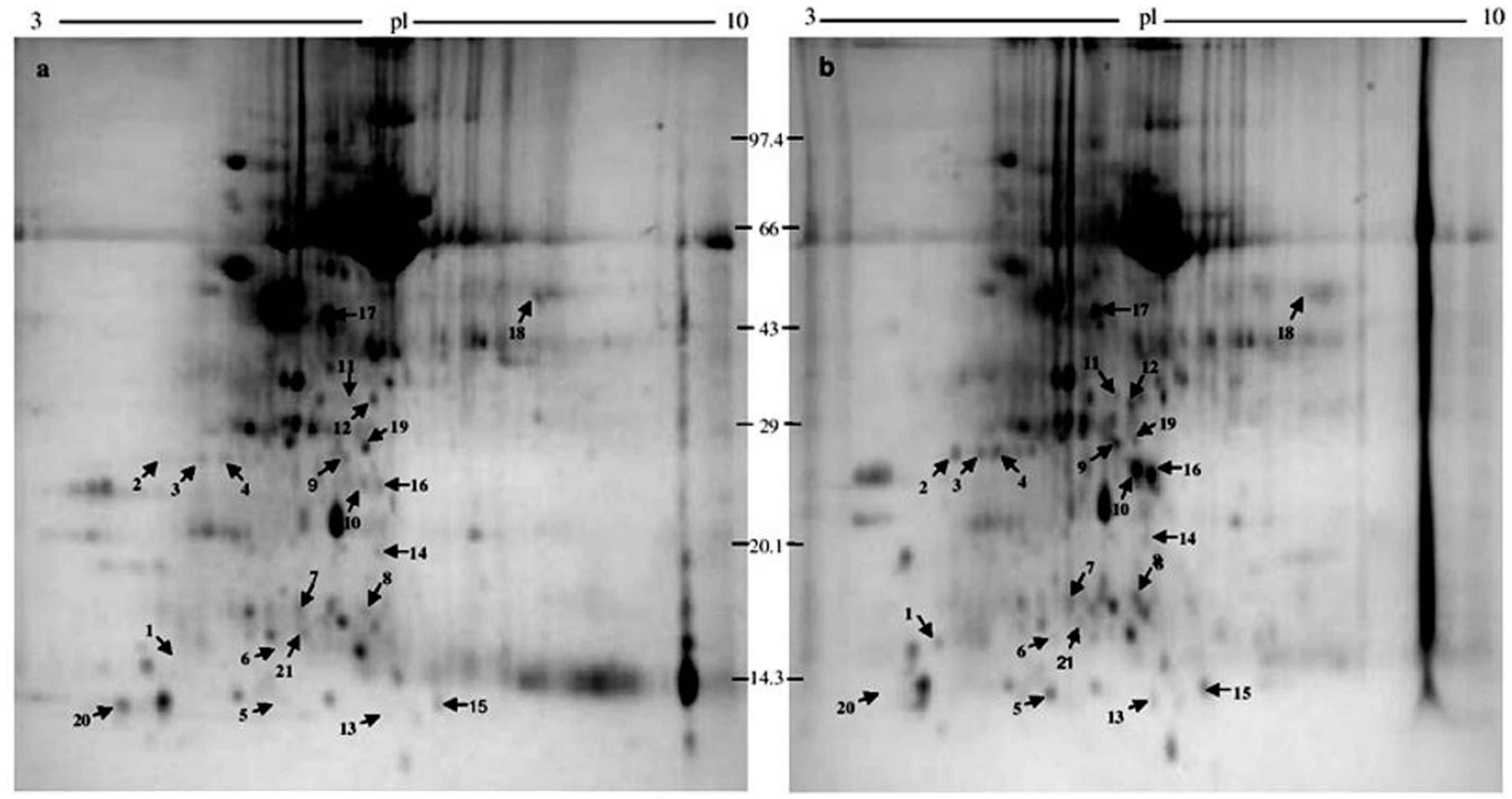 Figure 1
This is an open access article distributed under the
Creative Commons Attribution License
which permits unrestricted use, distribution, and reproduction in any medium, provided the original work is properly cited. (CC BY 4.0).
Share & Cite This Article
MDPI and ACS Style
Ramu, V.; Venkatarangaiah, K.; Krishnappa, P.; Shimoga Rajanna, S.K.; Deeplanaik, N.; Chandra Pal, A.; Kini, K.R. Identification of Biomarkers for Resistance to Fusarium oxysporum f. sp. cubense Infection and in Silico Studies in Musa paradisiaca Cultivar Puttabale through Proteomic Approach. Proteomes 2016, 4, 9.
Note that from the first issue of 2016, MDPI journals use article numbers instead of page numbers. See further details here.
Related Articles
Comments
[Return to top]