Separation, Identification, and Antidiabetic Activity of Catechin Isolated from Arbutus unedo L. Plant Roots
1
Faculty of Medicine and Pharmacy, Laboratory of Pharmacology and Toxicology, Pharmacokinetics Team, Mohammed V University in Rabat, Rabat Institute, Rabat BP 6203, Morocco
2
Department of Pharmacy, Faculty of Medicine and Health Sciences, An-Najah National University, P.O. Box 7, 00970 Nablus, Palestine
3
Laboratory of Applied Organic Chemistry, Faculty of Science and Technology, Sidi Mohamed Ben Abdellah University, Immouzer Road, 30050 Fez, Morocco
4
Laboratory of Medicinal and Aromatic Plants and Natural Substances, National Institute of Medicinal and Aromatic Plants-Taounate, Sidi Mohamed Ben Abdellah University, 30050 Fez, Morocco
5
Department of Chemistry, An-Najah National University, P.O. Box 7, 00970 Nablus, Palestine
6
Physical Science Department, Harold Washington College, 10 E. Lake Street, Chicago, IL 60601, USA
*
Authors to whom correspondence should be addressed.
Received: 10 March 2018 / Revised: 4 April 2018 / Accepted: 9 April 2018 / Published: 12 April 2018
Abstract
Phytopharmaceuticals play an essential role in medicine, since the need to investigate highly effective and safe drugs for the treatment of diabetes mellitus disease remains a significant challenge for modern medicine.
Arbutus unedo
L. root has various therapeutic properties, and has been used widely in the traditional medicine as an antidiabetic agent. The current study aimed to isolate the pharmacologically active compound from
A. unedo
roots using accelerated solvent extraction technology, to determine its chemical structure using different instrumental analytical methods, and also to evaluate the α-glucosidase inhibitory activity. The roots of
A. unedo
were exhaustively extracted by high-pressure static extraction using the Zippertex
®
technology (Dionex-ASE, Paris, France), and the extract was mixed with XAD-16 resin to reach quantifiable amounts of active compounds which were identified by high-pressure liquid chromatography (HPLC),
1
H NMR (300 MHz), and
13
C NMR. The antidiabetic activity of the isolated compound was evaluated using the α-glucosidase inhibitory assay. The active compound was isolated, and its structure was identified as catechin using instrumental analysis.The results revealed that the isolated compound has potential α-glucosidase inhibitory activity with an IC
50
value of 87.55 ± 2.23 μg/mL greater than acarbose. This was used as a positive control, which has an IC
50
value of 199.53 ± 1.12 μg/mL. According to the results achieved, the roots of
A. unedo
were considered the best source of catechin and the Zippertex
®
technology method of extraction is the best method for isolation of this therapeutic active compound. In addition, the α-glucosidase inhibitory activity results confirmed the traditional use of
A. unedo
roots as an antidiabetic agent. Future clinical trials and investigations of antidiabetic and other pharmacological effects such as anticancer are required.
View Full-Text
►

▼

Figures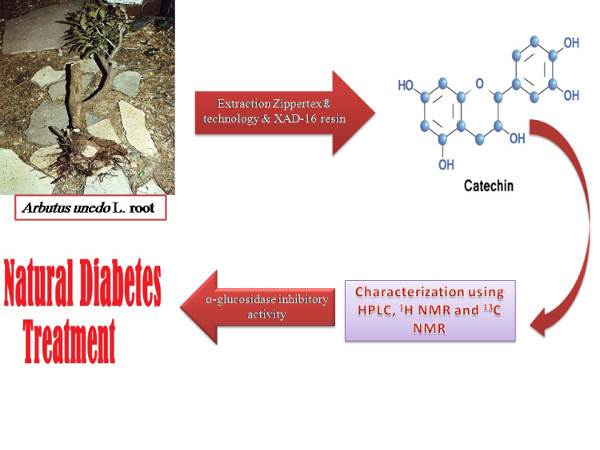 This is an open access article distributed under the
Creative Commons Attribution License
which permits unrestricted use, distribution, and reproduction in any medium, provided the original work is properly cited. (CC BY 4.0).
Share & Cite This Article
MDPI and ACS Style
Mrabti, H.N.; Jaradat, N.; Fichtali, I.; Ouedrhiri, W.; Jodeh, S.; Ayesh, S.; Cherrah, Y.; Faouzi, M.E.A. Separation, Identification, and Antidiabetic Activity of Catechin Isolated from Arbutus unedo L. Plant Roots. Plants 2018, 7, 31.
Note that from the first issue of 2016, MDPI journals use article numbers instead of page numbers. See further details here.
Related Articles
Comments
[Return to top]