The Leaf Adaxial-Abaxial Boundary and Lamina Growth
National Institute for Basic Biology, Nishigo-naka 38, Myodaiji, Okazaki, Aichi 444-8585, Japan
*
Authors to whom correspondence should be addressed.
Received: 6 February 2013 / Revised: 4 March 2013 / Accepted: 14 March 2013 / Published: 26 March 2013
Abstract
In multicellular organisms, boundaries have a role in preventing the intermingling of two different cell populations and in organizing the morphogenesis of organs and the entire organism. Plant leaves have two different cell populations, the adaxial (or upper) and abaxial (or lower) cell populations, and the boundary is considered to be important for lamina growth. At the boundary between the adaxial and abaxial epidermis, corresponding to the margin, margin-specific structures are developed and structurally separate the adaxial and abaxial epidermis from each other. The adaxial and abaxial cells are determined by the adaxial and abaxial regulatory genes (including transcription factors and small RNAs), respectively. Among many lamina-growth regulators identified by recent genetic analyses, it has been revealed that the phytohormone, auxin, and the WOX family transcription factors act at the adaxial-abaxial boundary downstream of the adaxial-abaxial pattern. Furthermore, mutant analyses of the
WOX
genes shed light on the role of the adaxial-abaxial boundary in preventing the mixing of the adaxial and abaxial features during lamina growth. In this review, we highlight the recent studies on the dual role of the adaxial-abaxial boundary.
View Full-Text
►

▼

Figures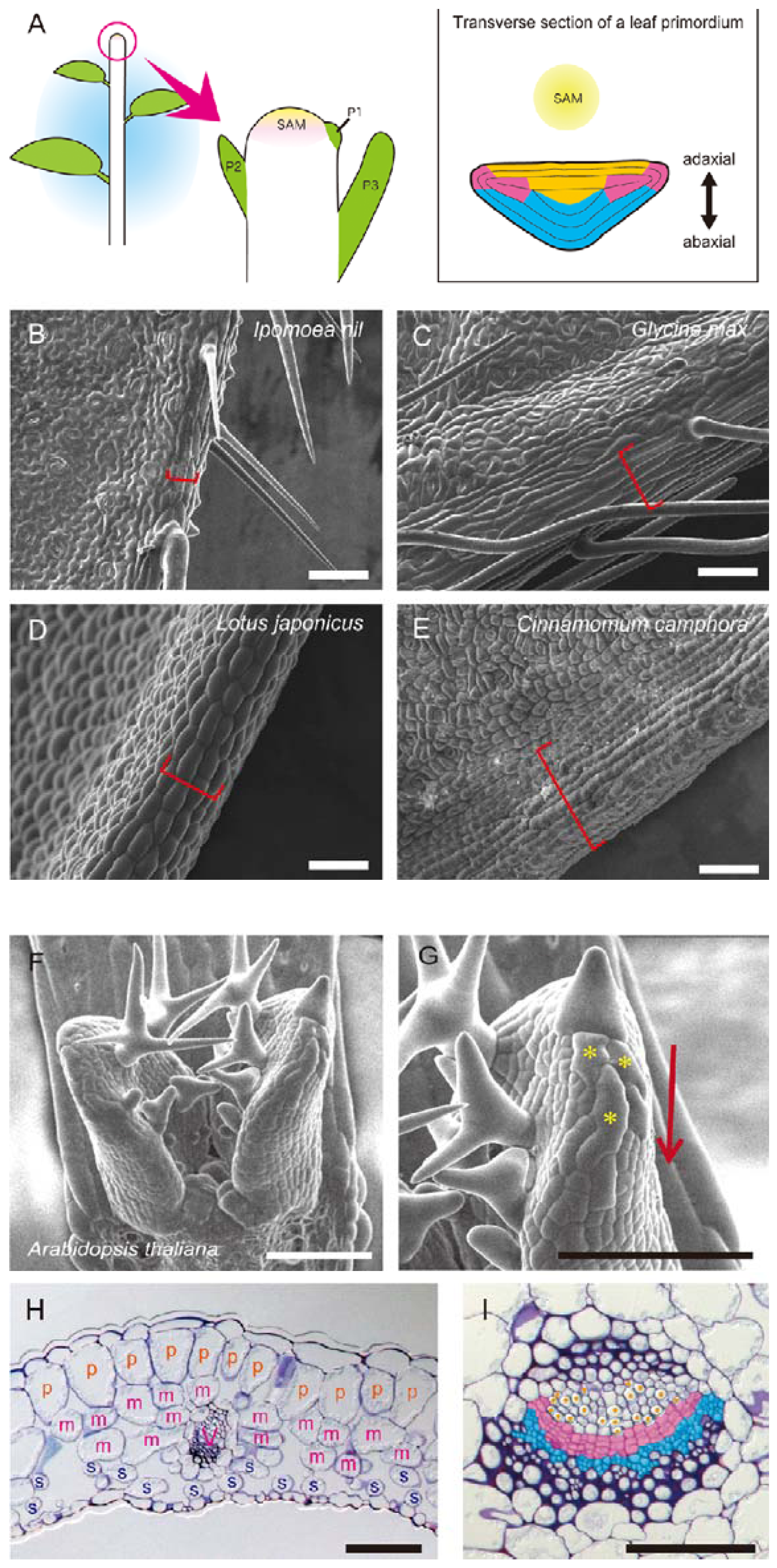 Figure 1
Share & Cite This Article
MDPI and ACS Style
Nakata, M.; Okada, K. The Leaf Adaxial-Abaxial Boundary and Lamina Growth. Plants 2013, 2, 174-202.
Related Articles
Comments
[Return to top]