m1A Post‐Transcriptional Modification in tRNAs
Institut de Biologie Physico‐chimique (IBPC), CNRS, UMR 8261 CNRS/Université Paris Diderot, 13 rue Pierre et Marie Curie, Paris 75005, France
*
Author to whom correspondence should be addressed.
Received: 16 January 2017 / Accepted: 16 February 2017 / Published: 21 February 2017
Abstract
To date, about 90 post‐transcriptional modifications have been reported in tRNA expanding their chemical and functional diversity. Methylation is the most frequent post‐transcriptional tRNA modification that can occur on almost all nitrogen sites of the nucleobases, on the C5 atom of pyrimidines, on the C2 and C8 atoms of adenosine and, additionally, on the oxygen of the ribose 2′-OH. The methylation on the N1 atom of adenosine to form 1‐methyladenosine (m1A) has been identified at nucleotide position 9, 14, 22, 57, and 58 in different tRNAs. In some cases, these modifications have been shown to increase tRNA structural stability and induce correct tRNA folding. This review provides an overview of the currently known m1A modifications, the different m1A modification sites, the biological role of each modification, and the enzyme responsible for each methylation in different species. The review further describes, in detail, two enzyme families responsible for formation of m1A at nucleotide position 9 and 58 in tRNA with a focus on the tRNA binding, m1A mechanism, protein domain organisation and overall structures.
View Full-Text
►

▼

Figures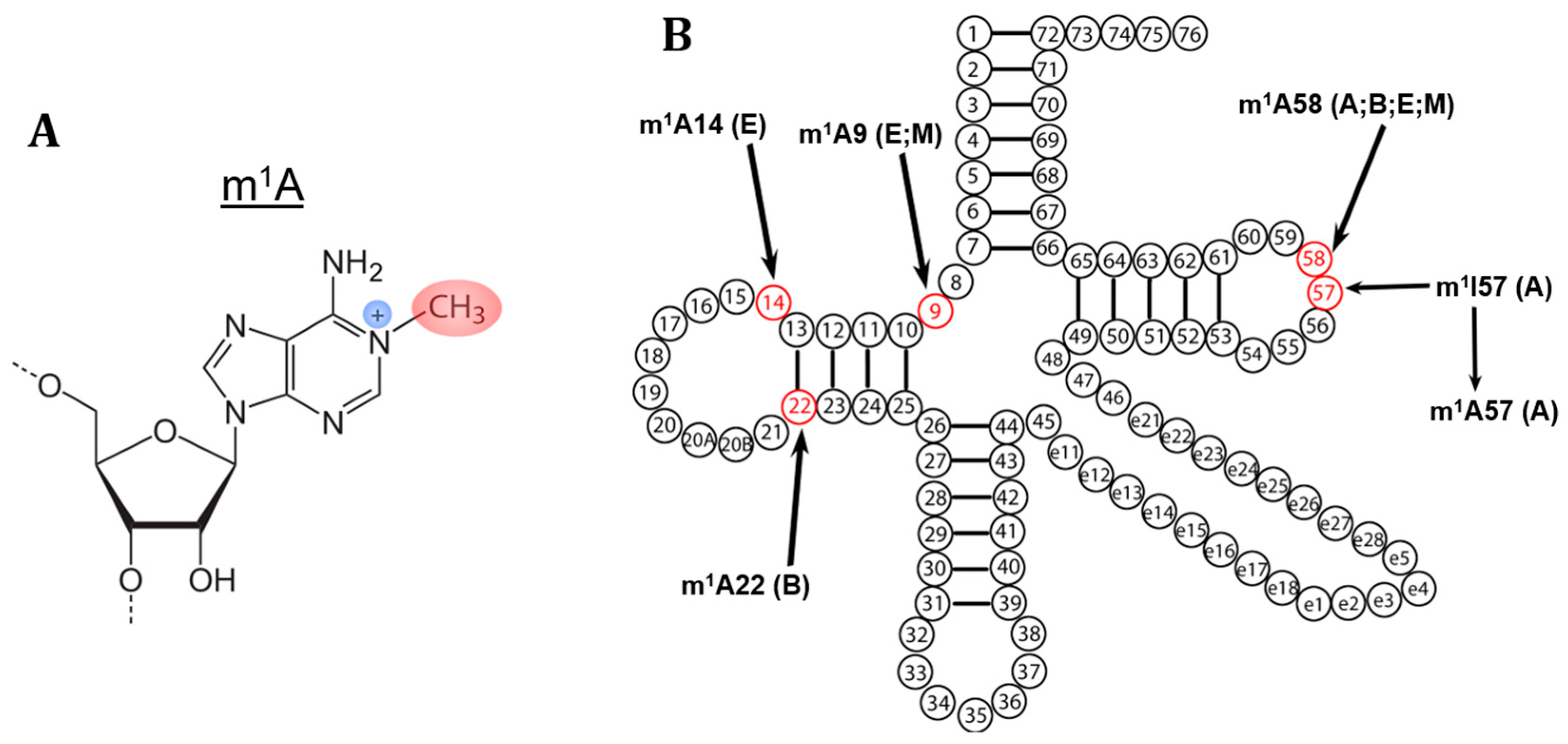 Figure 1
This is an open access article distributed under the
Creative Commons Attribution License
which permits unrestricted use, distribution, and reproduction in any medium, provided the original work is properly cited. (CC BY 4.0).
Share & Cite This Article
MDPI and ACS Style
Oerum, S.; Dégut, C.; Barraud, P.; Tisné, C. m1A Post‐Transcriptional Modification in tRNAs. Biomolecules 2017, 7, 20.
Note that from the first issue of 2016, MDPI journals use article numbers instead of page numbers. See further details here.
Related Articles
Comments
[Return to top]