Engineering and Characterization of a Fluorescent Native-Like HIV-1 Envelope Glycoprotein Trimer
1
Department of Medical Microbiology, Academic Medical Center, University of Amsterdam, Amsterdam 1105 AZ, The Netherlands
2
Department of Integrative Structural and Computational Biology, IAVI Neutralizing Antibody Center, Collaboration for AIDS Vaccine Discovery (CAVD), Center for HIV/AIDS Vaccine Immunology and Immunogen Discovery, The Scripps Research Institute, La Jolla, CA 92037, USA
3
Department of Biochemistry, Oxford Glycobiology Institute, University of Oxford, South Parks Road, Oxford OX1 3QU, UK
4
Department of Microbiology and Immunology, Weill Medical College of Cornell University, New York, NY 10065, USA
*
Author to whom correspondence should be addressed.
Academic Editor: Hans Vliegenthart
Received: 31 July 2015 / Revised: 13 October 2015 / Accepted: 15 October 2015 / Published: 23 October 2015
Abstract
Generation of a stable, soluble mimic of the HIV-1 envelope glycoprotein (Env) trimer on the virion surface has been considered an important first step for developing a successful HIV-1 vaccine. Recently, a soluble native-like Env trimer (BG505 SOSIP.664) has been described. This protein has facilitated major advances in the HIV-1 vaccine field, since it was the first Env immunogen that induced consistent neutralizing antibodies against a neutralization-resistant (tier 2) virus. Moreover, BG505 SOSIP.664 enabled elucidation of the atomic resolution structure of the Env trimer and facilitated the isolation and characterization of new broadly neutralizing antibodies against HIV-1. Here, we designed and characterized the BG505 SOSIP.664 trimer fused to fluorescent superfolder GFP (sfGFP), a GFP variant that allows efficient folding (BG505 SOSIP.664-sfGFP). Despite the presence of the sfGFP, the Env protein largely retained its morphology, antigenicity, glycan composition, and thermostability. In addition, we show that BG505 SOSIP.664-sfGFP can be used for fluorescence-based assays, such as flow cytometry.
View Full-Text
►

▼

Figures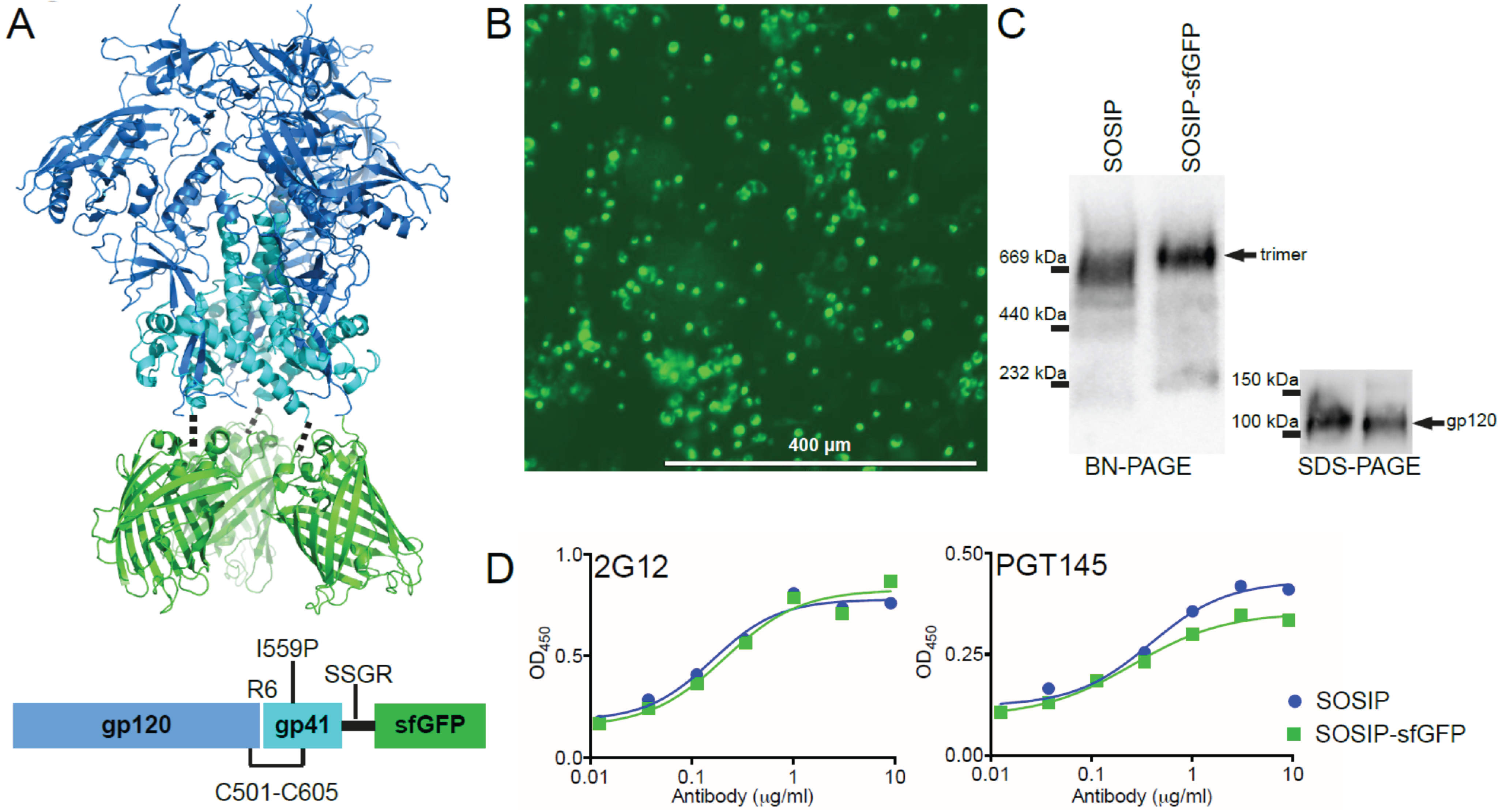 Figure 1
This is an open access article distributed under the
Creative Commons Attribution License
which permits unrestricted use, distribution, and reproduction in any medium, provided the original work is properly cited. (CC BY 4.0).
Share & Cite This Article
MDPI and ACS Style
Sliepen, K.; van Montfort, T.; Ozorowski, G.; Pritchard, L.K.; Crispin, M.; Ward, A.B.; Sanders, R.W. Engineering and Characterization of a Fluorescent Native-Like HIV-1 Envelope Glycoprotein Trimer. Biomolecules 2015, 5, 2919-2934.
Related Articles
Comments
[Return to top]