Comprehensive Protein Interactome Analysis of a Key RNA Helicase: Detection of Novel Stress Granule Proteins
1
Center for Genomics and Systems Biology, Department of Biology, New York University, 12 Waverly Place, New York, NY 10003, USA
2
The Cleveland Clinic, Department of Neurosciences, Lerner Research Institute, 9500 Euclid Avenue, Cleveland, OH 44195, USA
3
RNA Biology and Post-Transcriptional Regulation, Max-Delbrück-Center for Molecular Medicine, Berlin-Buch, Robert-Rössle-Str. 10, Berlin 13092, Germany
†
These authors contributed equally to this work.
*
Author to whom correspondence should be addressed.
Academic Editor: André P. Gerber
Received: 10 May 2015 / Accepted: 15 June 2015 / Published: 15 July 2015
Abstract
DDX6 (p54/RCK) is a human RNA helicase with central roles in mRNA decay and translation repression. To help our understanding of how DDX6 performs these multiple functions, we conducted the first unbiased, large-scale study to map the DDX6-centric protein-protein interactome using immunoprecipitation and mass spectrometry. Using DDX6 as bait, we identify a high-confidence and high-quality set of protein interaction partners which are enriched for functions in RNA metabolism and ribosomal proteins. The screen is highly specific, maximizing the number of true positives, as demonstrated by the validation of 81% (47/58) of the RNA-independent interactors through known functions and interactions. Importantly, we minimize the number of indirect interaction partners through use of a nuclease-based digestion to eliminate RNA. We describe eleven new interactors, including proteins involved in splicing which is an as-yet unknown role for DDX6. We validated and characterized in more detail the interaction of DDX6 with Nuclear fragile X mental retardation-interacting protein 2 (NUFIP2) and with two previously uncharacterized proteins, FAM195A and FAM195B (here referred to as granulin-1 and granulin-2, or GRAN1 and GRAN2). We show that NUFIP2, GRAN1, and GRAN2 are not P-body components, but re-localize to stress granules upon exposure to stress, suggesting a function in translation repression in the cellular stress response. Using a complementary analysis that resolved DDX6's multiple complex memberships, we further validated these interaction partners and the presence of splicing factors. As DDX6 also interacts with the E3 SUMO ligase TIF1β, we tested for and observed a significant enrichment of sumoylation amongst DDX6's interaction partners. Our results represent the most comprehensive screen for direct interaction partners of a key regulator of RNA life cycle and localization, highlighting new stress granule components and possible DDX6 functions—many of which are likely conserved across eukaryotes.
View Full-Text
►

▼

Figures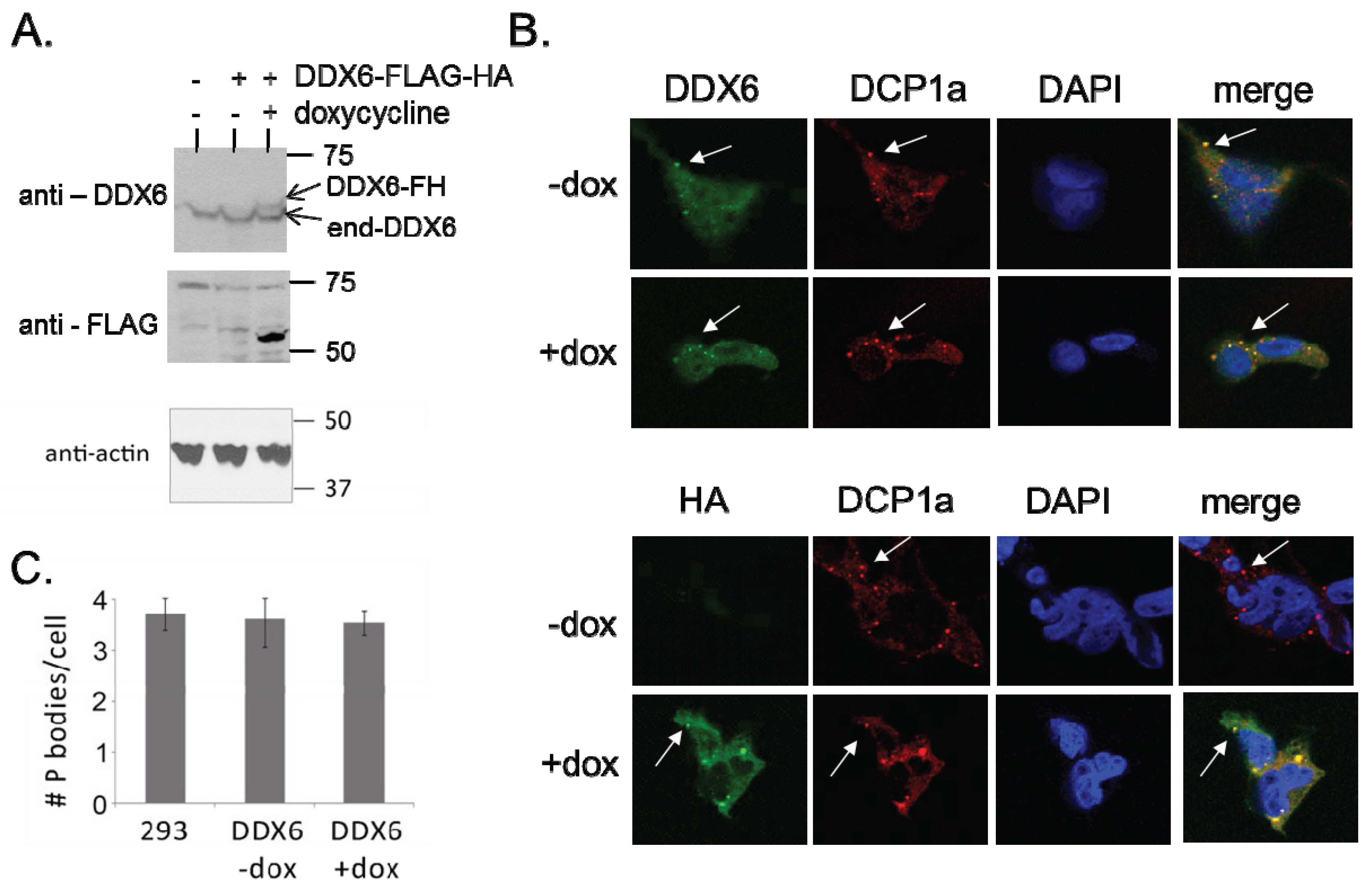 Figure 1
This is an open access article distributed under the
Creative Commons Attribution License
which permits unrestricted use, distribution, and reproduction in any medium, provided the original work is properly cited. (CC BY 4.0).
Share & Cite This Article
MDPI and ACS Style
Bish, R.; Cuevas-Polo, N.; Cheng, Z.; Hambardzumyan, D.; Munschauer, M.; Landthaler, M.; Vogel, C. Comprehensive Protein Interactome Analysis of a Key RNA Helicase: Detection of Novel Stress Granule Proteins. Biomolecules 2015, 5, 1441-1466.
Related Articles
Comments
[Return to top]