Open Access This article is
freely available
re-usable
Article
Multi-Color Spectral Transcript Analysis (SPECTRA) for Phenotypic Characterization of Tumor Cells
1
Fred Hutchinson Cancer Research Center, 1100 Fairview Avenue North, Seattle, WA 98109, USA;
2
Life Sciences Division, E.O. Lawrence Berkeley National Laboratory, 1 Cyclotron Road, Berkeley, CA 94720, USA
3
Department of Pathology, University of California, San Francisco (UCSF), CA 94143, USA
4
National Institute of Science and Technology Policy (NISTEP), Ministry of Education, Culture, Sports, Science and Technology, Tokyo 100-0005, Japan
*
Author to whom correspondence should be addressed; Tel.: +001-925-376-5188; Fax: +001-206-667-5255.
Received: 9 January 2013; in revised form: 31 January 2013 / Accepted: 4 February 2013 / Published: 11 February 2013
Abstract
:
Many human tumors show significant changes in their signal transduction pathways and, thus, the way the cells interact with their environment. Often caused by chromosomal rearrangements, including gene amplifications, translocations or deletions, the altered levels of gene expression may provide a tumor-specific signature that can be exploited for diagnostic or therapeutic purposes. We investigated the utility of multiplexed fluorescence
in situ
hybridization (FISH) using non-isotopically labeled cDNA probes detected by Spectral Imaging as a sensitive and rapid procedure to measure tumor-specific gene expression signatures. We used a commercially available system to acquire and analyze multicolor FISH images. Initial investigations used panels of fluorescent calibration standards to evaluate the system. These experiments were followed by hybridization of five-to-six differently labeled cDNA probes, which target the transcripts of tyrosine kinase genes known to be differently expressed in normal cells and tumors of the breast or thyroid gland. The relatively simple, yet efficient, molecular cytogenetic method presented here may find many applications in characterization of solid tumors or disseminated tumor cells. Addressing tumor heterogeneity by means of multi-parameter single cell analyses is expected to enable a wide range of investigations in the areas of tumor stem cells, tumor clonality and disease progression.
Keywords:
cancer; gene expression; tyrosine kinase; fluorescence
in situ
hybridization (FISH); spectral imaging
1. Introduction
The short-term goal of the present study was the development and thorough evaluation of an affordable, molecular cytogenetics-driven, microscope-based system to quantitatively assess the expression levels of five or six genes of interest. With a research focus on thyroid and breast neoplasms, we selected a panel of genes known to independently alter their relative levels of RNA expression when normal cells undergo malignant transformation or tumors progress.
2. Results and Discussion
2.1. System Evaluation Using Fluorescent Beads
The InspeckTM beads commercially available from Invitrogen (Carlsbad, CA) appeared to be better suited than hybridized tumor cells to analyze instrument functions, because they showed a much lower degree of fading in repeated scans. Particle concentrations were adjusted so that a typical field of view contained about 20–50 objects. Results indicated that the spectral imaging software delivers virtually identical results when repeatedly analyzing the same image.
The reproducibility of analyzing the same field of view was investigated by moving the stage after each recording of eleven spectral images. Briefly, analyzing beads located in the center of the images, we found relative standard deviations ranging from 2%–5%. The higher variation values were attributed to inappropriate lateral positioning or the out-of-focus location of beads.
We tested the reproducibility of multi-color fluorescence measurements with fluorescent beads, because they were less affected by photo-bleaching than our hybridized cells. Spectral Images were recorded in a range of 450 nm to 800 nm with a resolution of about 10nm. We prepared slides carrying either five types of beads listed in the Experimental Section or just the four types of Inspeck
TM
beads (
Figure 1
),
i.e.
, not using beads with fluorescence emission in the infrared wavelength interval. The reproducibility of measuring the fluorescence spectra of objects was first investigated by recording repeated pictures of the same area without moving the microscope stage and then by moving the microscope stage back-and-forth between the recordings of spectral images. Analysis of beads located in the various parts of the images showed relative standard deviations of 1%–6% for measurements of beads in the 2.5 µm size range, while measurements of smaller (1 µm) beads showed greater variability. The higher variation values were attributed to difficulties in defining the regions of interest and out-of-focus location of beads. As the following results show, average coefficients of variation (CVs) for beads in the relevant size range were well under 4%. Thus, the system possesses the desired reproducibility.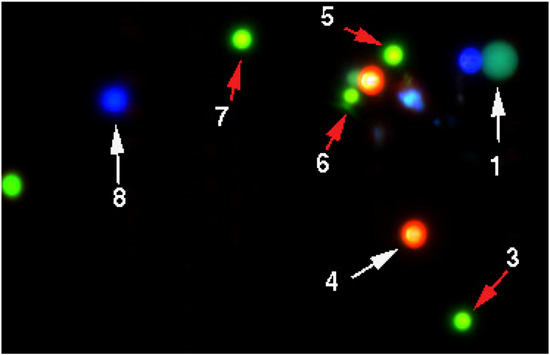 Figure 1. Four-color InspeckTM beads used to test the reproducibility of the system. The settings for this false-color image display were blue = 475–557 nm, green = 561–635 nm and red = 635–752 nm. The arrows point to non-overlapping signals that were analyzed. Beads 3, 5, 6 and 7 fluoresced in red.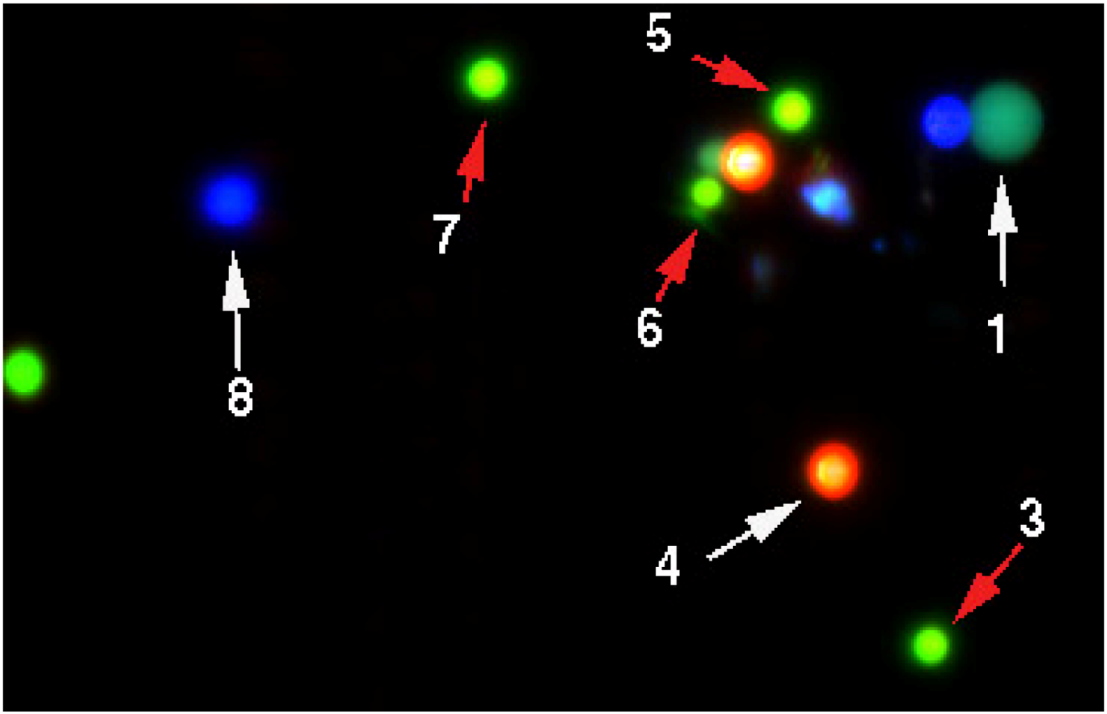 We prepared mixtures of various types of fluorescent beads or only the four Inspeck
TM
beads. Typically, 2–3 μL of liquid containing the beads were placed on ethanol cleaned microscope slides and covered with a 22 mm × 22 mm coverslip. Since the slides had a tendency to dry quickly, images were recorded within 24 hours after preparation. When analyzing slides carrying all five types of beads, a typical field of view contained about 50–60 objects. Smaller areas, such as the field shown in
Figure 1
, were selected for quantitative analysis.
We prepared a mixture of the four Inspeck
TM
beads and recorded eleven images. The microscope stage was moved manually between recordings. We analyzed nine of the eleven images, because image AQ1 did not contain all beads and image AQ7 was out of focus.
Figure 1
shows a typical false-color image of various beads. The numbers refer to the beads analyzed.
Table 1
shows the results of our analysis. For each of four beads,
Table 1
reports the region-of-interest (ROI) area and average fluorescence per pixel in the relevant spectrum. The column 'total' shows the total amount of fluorescence (area × average intensity per pixel) in the ROI.
Table 1
compares the fluorescence emission of four differently colored beads,
i.e.
, beads 1 (orange), 4 (red), 7 (deep red) and 8 (green), in the nine images analyzed. Relative standard deviations range from 2.5% to 6.1% (average 4.05%). The analysis of four red-to-infrared fluorescent beads (beads 3, 5, 6 and 7) (Experimental
Section 3.1
.) showed less variation. For the red fluorescent beads, relative coefficients of variation ranged from 1.0% to 4.0%, with an average of 2.3% (data not shown).
In summary, the spectral imaging system allowed us to separate complex fluorescence spectra into up to five or six constituents (as shown further below) and to determine the relative contribution of each of the constituents with high reproducibility. Thus, the system meets the specifications required for multiple gene expression profiling.
Table 1. Reproducibility of fluorescence measurements using fluorescent beads.
* The 'int' is the average intensity per pixel.
2.2. Gene Expression Analysis of Cancer Cell Lines
Key to the success of RNA fluorescence
in situ
hybridization (FISH) is to maintain an essentially RNase-free environment. We achieved this by pretreating all solutions with DEPC, while glassware used in the experiments was pretreated with an RNase inhibitor.
Using the five fluorochromes (FITC, Cy3, Texas Red, Cy5 and Cy5.5) we were able to label, detect and quantitate specific gene transcripts in individual cells. The example in
Figure 2
demonstrates the typical spectral analysis of MCF-7 breast cancer cells hybridized with individually labeled cDNA probes against five different tyrosine kinase gene transcripts (homo sapiens PTK6 protein tyrosine kinase 6 (PTK6), ephrin receptor a2 (EFNA2), homo sapiens lymphocyte-specific protein tyrosine kinase (LCK), homo sapiens mitogen-activated protein kinase kinase kinase 11 (MAP3K11) and homo sapiens CDC-like kinase 3 (CLK3)). The deconvoluted or 'spectrally un-mixed' images showing the distribution of fluorochromes within cells indicate gene-specific RNA levels and spatial distributions (
Figure 2
, bottom). For the display, false colors were assigned to the reporter molecule images, as indicated in the box 'Fluorescent SUN' in the upper right corner of
Figure 2
. The image labeled 'Current Result View' in the lower left corner shows a pseudo-RGB image of fluorescent signals prior to spectral un-mixing (SUN). A 4',6-diamidino-2-phenylindole (DAPI) image showing the location of cell nuclei was included in
Figure 2
for reference. The next steps of expression analysis involved the definition of regions-of-interest (ROI) and calculation of the amount of fluorescence per dye per cell.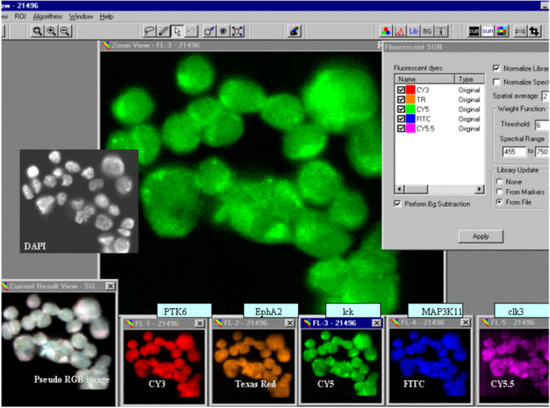 Figure 2.
The spectral analysis of MCF-7 cells that were deposited on glass slides and hybridized with the probe mixture listed in
Section 3.3
. Following background subtraction, the fluorescence spectra emitted from each region-of-interest (ROI) were separated into their five constituents, shown in the five small windows labeled FL-1 to FL-5 at the bottom of the figure. The library files,
i.e.
, prerecorded spectra, used for spectral un-mixing ('SUN') are highlighted in the small window in the upper right corner labeled 'Fluorescent SUN'.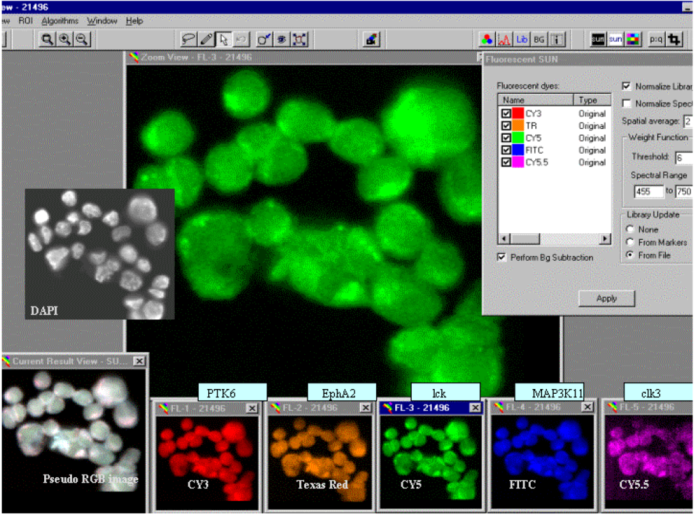 We found that in non-synchronized cell cultures, gene expression levels were affected by the cell cycle position. When measuring the relative amounts of probes bound per cell, however, we were able to discriminate cells from different lines. Future studies will be needed to address the issues of ratio imaging and internal standards.
We created artificial mixtures of paraformaldehyde (PFA)-fixed MCF-7 (breast cancer) cells and TPC-1 (thyroid cancer) cells that were placed on cleaned glass slides for hybridization. Preliminary studies using poly-L-lysine coated or silanated slides, however, lead to unacceptable levels of background fluorescence. After cell counts were taken with a hemocytometer, we mixed PFA-fixed MCF-7 and TPC-1 cells at ratios of 1:1 and 100:1. In spite of our best efforts to minimize clumping of cells, the cells did stick together to a degree. Therefore, our cell mixture ratios were not precise and, dependant on the field of view, were found to vary by up to a factor of three to four. We opted not to use excessively vigorous measures to break up these clumps to preserve the structural integrity of our cells. Several thousand cells from a given cell mixture were spotted on a glass microscope slide and allowed to dry above a 90 ºC hot plate. The slides did not contact the hot plate, but the additional heat evaporated the water more quickly. Each spot consisting of a mixture of cells was flanked by two spots consisting of each cell type alone. All spots had approximately the same number of cells. The slide-bound cells were then subjected to our hybridization protocol.
Our analytical procedures included a definition of reference spectra obtained from slides hybridized with just one probe at a time, definition of ROI's, subtraction of background fluorescence and SUN. A typical example,
i.e.
, the analysis of image Y124M-5, is shown in
Figure 3
. Our nomenclature is simple: this image depicts the analysis of the 124
th
slide prepared by Dr. Y. Ito, and we are looking at the fifth image recorded from cells deposited in the middle spot. This slide (Y124) contained one spot each of pure MCF-7 and TPC-1 cells to the left (Y124L) and right (Y124R), respectively, and a 50:50 ratio of these cell lines in the spot in the middle. Spectral analysis showed a cluster of seven MCF-7 cells next to two TPC-1 cells (
Figure 3
).
The high level of FITC fluorescence emitted from MCF-7 cells stems from the cDNA probe used in these experiments. Our RET/PTC probe was a chimeric cDNA clone isolated in Dr. S. Jhiang's lab (Ohio State University, Columbus, OH) from a tumor carrying a RET/PTC3 rearrangement [
40
]. In the rearrangement, the 3'-end of the RET gene containing the entire tyrosine kinase domain is fused to the 5'-end of a constitutively expressed gene (called 'ELE1' or 'RFG') [
10
,
40
]. The FITC fluorescence measured in MCF-7 cells is believed to represent the ELE1 portion of the probe plus any amount of autofluorescence not removed by the background subtraction. To eliminate this cross-reactivity, we plan to isolate only the 3'-end of the RET/PTC3 cDNA clone to be used as a probe in further investigations.
The breast cancer cells, on the other hand, show higher levels of ABL and PTK6, which comes as no surprise, since the latter was first reported to be expressed at high levels in breast cancer tissues. The analysis of additional images consistently showed that TPC-1 cells expressed higher levels of RET and lower levels of ABL.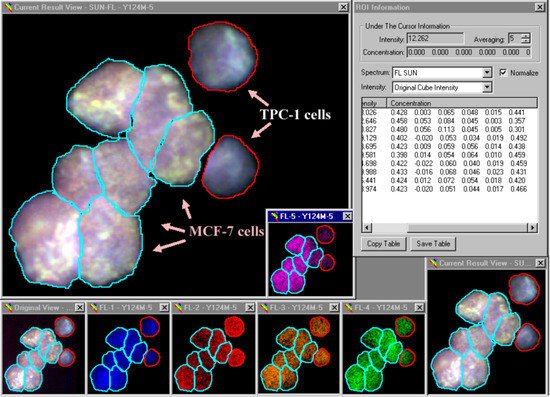 Figure 3.
The spectral analysis of mixed cell samples. MCF-7 and TPC-1 cells were mixed, deposited on glass slides and hybridized with the six probe mixture listed in
Section 3.3
. Following background subtraction, the fluorescence spectra emitted from each ROI were separated into their constituents (shown in
Table 2
, below). The results are shown in the small window labeled 'ROI Information' in the upper right corner. The Figure shows five windows (FL-1 to FL-5) with cDNA fluorescence
in situ
hybridization (FISH) results.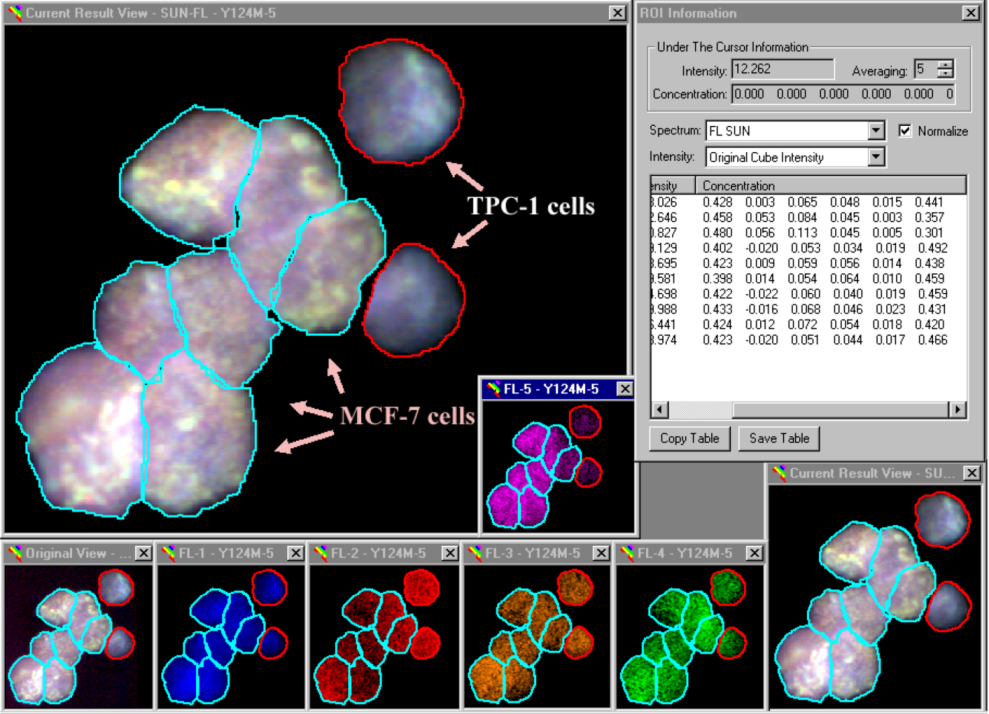 Table 2. Relative levels of six fluorescent reporters used to tag RNA species.
* Fluorescence levels are reported in percent of total cellular fluorescence in image Y124M-5, recorded from a mixture of TPC-1 and MCF-7 cells
2.3. Detection of Rare Cells that Differ in Target Gene Expression by 50% or More from the Majority of Cells
We used the above mentioned 1:100 mixture of TPC-1 and MCF-7 cells to investigate the system's ability to detect rare events. Due to an inversion on chromosome 10q, which leads to expression of a chimeric RET/PCT1 transcript [
40
], TPC-1 cells are expected to express the RET gene at a much higher level than MCF-7 cells. Following hybridization, we recorded eleven images containing 79 cells. One of the images could not be analyzed, because it was recorded with mismatched filters. Visual inspection of the ten fields of view prior to image acquisition had suggested the possibility that two of them might contain one or two TPC-1 cells, and one image contained a large cluster of green fluorescent cells. Spectral analysis revealed that the clusters of cells in some images were comprised entirely of TPC-1 cells, while other images contained only MCF-7 cells (data not shown).
In conclusion, the spectral imaging system and digital imaging processing are capable of detecting rare cell that differ in target gene expression by 50% or more from the majority of cells. Artificial mixing experiments using TPC-1 and 184A1TH cells [
41
] showed similar results (data not shown).
4. Conclusions
The analysis of RNA transcript levels by conventional methods [
46
,
47
] or using high density cDNA microarrays [
2
] provides a wealth of information expected to lead to new clues to carcinogenic processes. Because of the complex and heterogeneous nature of most tumor samples, histochemical techniques, particularly RNA fluorescence
in situ
hybridization (FISH), are required to test predictions from cDNA microarray expression experiments.
Preliminary studies performed in our lab and elsewhere indicated that solid tumors are heterogeneous with respect to oncogene expression. To address this problem, we are developing an innovative system to simultaneously measure cell-by-cell levels of multiple tumor markers. Our approach to multi-color analysis of RNA expression levels using high resolution spectral imaging and digital image analysis has proven to possess the sensitivity, specificity and reproducibility required to detect tumor cells with an abnormal pattern of tk gene expression at frequencies as low as one in a hundred cells. This system, capable of deconvoluting images captured from objects stained with probes carrying one of multiple fluorochromes, was initially tested with fluorescent beads. We then used it to analyze the expression levels of five-to-six different tk genes in MCF-7 breast cancer or TPC-1 cells. Results demonstrate that the SIm system is well qualified to resolve signals from different targets, and quite simple image processing algorithms allow tumor cell classification.
It should be noted that the SPECTRA approach and quantitative PCR (qPCR) complement one another. As shown in the examples above, SPECTRA allows a simultaneous measurement of the amounts and intracellular distribution of several protein-coding or noncoding RNA transcripts and reveals their spatial relationships. The qPCR approach to measure transcriptional levels provides average values over the sample sizes. While it appears straightforward to extend the applications of SPECTRA to the multi-transcript analysis of tissue sections, qPCR following tissue microdissection provides rapid means to study the distribution of single gene expression in tissue sections. Compared to qPCR, SPECTRA analysis offers a lower sample throughput and relies on expensive multi-spectral imaging equipment.
Acknowledgments
This work was supported in part by NIH grants CA88258, CA80792 and CA136685 (to HUW) and a grant from the Director, Office of Energy Research, Office of Health and Environmental Research, U.S. Department of Energy, under contract DE-AC-02-05CH11231 and a grant from the Breast Cancer Research Program, U.S. Army Medical Research and Material Command, U.S. Department of the Army. JFW was supported by NIH grants HD44313 and HD45736. We are grateful to N. Satoh, Cancer Research Institute, Kanazawa University, Japan, and J. Garbe, LBNL, for providing the TPC-1 and 184A1TH cells, respectively.
Disclaimer
This document was prepared as an account of work sponsored by the United States Government. While this document is believed to contain correct information, neither the United States Government nor any agency thereof, nor The Regents of the University of California, nor any of their employees, make any warranty, express or implied, or assumes any legal responsibility for the accuracy, completeness or usefulness of any information, apparatus, product or process disclosed, or represent that its use would not infringe privately owned rights. Reference herein to any specific commercial product, process or service by its trade name, trademark, manufacturer or otherwise does not necessarily constitute or imply its endorsement, recommendation or favoring by the United States Government or any agency thereof or The Regents of the University of California. The views and opinions of the authors expressed herein do not necessarily state or reflect those of the United States Government or any agency thereof or The Regents of the University of California.
Conflict of Interest
The authors declare no conflict of interest.
© 2013 by the authors; licensee MDPI, Basel, Switzerland. This article is an open access article distributed under the terms and conditions of the Creative Commons Attribution license ( http://creativecommons.org/licenses/by/3.0/).