Interaction of Hydrogen with Au Modified by Pd and Rh in View of Electrochemical Applications
1
Institute of Theoretical Chemistry, Ulm University, Ulm D-89069, Germany
2
Facultad de Matemática, Astronomía y Física, Instituto de Física Enrique Gaviola (IFEG-CONICET), Universidad Nacional de Córdoba, Córdoba 5000, Argentina
3
Institut Charles Gerhardt Montpellier, CNRS/ENSCM/UM, 8 rue de l'Ecole normale, Montpellier 34296, France
4
Sorbonne Universités, UPMC Univ Paris 06, UMR7574 Laboratoire de Chimie de la Matière Condensée de Paris, Collège de France, 11 place Marcelin, Paris F-75005, France
*
Authors to whom correspondence should be addressed.
Academic Editors: Karlheinz Schwarz and Agnes Nagy
Received: 6 June 2016 / Revised: 7 July 2016 / Accepted: 13 July 2016 / Published: 20 July 2016
Abstract
Hydrogen interaction with bimetallic Au(Pd) and Au(Rh) systems are studied with the density functional theory (DFT)-based periodic approach. Several bimetallic configurations with varying concentrations of Pd and Rh atoms in the under layer of a gold surface(111) were considered. The reactivity of the doped Au(111) toward hydrogen adsorption and absorption was related to the property modifications induced by the presence of metal dopants. DFT-computed quantities, such as the energy stability, the inter-atomic and inter-slab binding energies between gold and dopants, and the charge density were used to infer the similarities and differences between both Pd and Rh dopants in these model alloys. The hydrogen penetration into the surface is favored in the bimetallic slab configurations. The underlayer dopants affect the reactivity of the surface gold toward hydrogen adsorption in the systems with a dopant underlayer, covered by absorbed hydrogen up to a monolayer. This indicates a possibility to tune the gold surface properties of bimetallic electrodes by modulating the degree of hydrogen coverage of the inner dopant layer(s).
View Full-Text
►

▼

Figures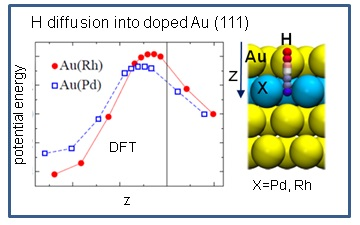 This is an open access article distributed under the
Creative Commons Attribution License
which permits unrestricted use, distribution, and reproduction in any medium, provided the original work is properly cited. (CC BY 4.0).
Share & Cite This Article
MDPI and ACS Style
Juarez, F.; Soldano, G.; Santos, E.; Guesmi, H.; Tielens, F.; Mineva, T. Interaction of Hydrogen with Au Modified by Pd and Rh in View of Electrochemical Applications. Computation 2016, 4, 26.
Note that from the first issue of 2016, MDPI journals use article numbers instead of page numbers. See further details here.
Related Articles
Comments
[Return to top]