Open Access This article is
freely available
re-usable
Article
Nested Markets, Food Networks, and New Pathways for Rural Development in Brazil
1
Programas de Pós-Graduação em Desenvolvimento Rural e Sociologia, Universidade Federal do Rio Grande do Sul, Porto Alegre 90040-060, Brazil
2
Programa de Pós-Graduação em Desenvolvimento Rural, Universidade Federal do Rio Grande do Sul, Porto Alegre 90040-060, Brazil
3
Programa de Pós-Graduação em Sociologia, Universidade Federal do Rio Grande do Sul, Porto Alegre 91509-900, Brazil
*
Author to whom correspondence should be addressed.
Academic Editor: Gbadebo Oladosu
Received: 31 May 2016 / Accepted: 12 November 2016 / Published: 22 November 2016
Abstract
:
This paper applies the frameworks of nested markets and alternative food networks to two empirical cases in the state of Rio Grande do Sul, Brazil, aiming to analyse the construction and dynamics of these markets in order to demonstrate how their dimensions of quality, location, and nature are built and sustained, especially with regard to their interface with broader markets and their contributions to rural development practices, policies, and processes. The paper focuses on the study of rural tourism in Caminhos de Pedra Route, in the municipality of Bento Gonçalves, and the Farmers' Market, in the municipality of Passo Fundo. Both cases represent alternative practices and processes of rural development and bear features that associate them to the nested markets. It is noteworthy that the influence of conventional food markets in these cases shows that nested markets do not operate in isolation but coexist and are continuously in connection with broader agri-food markets. In this sense, despite being subject to criticism and showing limitations, nested markets constitute increasingly robust strategies for rural development practices, processes, and policies, being able to create opportunities for families' livelihood in rural areas.
Keywords:
nested markets; food network; markets; rural development
1. Introduction
As we shall see in the case studies in this article, these nested markets are continually in contact and interacting with conventional markets, encouraging the creation of mechanisms and strategies for distinguishing their products and gaining consumers' preference, in order to make this relationship less asymmetrical.
Thus, we argue that, far beyond investigating new nested markets in the context of the dichotomy between conventional and alternative markets, it is necessary to advance discussions and to include the relationship between them in the research agendas, insofar as markets are understood as spaces of interaction that constitute hybrid forms and allow for exchanges of various kinds. In this sense, nested markets aim to take a step forward concerning the theoretical framework on food localization and alternative markets, seeking new analytical elements that, based on the construction of markets for family farmers, may influence rural development practices, policies, and processes.
So, what are the possible contributions of this perspective to rural development and how can we advance the discussions about alternative markets for family farmers? From the framework of the nested markets, we believe that investigating how these markets are constructed and developed in interface with conventional markets can help us to understand their implications for rural development. Therefore, this paper aims to apply the nested market theoretical framework to discuss the construction and dynamics of these markets, especially regarding their interactions with broader markets and their contributions to rural development practices, policies, and processes. To this end, based on this framework, we analyse two empirical cases of nested markets in southern Brazil—one involving rural tourism, at the Caminhos de Pedra route (Stone Pathways Route), located in the city of Bento Gonçalves (RS); and the other comprising a farmers' direct selling market, the Farmers' Market, located in the city of Passo Fundo (RS).
2. Local Production and Consumption of Food: Nested Markets and Alternative Food Networks
Nested markets arise from these interactions, although they differ in relation to wider markets inasmuch as their operation rests on elements like "distinctiveness", "socio-material infrastructures", and "common-pool resources", which we will describe further on. These elements allow us to connect the nested markets perspective with the debate on alternative food networks. However, before a detailed analysis of these relationships, we must deepen our understanding of these structural elements of nested markets.
The second structuring element of nested markets is the development of a socio-material infrastructure. As the products circulating in these markets are distinct from those found in mainstream markets, it is necessary to develop a specific and different set of rules, regulations, and conventions to certify this distinctiveness. It is these socio-material structures (rules and regulations) that allow goods to flow and be recognized as distinct from those found in conventional markets, thus enabling the creation of novelties and innovation (new products and services).
Therefore, the creation and maintenance of these new markets are only possible insofar as a set of socially shared rules and norms becomes institutionalized at the local level and is (re)created on a daily basis by actors and organizations. It is by means of these norms that products and services acquire distinctiveness and that a socio-material structure different from those of mainstream markets can be built. That is, common-pool resources are a result of the creation of new markets and the elements that originate them.
In this sense, the definition of such structuring features of nested markets enables us to relate them to the general debate surrounding the alternative agri-food networks, which has pervaded sociological food studies.
Nested Markets and Alternative Food Networks
In this sense, the nested markets framework gets closer to that of alternative food networks, insofar as both propose a relational analysis of the practices and processes that have been emerging in contemporary rural environment. Although drawing on different theoretical references (nested markets follow institutionalist and actor-oriented approaches), both perspectives focus their analyses on local markets and on the curtailment of distance between producers and consumers, especially regarding trust relationships, processes for building products quality and distinctiveness, and sustainable consumption practices. Furthermore, they share the idea that local markets emerge from their interaction with the global/conventional market.
The second assertion arising from these perspectives relates to the fact that, despite emerging from their relations with conventional markets, alternative markets differ from these latter by allowing the development of more just and sustainable social and economic relations. In other words, the major difference (and contribution) of nested markets and alternative food networks perspectives lies in the notion that the alternative nature of local food markets results from their ability to strengthen local mechanisms and forms of governance that are founded on non-conventional values and social codes (friendship, trust, reputation, reciprocity, interknowledge; otherness).
These mechanisms and forms of local governance (embedded in alternative values) are those responsible for the construction and management of the (new) food markets, since they allow elements such as distinctiveness, socio-material infrastructure, and common-pool resources to be recognized and socially legitimized by the actors, thus ascribing alternative and distinct characteristics in relation to other markets to local products and services.
In order to better understand these dynamics and operation of nested markets, in the next section we will analyse two empirical cases of development of local food markets, aiming to demonstrate how they both have emerged from their interaction with wider markets.
3. Nested Markets in Brazil: Rural Tourism and Direct Selling Markets
Drawing on the definitions and dynamics attributed to nested markets, this section aims to analyse two distinct cases of food markets and verify to what extent these cases can be interpreted in the light of the perspective used here.
The first case refers to the rural tourism market of Caminhos de Pedra Route, in Bento Gonçalves, a city located in the mountain region of Rio Grande do Sul (RS), in Brazil. The second case relates to the Farmers' Market located in the city of Passo Fundo, located in the northern region of Rio Grande do Sul. These two local markets were chosen on the grounds of the differences between them. While rural tourism can be considered a recent market activity, resulting from both the transformations occurred in contemporary rural environment and the development of non-agricultural activities and services, the direct sales market constitutes a traditional method of food trade used by farmers to sell their products. Despite these differences, these two markets share some characteristics—especially those related to social embeddedness of economic activities in social rules and norms—that allow them to be analysed as examples of nested markets, as described below.
3.1. Landscape and Rural Life: The Case of Rural Tourism of Caminhos de Pedra Route—Bento Gonçalves/RS
In a context where an increasing number of rural families are developing activities other than agriculture as a means of income diversification, new notions of rurality have attracted attention to the rural space not only for its agri-food productive character, but above all as a space for sociocultural integration where various activities can be developed, including educational, manufacturing, political, environmental preservation, services provision, and even entertainment. In this sense, rural tourism has become a reality in Brazil and stands out as a potential market in terms of both services provision and commercialization of local food products, given the growing demand by people seeking rural amenities.
Within this context, grape prices have dropped significantly (the so-called squeeze), making farmers increasingly vulnerable and dependent on credit to purchase inputs and machinery. In the case of São Pedro district, the construction of a new highway that isolated the village from the economic route, and a series of ground frosts that nearly annihilated grape production, resulted in a major depression in the local economy, leading to decreased purchasing power and loss of self-esteem by locals.
Thereupon, a tourist project was launched to preserve São Pedro district's architectural heritage. The project was conceived by Tarcisio Michelon (an engineer) and Júlio Posenato (an architect). Michelon, who was born in Bento Gonçalves, ran the hotel Dall'Onder, which belonged to his family, and believed that both architecture and local culture had potential for attracting tourists. Posenato, in turn, who used to write about the Italian immigration architecture in the state, was an enthusiastic advocate for the preservation of this heritage, but was faced with the failure of the state to develop such projects. The meeting of these two external agents, on their own initiative, resulted in the Caminhos de Pedra Project, which sought a good rationale for getting funds to enable the preservation of this heritage: tourism promotion was the answer.
At first, there was scarce public support for the development of tourism in São Pedro. The first step was conducting a historical heritage survey, which found a large collection of historic houses (made of stone, wood, and masonry) that offered easy access and interesting tourist potential, but which were significantly deteriorated due to lack of maintenance over time. At this stage, it was necessary to persuade local farmers, weakened by the economic circumstances at the time, to believe in the possibility of generating income through rural tourism and to work together to achieve this goal.
Afterwards, initiatives were developed aimed at the restoration and renovation of architectural heritage, and farmers were provided with assistance to develop a basic infrastructure for receiving visitors. On 30 May 1992, the first group of tourists from São Paulo was received there by the first four families engaged in the project. The subsequent development of the tourist route led to the foundation of the Caminhos de Pedra Association. Tourism has been the main argument for raising support for this project, in view of the prospect of income generation based on architectural heritage.
Caminhos de Pedra Association was founded in 1997 with the support of Serviço Brasileiro de Apoio às Micro e Pequenas Empresas (SEBRAE) (Brazilian Technical Support for Micro and Small Enterprises), drawing on the success of the project's early ventures. The Association is a non-profit institution aimed at gathering people for carrying out common goals.
Thus, the emergence of Caminhos de Pedra Route as a rural tourist enterprise was marked by a strong presence of external and private agents. Only later did it gain legitimacy in the local community, as local farmers began to get involved through the establishment of the association, and the government, especially local public administration, decided to support the initiative by providing infrastructure (improvements on the road, access, signposting). Further support was provided by the Tourism Department and by national and regional tourism bodies, through marketing, communication and planning; and by Sebrae and Senar (Serviço Nacional de Aprendizagem Rural, a Brazilian technical support for rural learning), through tourism qualification and training courses. Other relevant actors in this trajectory are urban consumers (tourists and excursionists) as well as travel agents, tour operators, and the Caminhos de Pedra Association.
The route currently has 24 spots for visitation, including restaurants, a lodging, and historical houses for guided tours. The so-called visitation spots are private enterprises that serve tourists offering some kind of product or service, such as food, guided tours, tasting, and shops with local products and handicrafts, among others. Some of these places charge an entrance fee.
As for the owners, most are family farmers who share their time and work between farming and tourism activities. However, it was observed that the route's success and consolidation has attracted some urban entrepreneurs who acquired properties in São Pedro and developed their tourism enterprises. These enterprises represent a more conventional segment of tourism within the route. Therefore, these actors interact and compete in the same scenario with the family farmers, thus ascribing a hybrid and multiple character to the rural tourism market, which encompasses interactions between alternative and conventional types of exchange.
Moreover, being in touch with visitors allows farmers to get their opinions and suggestions for improvements and further demands, thus fostering the development of new products and services (e.g., pecan nuts) and feeding a virtuous circle of the development of common-pool resources.
Another key feature regarding cost reduction is the fact that sales through tourism are carried out in-house, i.e., farmers do not need to leave their properties to sell their products in the city—which would mean transportation and food expenses, for example—or to deliver them to third parties. The tourists themselves travel to the spot, in this case, the countryside, for leisure and consumption activities, thus helping to reduce producers' costs and allowing, in addition, greater autonomy to producers, despite the intensive work on weekends and holidays and, depending on the property and the kind of service offered, the possible costs of hiring employees.
It is worth noting that the common-pool resources can be both tangible—such as the natural landscape, stone houses, and local food offered—and intangible, as in the rural way of life—more peaceful and harmonious; and the culture, crafts, and the own reputation of Caminhos de Pedra's brand in the region. Tourism, while contributing to a diversification of community activities and to generating employment and income, can help preserve these resources that are essential for local development, contributing to their maintenance and appreciation by the local population and public administration. However, one cannot deny the risks posed to these common pool resources by possible uncontrolled growth of tourism. In this route, we could observe the arrival of tourist buses of large travel agencies, which can be seen both as the inclusion of conventional tourism in this market and as a threat to heritage.
Therefore, the dynamics of the construction of a rural tourism market in Caminhos de Pedra Route was triggered by the crisis of small farming in the 1970s, characterized by the squeeze of grape and wine prices, which created favourable conditions for the development of multifunctionality as a way to seek new sources of income for the local population. Thus, the dynamics of the conventional market and its local impacts created the context for the construction of new forms of income generation and social reproduction in this locality. By means of the joint efforts of multiple actors (external private sector, local governments, farmers, local association, tourism agencies and tour operators, urban consumers, and tourists), a new market for local family farms has been created through the development of tourist activity in the rural area, which is distinguished from conventional tourism for being mainly based on lifestyle, products quality, culture, and heritage, and directly linked to agricultural production.
The creation of a socio-material infrastructure, i.e., a set of rules and standards put in place by the involved actors, allows the establishment of these flows and the development of common-pool resources, which may bring collective benefits to this community and allow the continuation of this dynamic. The partnerships and the norms and standards that allow local training courses on tourism and agroindustry promoted by organizations like Sebrae and Senar; the construction of tourism infrastructure by the municipal government; the efforts to get the support of federal government through the legislation for promoting culture; and the exchange of information and experience with the tourists—all these can be seen as examples of socio-material structures.
Lastly, we can observe that conventional markets are always intertwined with the dynamics of the rural tourism market in the Caminhos de Pedra route. Since the construction of this new market—starting with the wine and grape markets' failures that created the conditions for multifunctionality—until the consolidation of the route with the subsequent entrance of external actors and constant hybridization of products and practices, the coexistence of different logics of exchange has shown that this nested market also has permeable boundaries that allow for flexibility and innovation.
3.2. Farmers' Markets Framed by Rural Background, Social Trust, and Friendship: The Case of Passo Fundo/RS
The Farmers' Market of Passo Fundo, in Rio Grande do Sul, is a market outlet created in the mid-1970s by farmers who saw an opportunity to increase their income by selling their products directly to consumers. At first, sales were made at a town square, but over the years, and with the support of several institutions, the municipal administration provided an indoor space, with better infrastructure for keeping and selling the products.
It is worth noting that this process developed from an almost individual move by producers, who saw in the creation of a direct sales channel a possibility for productive and commercial innovation, which has gradually developed.
Following this beginning, the development of the market was fostered through the establishment of a network of institutions and actors that teamed up in order to provide the city's inhabitants with access to local and quality food. This network comprises, besides the Stallholders Association (created in 1996 and now responsible for the management of the farmers' market), the support of the Rural Workers Union—which has been engaged since the beginning of the producers' market and is responsible for providing farmers with services and guidance (credit, financing, inclusion in government programs); the municipal branch of EMATER (rural extension agency)—which provides support on technical aspects of production and marketing guidance; and the municipal administration, through the Home Affairs Department (SECRINT), which until 1996 was responsible for managing the producers market and, after the establishment of the Stallholders Association, remained in charge of monitoring the prices and quality of the supplied products. This network is an example of how individual and collective interests may be articulated to build new markets, and also exemplifies the construction of a socio-material structure that supports a new market.
Today, the market gathers 66 stallholders, who are small farmers from the rural areas of the municipality. These farmers produce food and traditional varieties of the region, observing production seasonality and using traditional techniques and knowledge related to the local culture and ethnic origins. The market provides access to fresh produce, which furthermore represents the social and cultural features of the territory.
The search for such products—considered to be of higher quality—is the main reason why consumers attend this market. For consumers, the main concerns when purchasing products here are acquiring products of rural origin, and valuing both small farmers' way of life and the traditional techniques used in preparing the food products.
In view of the presence in this market of stallholders that are not producers (called fruit sellers), there was an agreement between the participants of the market to make the sales relationships and the prices charged more fair. As these fruit sellers operate as small traders, buying local and exogenous products from farmers and warehouses, they do not suffer from the climatic hazards (drought, frost, etc.) that may affect local produce, and thus face no major difficulties in meeting consumer demand and keeping prices reasonable. That is, due to the coexistence of conventional and alternative practices within the farmers' market, it was necessary to create social regulatory mechanisms in order to guarantee fairness in economic transactions among all stallholders.
This statement makes clear that the quality attributed to the products of the Farmers' Market is associated with intangible aspects related to the possibility of buying "fresh", "homemade" food, produced right there, near the city, and which differs in its taste and the way it is made.
Furthermore, this socio-material structure can be observed among the residents of the city, in a shared representation regarding the rural origins of the products and an appreciation of the way of life of small farmers. In particular, the inhabitants of the city share a common rural past, which is seen as positive, thus attributing a superior quality to products offered at the market that are made "as my mother used to do" or in a traditional way.
This rural origin of the products is associated with food products being quality and natural, and, because they were produced by family farmers, it is believed that the food is more healthy and tasty. This is also reflected in the appreciation of local ways of life and products. According to one respondent:
In this sense, common-pool resources can be deemed as values on which exchanges and trade are based. In other words, these resources are responsible for building the processes of social embeddedness of economic transactions.
At the Farmers' Market of Passo Fundo, economic transactions are nested in relationships of trust associated with values of friendship, interknowledge, and local varieties of products. While traditional practices and knowledge related to food production and processing confer credibility to products sold at this market, the prospect of interacting directly and creating social bonds with stallholders generates friendship among the actors, which is reinforced by the interknowledge assigned to the rural. Besides strengthening friendships, interknowledge provides social legitimacy for small farming ways of life and production.
This produces a cycle of legitimacy and positive evaluation around the Farmers' Market, since the agents attend it because they trust the products' quality—attributed to their rural origin and to the ways they were produced—and because they appreciate the friendships and mutual interknowledge. Thus, both traditional knowledge and techniques used in food production and social relationships contribute to a shared set of social conventions, which culminates in generating trust and consolidating the Farmers' Market.
These friendly relationships are also responsible for expanding the social networks that constitute the market, since the stallholders rely on friendly relationships to sell their products to restaurants and small grocery stores, as well as to acquire the products to be sold at the market (in the case of fruit sellers). In other words, the friendly relationships allow sellers to extend their commercial links beyond the market space, thus connecting this nested market with wider ones. However, it is important to note that the relationships with broader markets, although mediated by friendly relations, are usually based on conventional social norms. In the case of small farmers, sales to other markets imply price appreciation (higher than those charged at the farmers' market) and pricing based on the amount of products sold. In other words, the market of the small farmers is connected with other markets.
4. The Nested Markets' Contribution to Rural Development
We have been experiencing a change in our understanding of the role of markets in the social and economic reproduction of farmers and in the way consumers access goods and perceive the role of agents within the food supply chains. The development of new and differentiated products and services, which carry higher value added, has been a way for farmers to face the decrease in income associated with agricultural activities (resulting from the squeeze in prices of products), which has led many of them to abandon conventional and commodity markets. Thus, multifunctionality emerges as a trend and becomes a catalyst for the construction of new markets for farmers to trade their products, raise their incomes, achieve greater autonomy, and improve living conditions in rural areas.
The conventional agri-food system continues to promote processes of subordination via entry into long agri-food supply chains, in which producers are integrated as mere providers of cheap primary raw materials. However, everywhere, increasing cases and experiences have been emerging, which are clearly grounded on another model of market interaction and exchanges, based on social and cultural values, and which are mobilized by the farmers themselves and able to build alternative (and more autonomous) practices and processes of commercialization. These processes teach important lessons for (re)thinking rural development itself, which is no longer related to just the improvement of physical infrastructure or creation of social assistance programmes, as it was in the 1970s, when it consisted basically of a program aimed to those who did not afford technological modernization. Rural development now means, more and more, building markets that value differentiated products and services to, on the one hand, restrain the subordination by the dominant model, and, on the other hand, confer more autonomy and room for farmers to manoeuvre.
Another important contribution that nested markets bring to rural development lies in the role played by actors. In conventional markets, actors involved in the supply side play a complementary role simply by delivering raw materials to the industry according to the standards imposed by large processors and retailers. In nested markets, in turn, it is substantially different, as family farmers, in addition to agriculture activity per se, also participate in processing (on site), commercialization, restructuring, and evaluation, and in the redesign of production processes that better meet consumer expectations.
However, we do not aim, here, to delegitimize the concept of localism, but rather to promote a better understanding of the complexity and the traps of local politics, as well as of the long-term effects of movements controlled by particular groups of people. Thus, instead of focusing the analysis on food localization processes, the nested markets perspective expands the understanding of food markets towards a broader view by means of the notion that nested markets are part of (operating together or even within) conventional agricultural markets.
5. Final Considerations
This article aimed to apply the nested market theoretical framework to analyse and discuss the construction and dynamics of the alternative agri-food markets, especially regarding their interface with broader markets and their contributions to rural development practices, policies, and processes. It sought to relate the concepts of alternative food networks and of nested markets, trying to outline their main analytical contributions and, especially, to advance discussions on this issue. The cases examined in the light of the nested markets framework, which seeks to include the relations and dynamics with the wider conventional markets, allowed us to illustrate how their dialogues and coexistence happen, and how alternative markets behave towards their biggest competitors. Finally, we discussed the importance of nested markets and their contributions for rural development practices, processes, and policies.
The case of rural tourism on the Caminhos de Pedra Route showed how the crisis in the wine industry led to the development of multifunctionality and the consequent creation of an alternative market based on tourism, aiming to generate alternative income for producers, associated with the preservation of local cultural heritage. As to the Farmers' Market located in the urban area of Passo Fundo/RS, it represents the case of a traditional proximity market created based on the initiative of farmers and the support of a network of institutions and actors, with the purpose of increasing their income by means of direct sales to consumers.
It was observed that both cases represent alternative practices and processes of rural development that have emerged through new nested markets. While rural tourism emerges from a more recent context of a change in rural dynamics—with multifunctional practices increasingly expanding among families of rural workers—and stands out as a potential market both for services and direct sales of local food products, the farmers' market is a more traditional kind of market, which comprises direct exchanges between farmers and consumers, whether commercial or symbolic. Thus, both cases bear features that associate them with the process of social embeddedness that characterizes the nested markets, once they are based on a framework of rules and standards that generate product distinctiveness in relation to conventional markets, and enable the creation of common-pool resources based on collective efforts.
It is also noteworthy that the influence of the conventional food market on these cases, whether through the presence of large tourism enterprises in the Caminhos de Pedra Route or through the presence of non-producer stallholders within the Passo Fundo Farmers' Market, shows that nested markets do not operate in isolation, but coexist and are continuously in connection with broader agri-food markets, in terms of competition, regulation, or even appropriation. Therefore, it is important to create mechanisms and strategies that allow us to distinguish the products and gain consumers' preference by means of rural development practices, processes, and policies that make this relationship less asymmetrical. The main force of the nested markets lies in their relationships with the conventional markets. Rooted in a social network and a set of social norms, rules, and conventions that enables their distinctiveness and the creation of common-pool resources, the nested markets allow for greater capacity of resilience and autonomy by farmers in the face of conventional markets and their forms of governance, which impose global regulations and standards for food production, marketing, and consumption. In this sense, despite the aforementioned criticism and limitations, such as the scale and risks of conventionalization and of defensive localism, the nested markets constitute increasingly robust strategies for rural development, able to create opportunities for families' success in the rural space.
Acknowledgments
We appreciate the careful reading and suggestions of the reviewers of the paper. Usual disclaimer apply.
Author Contributions
All authors contributed equally to the conception, analysis and writing of the paper.
Conflicts of Interest
The authors declare no conflict of interest.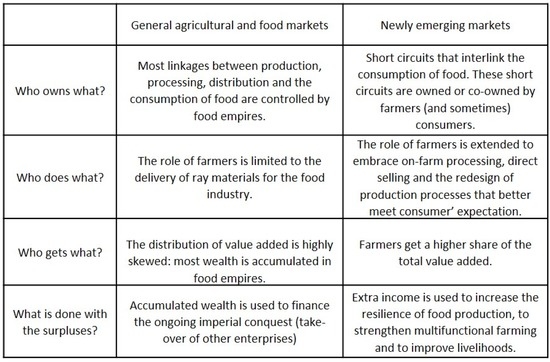 Figure 1.
Framework
of analysis—A comparison of the general agricultural and food markets and the newly emerging markets [
8
].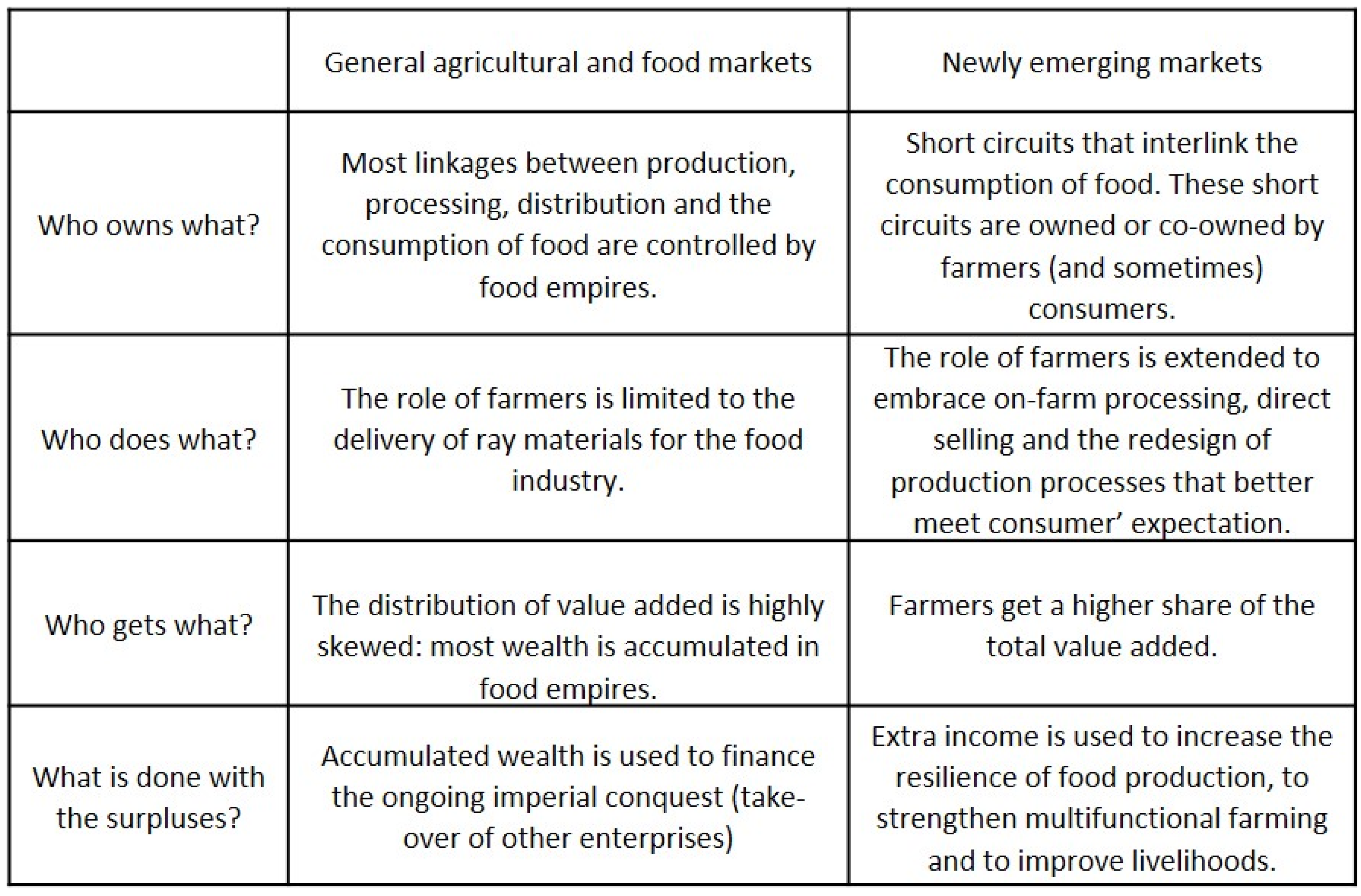 © 2016 by the authors; licensee MDPI, Basel, Switzerland. This article is an open access article distributed under the terms and conditions of the Creative Commons Attribution (CC-BY) license (http://creativecommons.org/licenses/by/4.0/).