Low Soil Phosphorus Availability Increases Acid Phosphatases Activities and Affects P Partitioning in Nodules, Seeds and Rhizosphere of Phaseolus vulgaris
1
Team of Plant Biotechnology and Agrophysiology of Symbiosis, Faculty of Sciences and Techniques, PO Box 549, Marrakech 40000, Morocco
2
National Institute for Agronomical Research, UMR Functional Ecology, Soils Biogeochemistry & Agroecosystems, 2 Place Viala, Montpellier F34060, France
3
Grains Legumes Program, Field Corps Laboratory, National Institute for Agronomical Research of Tunisia, rue Hédi Karray, Ariana 2080, Tunisia
4
Regional Office of Agricultural Development of Haouz, Avenue Hassan II GUELIZ 2411, Marrakech 40000, Morocco
*
Authors to whom correspondence should be addressed.
Received: 9 April 2012 / Revised: 5 June 2012 / Accepted: 6 June 2012 / Published: 13 June 2012
Abstract
The effect of phosphorus (P) deficiency on phosphatases activities in N
2
-fixing legumes has been widely studied in hydroponic culture. However, the response of acid phosphatase (APase) and phytase in rhizosphere, nodules and seeds of
Phaseolus
vulgaris
to low soil's P-availability is not yet fully understood. In this study, six genotypes of N
2
-fixing
P. vulgaris
were grown under contrasting soil P-availabilities;
i.e.
, low (4.3 mg P kg
−1
) and
sufficient (16.7 mg P kg
−1
) in the Haouz region of Morocco. At flowering and maturity stages, plants were harvested and analyzed for their phosphatases activities, growth and P content. Results show that, low P decreased nodulation, growth, P uptake and N accumulation in all the genotypes, but to a greater extent in the sensitive recombinant inbreed line 147. In addition, while seed P content was slightly reduced under low P soil; a higher P was noticed in the Flamingo and Contender large seeded-beans (6.15 to 7.11 mg g
−1
). In these latter genotypes, high APase and phytase activities in seeds and nodules were associated
with a significant decline in rhizosphere's available P. APase activity was mainly stimulated in nodules, whereas phytase activity was highly induced in seeds (77%). In conclusion, the variations of APase and phytase activities in nodules and seeds depend on genotype and can greatly influence the internal utilization of P, which might result in low P soil tolerance in N
2
-fixing legumes.
View Full-Text
►

▼

Figures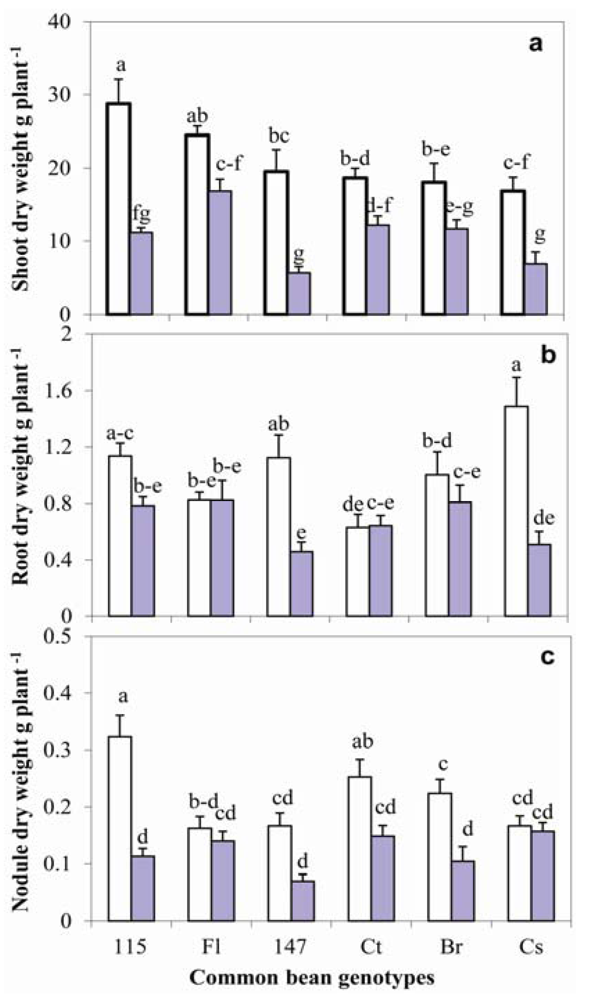 Figure 1
Share & Cite This Article
MDPI and ACS Style
Bargaz, A.; Faghire, M.; Abdi, N.; Farissi, M.; Sifi, B.; Drevon, J.-J.; Cherkaoui Ikbal, M.; Ghoulam, C. Low Soil Phosphorus Availability Increases Acid Phosphatases Activities and Affects P Partitioning in Nodules, Seeds and Rhizosphere of Phaseolus vulgaris. Agriculture 2012, 2, 139-153.
Related Articles
Comments
[Return to top]