Biological Implications of Differential Expression of Mitochondrial-Shaping Proteins in Parkinson's Disease
1
i3S—Instituto de Investigação e Inovação em Saúde, Universidade do Porto, 4200-135 Porto, Portugal
2
IBMC—Instituto de Biologia Molecular e Celular, Universidade do Porto, 4200-135 Porto, Portugal
3
INEB—Instituto de Engenharia Biomédica, Universidade do Porto, 4200-135 Porto, Portugal
4
FMUP—Faculdade de Medicina da Universidade do Porto, 4200-319 Porto, Portugal
5
iBiMED, Department of Medical Sciences, University of Aveiro, 3810-193 Aveiro, Portugal
6
Unidade de Investigação Cardiovascular, Departamento de Cirurgia e Fisiologia, Universidade do Porto, 4200-319 Porto, Portugal
†
These authors contributed equally to this work.
*
Author to whom correspondence should be addressed.
Received: 28 November 2017 / Revised: 13 December 2017 / Accepted: 14 December 2017 / Published: 21 December 2017
Abstract
It has long been accepted that mitochondrial function and morphology is affected in Parkinson's disease, and that mitochondrial function can be directly related to its morphology. So far, mitochondrial morphological alterations studies, in the context of this neurodegenerative disease, have been performed through microscopic methodologies. The goal of the present work is to address if the modifications in the mitochondrial-shaping proteins occurring in this disorder have implications in other cellular pathways, which might constitute important pathways for the disease progression. To do so, we conducted a novel approach through a thorough exploration of the available proteomics-based studies in the context of Parkinson's disease. The analysis provided insight into the altered biological pathways affected by changes in the expression of mitochondrial-shaping proteins via different bioinformatic tools. Unexpectedly, we observed that the mitochondrial-shaping proteins altered in the context of Parkinson's disease are, in the vast majority, related to the organization of the mitochondrial cristae. Conversely, in the studies that have resorted to microscopy-based techniques, the most widely reported alteration in the context of this disorder is mitochondria fragmentation. Cristae membrane organization is pivotal for mitochondrial ATP production, and changes in their morphology have a direct impact on the organization and function of the oxidative phosphorylation (OXPHOS) complexes. To understand which biological processes are affected by the alteration of these proteins we analyzed the binding partners of the mitochondrial-shaping proteins that were found altered in Parkinson's disease. We showed that the binding partners fall into seven different cellular components, which include mitochondria, proteasome, and endoplasmic reticulum (ER), amongst others. It is noteworthy that, by evaluating the biological process in which these modified proteins are involved, we showed that they are related to the production and metabolism of ATP, immune response, cytoskeleton alteration, and oxidative stress, amongst others. In summary, with our bioinformatics approach using the data on the modified proteins in Parkinson's disease patients, we were able to relate the alteration of mitochondrial-shaping proteins to modifications of crucial cellular pathways affected in this disease.
View Full-Text
►

▼

Figures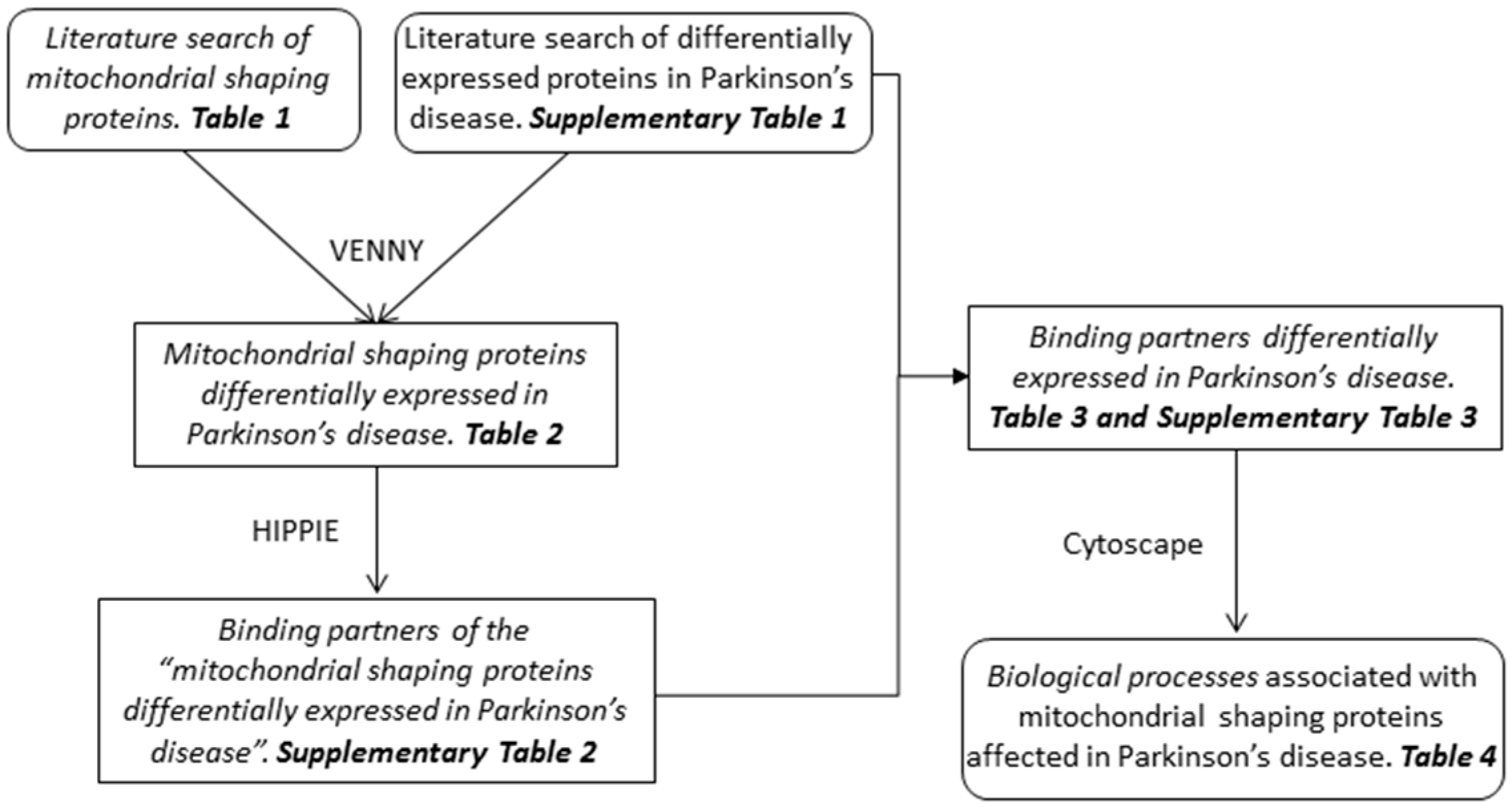 Figure 1
This is an open access article distributed under the
Creative Commons Attribution License
which permits unrestricted use, distribution, and reproduction in any medium, provided the original work is properly cited. (CC BY 4.0).
Share & Cite This Article
MDPI and ACS Style
Rocha, S.; Freitas, A.; Guimaraes, S.C.; Vitorino, R.; Aroso, M.; Gomez-Lazaro, M. Biological Implications of Differential Expression of Mitochondrial-Shaping Proteins in Parkinson's Disease. Antioxidants 2018, 7, 1.
Note that from the first issue of 2016, MDPI journals use article numbers instead of page numbers. See further details here.
Related Articles
Comments
[Return to top]