The Effects of Drying Temperature on Nitrogen Concentration Detection in Calcium Soil Studied by NIR Spectroscopy
1
College of Biosystems Engineering and Food Science, Zhejiang University, Hangzhou 310058, China
2
Key Laboratory of Sensors Sensing, Ministry of Agriculture, Zhejiang University, Hangzhou 310058, China
3
State Key Laboratory of Modern Optical Instrumentation, Zhejiang University, Hangzhou 310058, China
*
Author to whom correspondence should be addressed.
Received: 19 December 2017 / Revised: 5 February 2018 / Accepted: 6 February 2018 / Published: 12 February 2018
Abstract
Soil nitrogen is one of the crucial components for plant growth. An accurate diagnosis based on soil nitrogen information is the premise of scientific fertilization in precision agriculture. Soil nitrogen content acquisition based on near-infrared (NIR) spectroscopy shows the significant advantages of high accuracy, real-time analysis, and convenience. However, soil texture, soil moisture content, and drying temperature all affect soil nitrogen detection by NIR spectroscopy. In order to investigate the effects of drying temperature on calcium soil nitrogen detection and its characteristic bands, soil samples were detected at a 25 °C placement (ambient temperature) after 40 °C drying (medium temperature), 60 °C drying (medium-high temperature), 80 °C drying (high temperature), and 105 °C drying (extreme high temperature), respectively. Besides that, the original spectra were pretreated with five preprocessing methods, and the characteristic variables were selected by competitive adaptive reweighted squares (CARS) and backward interval partial least squares (BIPLS). The partial least squares (PLS) method was used for modeling and analysis. The predictive abilities were assessed using the coefficients of determination (
R
2
), the root mean squared error (RMSE), and the residual predictive deviation (RPD). As a result, the characteristic bands focus on 928–960 nm and 1638–1680 nm when soil was detected after 40 °C, 60 °C, and 80 °C drying. Calcium soil obtained the best prediction accuracy
after 40 °C drying by the method of CARS-BIPLS-PLS. Meanwhile, the prediction model also performed well when soil was detected after 60 °C drying
and 80 °C drying
. However, the calcium soil obtained the worst detection result when soil was placed at 25 °C. In conclusion, a low or extremely high drying temperature had an adverse influence on the soil nitrogen detection, and the 40 °C drying temperature as well as the CARS-BIPLS-PLS method were optimal to enhance the soil nitrogen detection accuracy.
View Full-Text
►

▼

Figures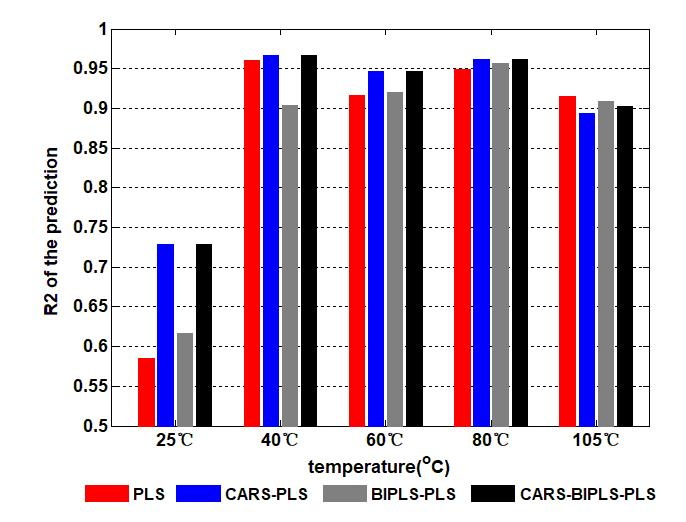 This is an open access article distributed under the
Creative Commons Attribution License
which permits unrestricted use, distribution, and reproduction in any medium, provided the original work is properly cited. (CC BY 4.0).
Share & Cite This Article
MDPI and ACS Style
Nie, P.; Dong, T.; He, Y.; Xiao, S.; Qu, F.; Lin, L. The Effects of Drying Temperature on Nitrogen Concentration Detection in Calcium Soil Studied by NIR Spectroscopy. Appl. Sci. 2018, 8, 269.
Note that from the first issue of 2016, MDPI journals use article numbers instead of page numbers. See further details here.
Related Articles
Comments
[Return to top]