Poisoning Effect of SO2 on Honeycomb Cordierite-Based Mn–Ce/Al2O3Catalysts for NO Reduction with NH3 at Low Temperature
1
Key Laboratory for Green Processing of Chemical Engineering of Xinjiang Bingtuan, School of Chemistry and Chemical Engineering, Shihezi University, Shihezi 832003, China
2
Tianfu South Thermoelectric Co., Ltd., Shihezi 832000, China
*
Author to whom correspondence should be addressed.
Received: 30 November 2017 / Revised: 26 December 2017 / Accepted: 8 January 2018 / Published: 11 January 2018
(This article belongs to the Section
Chemistry
)
Abstract
Honeycomb cordierite-based Mn–Ce/Al
2
O
3
catalysts were prepared by the impregnation method and used for low-temperature selective catalytic reduction (SCR) of NO
x
with NH
3
, with and without SO
2
and/or H
2
O in a homemade fixed-bed tubular reactor. The catalyst reached nearly 80% NO
x
conversion at 100 °C in the absence of SO
2
. However, SO
2
reduces the catalytic activity (80% to 72%) of the honeycomb cordierite-based Mn–Ce/Al
2
O
3
catalysts under identical conditions. This finding demonstrated that the catalyst exhibited high activity at low temperature and excellent SO
2
resistance in the presence of 50 ppm SO
2
. The fresh and sulfated honeycomb cordierite-based Mn–Ce/Al
2
O
3
catalysts were characterized by scanning electron microscopy (SEM), energy dispersive spectroscopy (EDS), N
2
adsorption–desorption, X-ray diffraction (XRD), X-ray photoelectron spectroscopy (XPS), thermogravimetry and differential thermal analysis (TG-DTA), and Fourier transform infrared (FT-IR) spectroscopy. Characterization results indicated that the deactivation by SO
2
was primarily the result of the deposition of ammonium hydrogen sulfate and sulfated CeO
2
on the catalyst surface during the SCR process. The formed sulfates depressed the catalytic activity via the blocking of pores and the occupation of active sites. Additionally, the competitive adsorption between SO
2
and NH
3
always decreased the catalytic activity.
View Full-Text
►

▼

Figures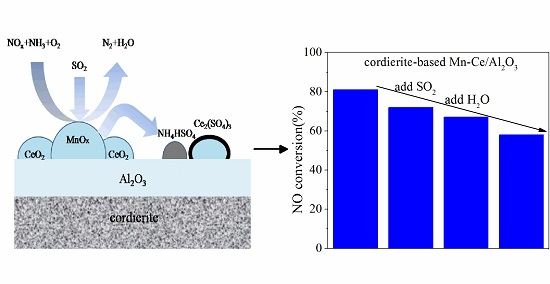 This is an open access article distributed under the
Creative Commons Attribution License
which permits unrestricted use, distribution, and reproduction in any medium, provided the original work is properly cited. (CC BY 4.0).
Share & Cite This Article
MDPI and ACS Style
Wang, C.; Zhang, C.; Zhao, Y.; Yan, X.; Cao, P. Poisoning Effect of SO2 on Honeycomb Cordierite-Based Mn–Ce/Al2O3Catalysts for NO Reduction with NH3 at Low Temperature. Appl. Sci. 2018, 8, 95.
Note that from the first issue of 2016, MDPI journals use article numbers instead of page numbers. See further details here.
Related Articles
Comments
[Return to top]