Impact of a Porous Si-Ca-P Monophasic Ceramic on Variation of Osteogenesis-Related Gene Expression of Adult Human Mesenchymal Stem Cells
1
Tissue Regeneration and Repair Group: Orthobiology, Biomaterials and Tissue Engineering, UCAM-San Antonio Catholic University of Murcia, Guadalupe, 30107 Murcia, Spain
2
Genomic Unit, Biomedical Research Institute of Murcia (IMIB-Arrixaca-UMU), University Clinical Hospital "Virgen de la Arrixaca", University of Murcia, El Palmar, 30120 Murcia, Spain
3
Department of Materials, Optics and Electronic Technology, Miguel Hernández University, Avda. Universidad s/n, Elche, 03202 Alicante, Spain
4
Department of Biotechnology, Instituto Murciano de Investigación y Desarrollo Agrario y Alimentario (IMIDA), La Alberca, 30150 Murcia, Spain
5
Institute of Bioengineering, Miguel Hernández University, Avda. Universidad s/n, Elche, 03202 Alicante, Spain
*
Author to whom correspondence should be addressed.
Received: 4 December 2017 / Revised: 20 December 2017 / Accepted: 21 December 2017 / Published: 1 January 2018
Abstract
This work evaluates in vitro the influence of a new biocompatible porous Si-Ca-P monophasic (7CaO·P
2
O
5
·2SiO
2
) ceramic on the cellular metabolic activity, morphology and osteogenic differentiation of adult human mesenchymal stem cells (
ah
MSCs) cultured in basal growth medium and under osteogenic inductive medium. Alamar Blue Assay and FESEM were carried out in order to monitor the cell proliferation and the shape of the cells growing on the Si-Ca-P monophasic ceramic during the study period. The osteogenic differentiation of
ah
MSCs was investigated by means of immunofluorescent staining (osteocalcin, osteopontin, heparan sulphate and collagen type I expression), quantitative reverse transcription polymerase chain reaction (qRT-PCR) (integrin-binding sialoprotein, osteocalcin, alkaline phosphatase, osteopontin, osteonectin, runt-related transcription factor 2 and collagen type I) and expression of surface markers (CD73, CD90 and CD105). We could check osteogenic differentiation in
ah
MSCs growing under the influence of Si-Ca-P monophasic ceramics itself, but especially when growth medium was replaced by osteogenic medium in the culture conditions. These results allowed us to conclude that the new Si-Ca-P monophasic scaffold greatly enhanced
ah
MSCs proliferation and osteogenic differentiation; therefore, it may be considered to be employed as a new bone graft substitute or scaffold for bone tissue engineering.
View Full-Text
►

▼

Figures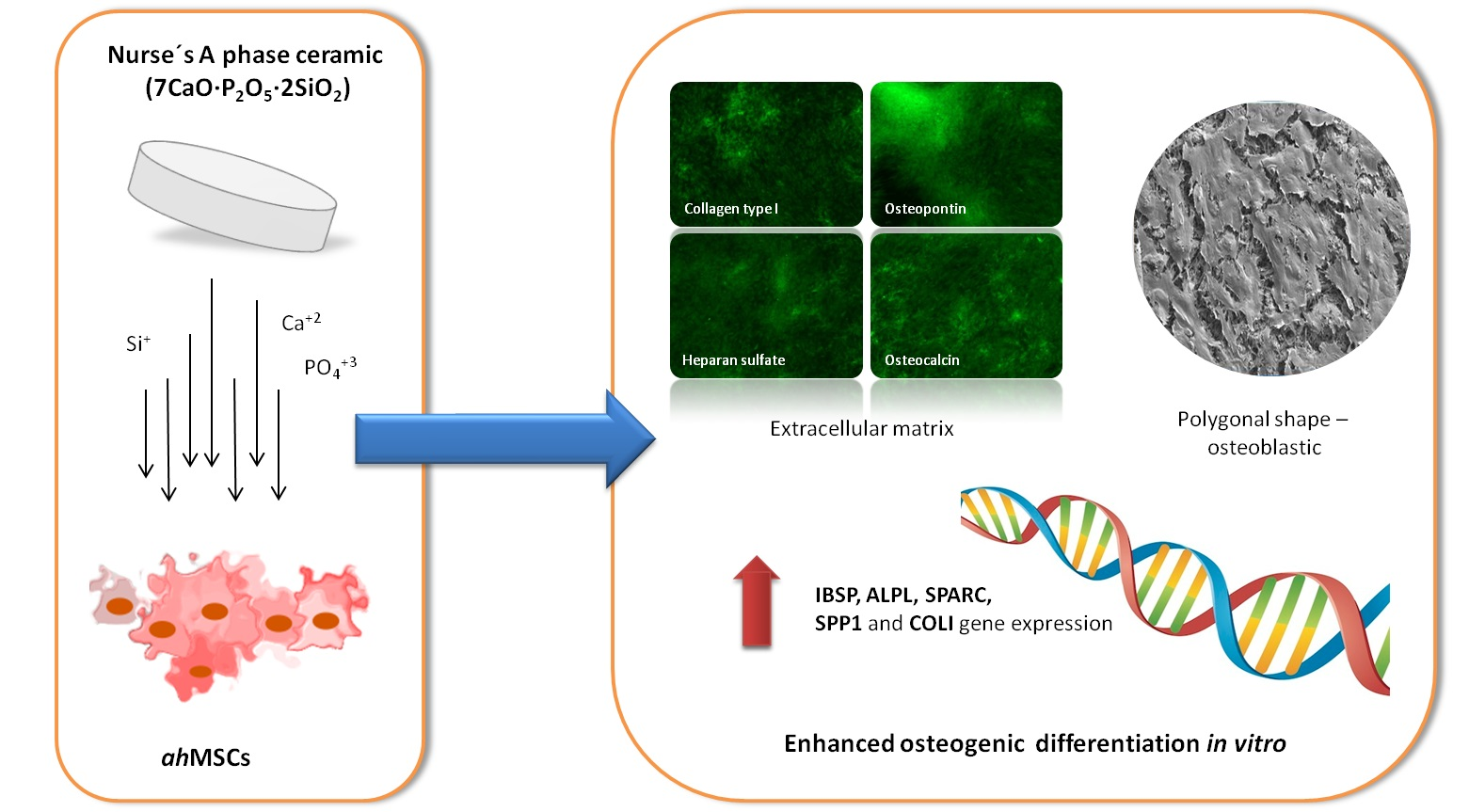 This is an open access article distributed under the
Creative Commons Attribution License
which permits unrestricted use, distribution, and reproduction in any medium, provided the original work is properly cited. (CC BY 4.0).
Share & Cite This Article
MDPI and ACS Style
Ruben, R.-R.; Beatriz, R.-N.; Patricia, M.; Salvador, A.-C.; Patricia, R.-T.; Piedad N., D.A.; Luis, M.-O. Impact of a Porous Si-Ca-P Monophasic Ceramic on Variation of Osteogenesis-Related Gene Expression of Adult Human Mesenchymal Stem Cells. Appl. Sci. 2018, 8, 46.
Note that from the first issue of 2016, MDPI journals use article numbers instead of page numbers. See further details here.
Related Articles
Comments
[Return to top]