Arginine-Mediated Self-Assembly of Porphyrin on Graphene: A Photocatalyst for Degradation of Dyes
1
School of Science, RMIT University, GPO BOX 2476, Melbourne, VIC-3001, Australia
2
Polymers and Functional Material Division, CSIR-Indian Institute of Chemical Technology, Hyderabad 500 007, Telangana, India
3
Centre for Advanced Materials and Industrial Chemistry (CAMIC), RMIT University, GPO BSOX 2476, Melbourne, VIC-3001, Australia
4
Institute of Chemistry & Materials Science, 17 Hoang Sam, Hanoi 100000, Vietnam
*
Author to whom correspondence should be addressed.
Received: 17 May 2017 / Revised: 9 June 2017 / Accepted: 13 June 2017 / Published: 21 June 2017
Abstract
Porphyrin nanostructures with well-controlled size, shape and functionality can be used for visible-light photocatalysis. In this work, a graphene@porphyrin nanofibre composite was successfully fabricated via arginine-mediated self-assembly of tetrakis (4-carboxyphenyl) porphyrin (TCPP) on graphene nanoplates (GNPs). The formation and crystallisation of the graphene@porphyrin nanofibre composite was fully characterized by scanning electron microscopy (SEM), transmission electron microscopy (TEM), X-ray diffraction (XRD), fourier transform infrared (FTIR), ultraviolet-visible (UV-vis) and fluorescence spectroscopy. The assembled TCPP nanofibers were 50–200 nm in diameter with length in micrometers long, which were densely and uniformly distributed on the surface of graphene. The GNPs@TCPP nanofibers showed enhanced visible-light photocatalytic activity in comparison with free-standing TCPP nanorods for the degradation of Rhodamine B (RhB) and methyl orange (MO). The possible photodegradation mechanism of these dyes by the GNPs@TCPP nanofiber photocatalyst was proposed.
View Full-Text
►

▼

Figures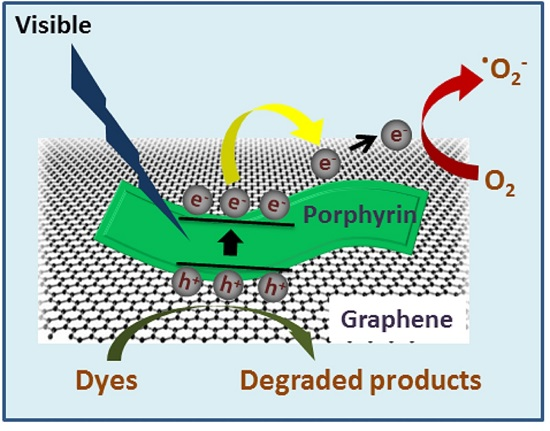 This is an open access article distributed under the
Creative Commons Attribution License
which permits unrestricted use, distribution, and reproduction in any medium, provided the original work is properly cited. (CC BY 4.0).
Share & Cite This Article
MDPI and ACS Style
La, D.D.; Hangarge, R.V.; V. Bhosale, S.; Ninh, H.D.; Jones, L.A.; Bhosale, S.V. Arginine-Mediated Self-Assembly of Porphyrin on Graphene: A Photocatalyst for Degradation of Dyes. Appl. Sci. 2017, 7, 643.
Note that from the first issue of 2016, MDPI journals use article numbers instead of page numbers. See further details here.
Related Articles
Comments
[Return to top]