Thermal and Fatigue Evaluation of Asphalt Mixtures Containing RAP Treated with a Bio-Agent
1
Faculty of Civil Engineering, Warsaw University of Technology, Warsaw 00-637, Poland
2
The Road and Bridge Research Institute, Warsaw 03-302, Poland
*
Author to whom correspondence should be addressed.
Academic Editors: Zhanping You, Qingli (Barbara) Dai and Feipeng Xiao
Received: 31 December 2016 / Revised: 14 February 2017 / Accepted: 20 February 2017 / Published: 23 February 2017
Abstract
Environment conservation and diminishing natural resources caused an increase in popularity of the application of renewable bio-origin resources for the construction of road pavement. Currently, there are known additions of bio-origin materials for bitumen modification. Such material is also used as a flux additive for bitumen or as a rejuvenator once working with reclaimed asphalt pavement (RAP). This paper presents research dealing with asphalt mixtures with RAP modified with a bio-agent of rapeseed origin. The main idea of the conducted research was to apply more RAP content directly to the batch mix plant without extra RAP heating. The RAP used in this study was milled from a base asphalt layer; the addition of RAP stiffens new asphalt mixtures. A bio-agent, due to its fluxing action, was used to support the asphalt mixing process and to decrease the over-stiffening of the mixture caused by RAP addition. This research includes bitumen and mixture tests. For the bitumen study, three different bitumens (35/50, 50/70, and 70/100) were tested in a dynamic shear rheometer (DSR) for complex modulus G* and for phase angle |δ| in the temperature range 0–100 °C. The reference mixture and mixtures with 2.5% bio-agent were tested to assess the influence of RAP and the bio-agent addition on the asphalt mixture properties. Low temperature behavior (TSRST), stiffness, and fatigue resistance (4PB) were tested. Based on the bitumen test, it was determined that even a low rate of bio-agent (2.5%) beneficially changes bitumen properties at a low temperature; moreover, polymerization processes occurring in the second stage of the process improves bitumen properties at a high operational temperature. The research with these asphalt mixtures demonstrates that the bio-origin flux acts as a rejuvenator and allows for an application of 30% cold RAP. Thermal cracking resistance of the mixture with RAP and 2.5% bio-agent improved. The bio-agent removes unfavorable stiffening of RAP and increases the fatigue resistance of the asphalt mixture.
View Full-Text
►

▼

Figures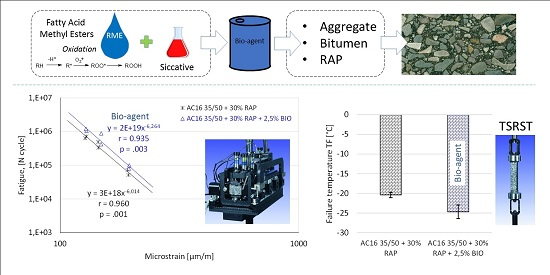 This is an open access article distributed under the
Creative Commons Attribution License
which permits unrestricted use, distribution, and reproduction in any medium, provided the original work is properly cited. (CC BY 4.0).
Share & Cite This Article
MDPI and ACS Style
Kowalski, K.J.; Król, J.B.; Bańkowski, W.; Radziszewski, P.; Sarnowski, M. Thermal and Fatigue Evaluation of Asphalt Mixtures Containing RAP Treated with a Bio-Agent. Appl. Sci. 2017, 7, 216.
Note that from the first issue of 2016, MDPI journals use article numbers instead of page numbers. See further details here.
Related Articles
Comments
[Return to top]