Enhanced Iron and Selenium Uptake in Plants by Volatile Emissions of Bacillus amyloliquefaciens (BF06)
1
Key Laboratory of Bio-organic Fertilizer Creation, Ministry of Agriculture, Anhui Science and Technology University, Bengbu 233100, China
2
School of Life Science and Technology, Tongji University, Shanghai 200092, China
*
Authors to whom correspondence should be addressed.
Academic Editor: Bin Gao
Received: 1 December 2016 / Revised: 4 January 2017 / Accepted: 12 January 2017 / Published: 17 January 2017
Abstract
Volatile organic compounds (VOCs) released by plant growth-promoting rhizobacteria (PGPR) are involved in promoting growth and triggering systemic resistance (ISR) in plants. Importantly, the release of VOCs by some PGPR strains confers improved plant uptake of nutrient elements from the soil. However, the underlying mechanisms of VOCs-regulated nutrient acquisition remain elusive. In this study, VOCs were extracted and identified from
Bacillus amyloliquefaciens
(strain BF06) using gas chromatography–mass spectrometry (GC–MS). BF06 VOCs exposure significantly promoted the growth and photosynthesis of
Arabidopsis
plants. To explore how microbial VOCs stimulate growth in plants, gene expression profiles of
Arabidopsis
seedlings exposed to BF06 VOCs were examined using transcriptomic analyses. In screening differentially expressed genes (DEGs), most upregulated DEGs were found to be related to amino acid transport, iron (Fe) uptake and homeostasis, and sulfate transport. Furthermore, BF06 VOCs significantly enhanced Fe absorption in plants under Fe-limited conditions. However, when nitric oxide (NO) synthesis was inhibited, BF06 VOCs exposure could not substantially augment Fe acquisition in plants under alkaline stress, indicating that VOCs-mediated plant uptake of Fe was required for induction of root NO accumulation. In addition, BF06 VOCs exposure led to a marked increase in some genes encoding for sulfate transporters, and further increased Se accumulation in plants. Intriguingly, BF06 VOCs exposure failed to increase Se uptake in
sultr1;2
mutants, which may indicate that high-level transcription of these sulfate transporters induced by BF06 VOCs was essential for enhancing Se absorption by plants. Taken together, our results demonstrated the potential of VOCs released by this strain BF06 to increase Fe and Se uptake in plants.
View Full-Text
►

▼

Figures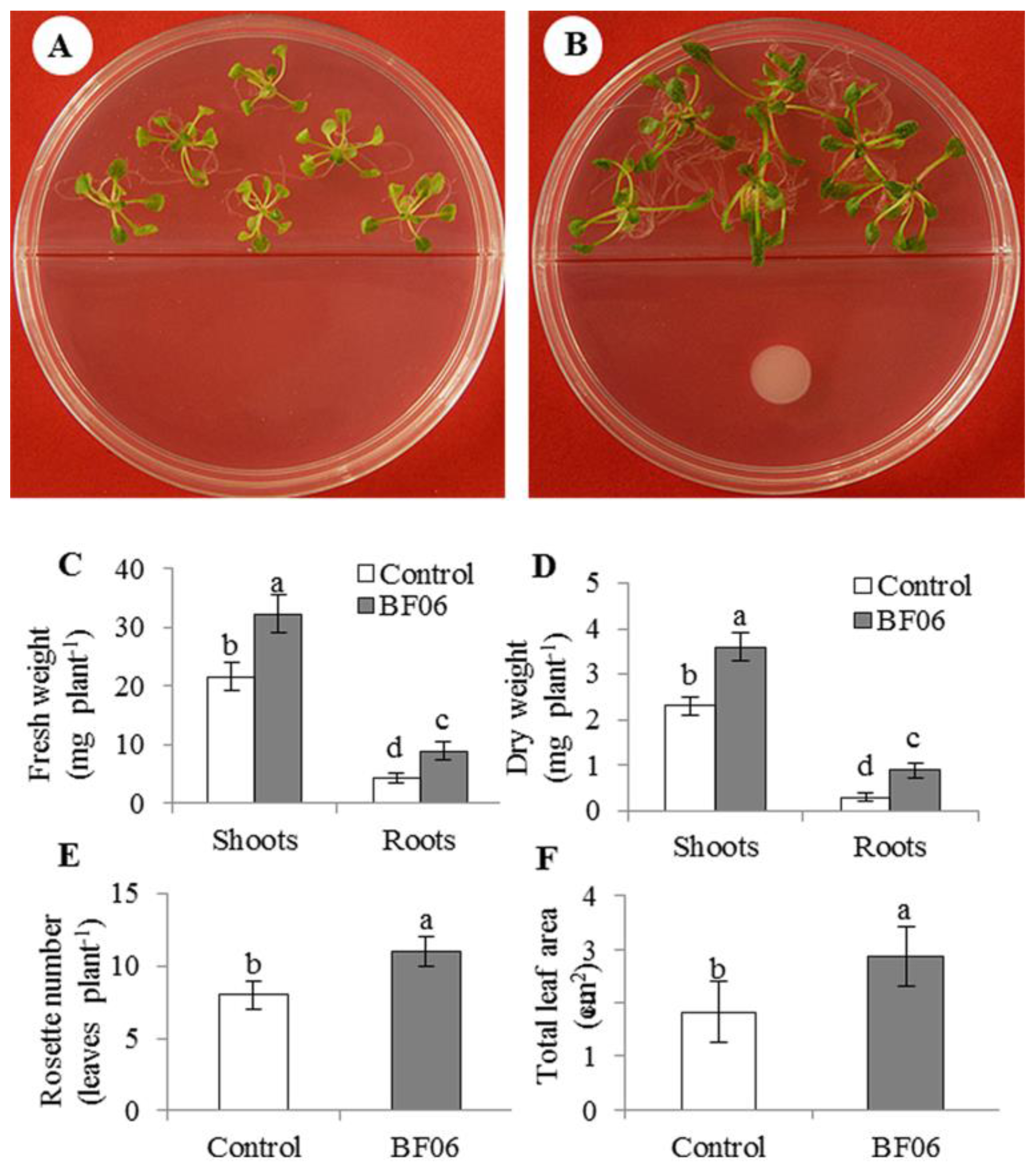 Figure 1
This is an open access article distributed under the
Creative Commons Attribution License
which permits unrestricted use, distribution, and reproduction in any medium, provided the original work is properly cited. (CC BY 4.0).
Share & Cite This Article
MDPI and ACS Style
Wang, J.; Zhou, C.; Xiao, X.; Xie, Y.; Zhu, L.; Ma, Z. Enhanced Iron and Selenium Uptake in Plants by Volatile Emissions of Bacillus amyloliquefaciens (BF06). Appl. Sci. 2017, 7, 85.
Note that from the first issue of 2016, MDPI journals use article numbers instead of page numbers. See further details here.
Related Articles
Comments
[Return to top]