Application of Canola Oil Biodiesel/Diesel Blends in a Common Rail Diesel Engine
1
Division of Mechanical Design Engineering, Chonbuk National University, 567 Baekje-daero, Jeonjusi 561-756, Jeollabuk-do, Korea
2
Technical Education Center, GM Korea Company, 72 Saengmuol-ro, Gunsansi 573-882, Jeollabuk-do, Korea
*
Author to whom correspondence should be addressed.
Academic Editor: César M. A. Vasques
Received: 23 November 2016 / Revised: 15 December 2016 / Accepted: 23 December 2016 / Published: 28 December 2016
(This article belongs to the Section
Energy
)
Abstract
In this study, the application effects of canola oil biodiesel/diesel blends in a common rail diesel engine was experimentally investigated. The test fuels were denoted as ULSD (ultra low sulfur diesel), BD20 (20% canola oil blended with 80% ULSD by volume), and PCO (pure canola oil), respectively. These three fuels were tested under an engine speed of 1500 rpm with various brake mean effective pressures (BMEPs). The results indicated that PCO can be used well in the diesel engine without engine modification, and that BD20 can be used as a good alternative fuel to reduce the exhaust pollution. In addition, at low engine loads (0.13 MPa and 0.26 MPa), the combustion pressure of PCO is the smallest, compared with BD20 and ULSD, because the lower calorific value of PCO is lower than that of ULSD. However, at high engine loads (0.39 MPa and 0.52 MPa), the rate of heat release (ROHR) of BD20 is the highest because the canola oil biodiesel is an oxygenated fuel that promotes combustion, shortening the ignition delay period. For exhaust emissions, by using canola oil biodiesel, the particulate matter (PM) and carbon monoxide (CO) emissions were considerably reduced with increased BMEP. The nitrogen oxide (NO
x
) emissions increased only slightly due to the inherent presence of oxygen in biodiesel.
View Full-Text
►

▼

Figures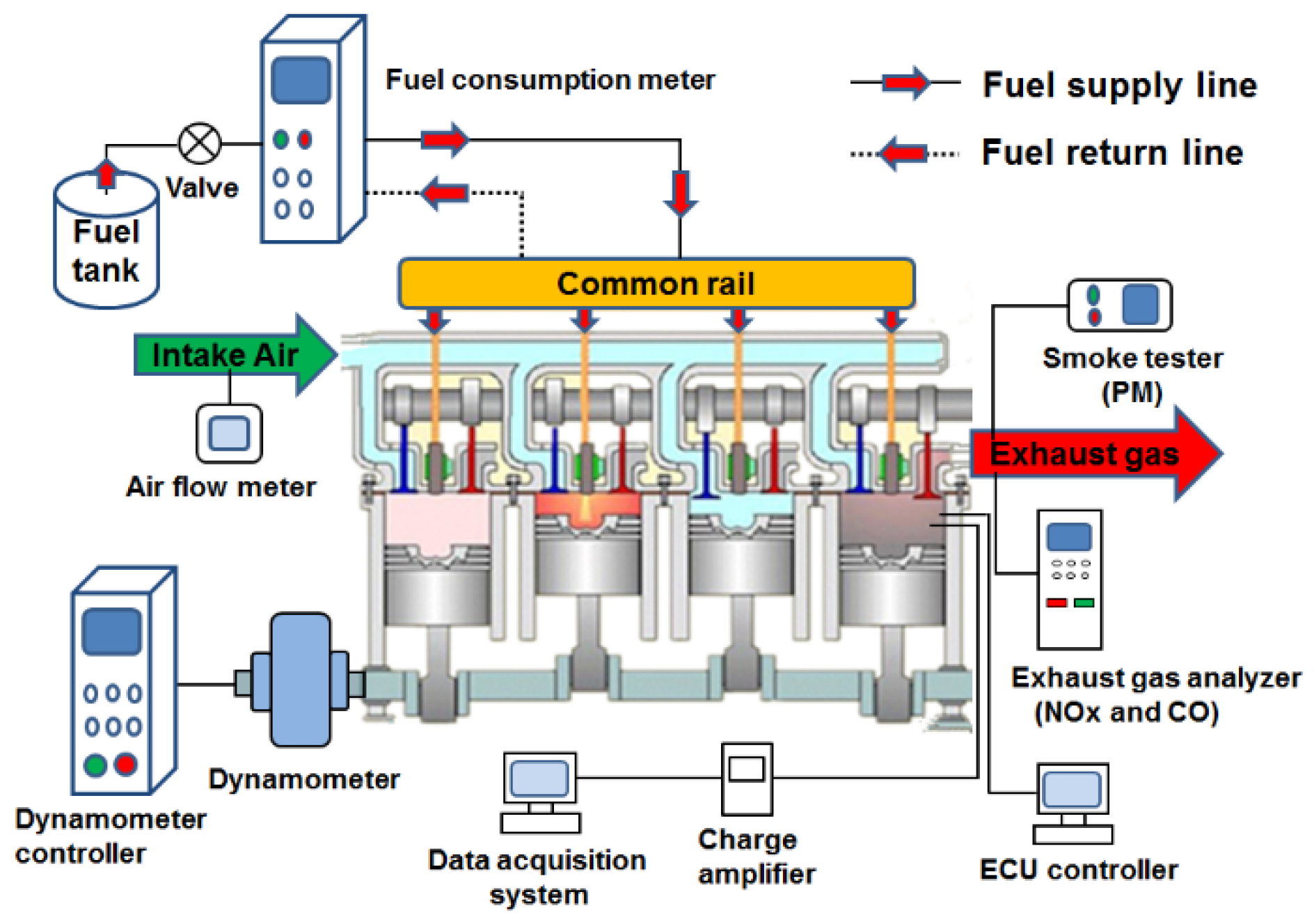 Figure 1
This is an open access article distributed under the
Creative Commons Attribution License
which permits unrestricted use, distribution, and reproduction in any medium, provided the original work is properly cited. (CC BY 4.0).
Share & Cite This Article
MDPI and ACS Style
Ge, J.C.; Yoon, S.K.; Kim, M.S.; Choi, N.J. Application of Canola Oil Biodiesel/Diesel Blends in a Common Rail Diesel Engine. Appl. Sci. 2017, 7, 34.
Note that from the first issue of 2016, MDPI journals use article numbers instead of page numbers. See further details here.
Related Articles
Comments
[Return to top]