Real-Time PCR Data Processing Shown by the Analysis of Colorectal Specific Candidate Genes, ERCC1, RRM1 and TS in Relation to β2M as Endogenous Control
1
Department of Pathology und Cytology, Dr. Horst-Schmidt-Kliniken (HSK), Wiesbaden 65199, Germany
2
Department of Radiotherapy, Lippe Hospital, Lemgo 32657, Germany
3
Department of Radiotherapy, St. Josefs-Hospital, Wiesbaden 65189, Germany
*
Author to whom correspondence should be addressed.
Received: 29 December 2011 / Revised: 7 February 2012 / Accepted: 8 February 2012 / Published: 24 February 2012
Abstract
Currently, quantitative real-time PCR (Q-PCR) of archival formalin-fixed, paraffin embedded (FFPE) tissue is a critical tool for research and is not well established in routine diagnostics. Therefore, continuous improvement in mathematics and statistics associated with interpreting final accurate and reproducible results are fundamental. This project describes and discusses specificity and sensitivity with respect to intra- and inter-assay variances by use of a commercial Human Reference RNA and individual RNA derived from colorectal cancer patients (n = 25). All patients were treated with 5-fluoruracil (5-FU) and a concomitant pelvic radiotherapy (50.4 Gy). Quality assessment of target tissue samples was evaluated by clinicopathological findings and optical density (OD) measurements. We analyzed the steady state messenger RNA (mRNA) expression level of a small panel of cancer relevant genes, excision repair cross-complementing group 1 (
ERCC1
), ribonucleoside-diphosphate reductase subunit M1 (
RRM1
), thymidylate synthase (
TYMS
) and ß-2microglobulin (
ß-2M
)
as endogenous control. The mRNA of a Human Reference RNA, tumor and non-neoplastic material was reverse transcribed into its complementary DNA (cDNA). cDNA was amplified based on dual-labeled TaqMan real-time fluorescence measurements. The real-time efficiency and therefore the output data can be influenced through the kind of calibrator used, the amount and quality of used RNA and by the degree of individual assay variability. Each sample presents an individual amplification curve. Thus, confirmation of primer specificity, one or more invariant endogenous controls, RNA and cDNA quality, as well as real-time PCR amplification efficiencies and linearity calculations from individual slopes or R
2
-values must be included in each study.
View Full-Text
►

▼

Figures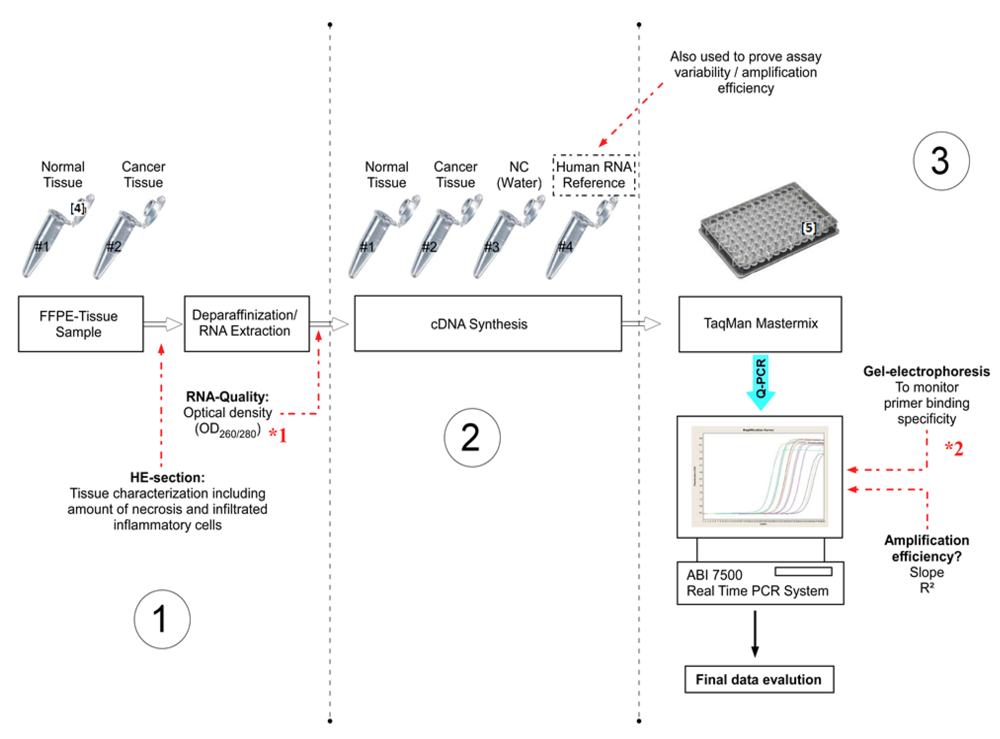 Figure 1
Share & Cite This Article
MDPI and ACS Style
Demes, M.; Bartsch, H.; Scheil-Bertram, S.; Mücke, R.; Fisseler-Eckhoff, A. Real-Time PCR Data Processing Shown by the Analysis of Colorectal Specific Candidate Genes, ERCC1, RRM1 and TS in Relation to β2M as Endogenous Control. Appl. Sci. 2012, 2, 139-159.
Related Articles
Comments
[Return to top]