Multi-Stage Silicification of Pliocene Wood: Re-Examination of an 1895 Discovery from Idaho, USA
1
Poudre School District, Ft. Collins, CO 80526, USA
2
College of Natural Sciences Education and Outreach Center, Colorado State University, Fort Collins, CO 80526, USA
3
Professur Werkstoff- und Oberflächentechnik, Technische Universität Chemnitz, Chemnitz 09107, Germany
4
Geology Department, Western Washington University, Bellingham, WA 98225, USA
5
Department of Geosciences, Idaho State University, Pocatello, ID 832091, USA
6
Institut für Mineralogie, Technische Universität Bergakademie Freiberg, Freiberg 09599, Germany
7
Museum für Naturkunde Chemnitz, Chemnitz 09111, Germany
8
Institut für Geologie, Technische Universität Bergakademie Freiberg 09599, Germany
*
Author to whom correspondence should be addressed.
Academic Editor: James Schmitt
Received: 3 March 2016 / Revised: 29 March 2016 / Accepted: 30 March 2016 / Published: 26 April 2016
Abstract
The 1895 discovery of a petrified tree near Clover Creek in south-central Idaho, USA, attracted worldwide attention and resulted in the naming of a new species of ancient oak,
Quercinium pliocaenicum
Schuster. For more than a century, the discovery has largely been forgotten, even though specimens reside in reputable museums. Reinvestigation of the locality in 2014/2015 resulted in newly-collected specimens and a wealth of new data. Optical microscopy confirms the cellular anatomy used for the original taxonomic study. X-ray diffraction, scanning electron microscopy, energy-dispersive electron spectroscopy, Raman spectroscopy and cathodoluminescence microscopy reveal details of the mineralization, showing the presence of opal-CT as the primary component, with chalcedony as a lesser constituent. This mineralogy suggests petrifaction occurred in at least two stages, beginning with opalization of cellular tissue, leaving open vessels that became filled with chalcedony during a later mineralization episode. Clover Creek oak represents relict flora growing in a wetter climate before the uplift of the Cascade Range created a rain shadow that caused profound desertification of the inland Pacific Northwest.
View Full-Text
►

▼

Figures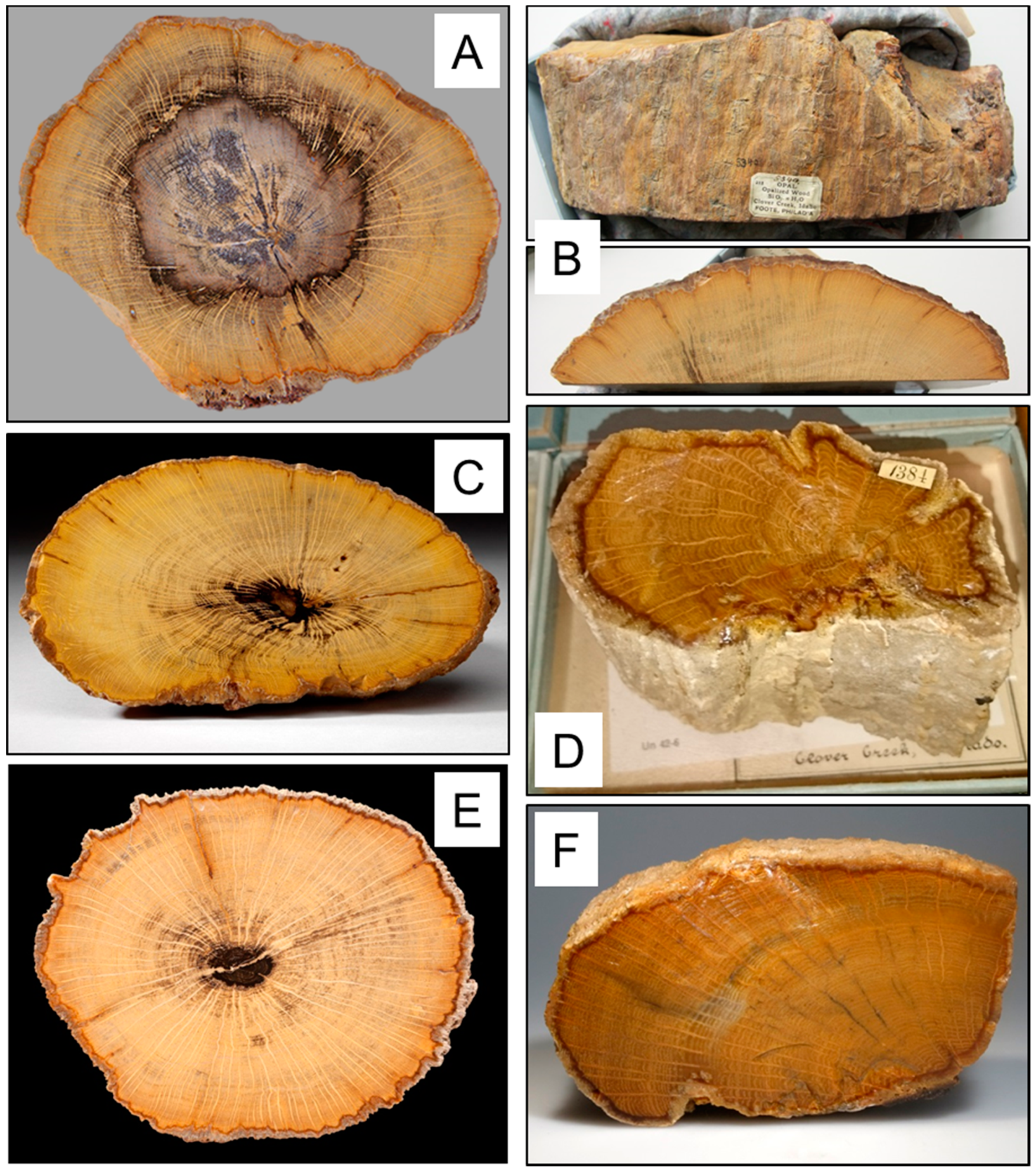 Figure 1
This is an open access article distributed under the
Creative Commons Attribution License
which permits unrestricted use, distribution, and reproduction in any medium, provided the original work is properly cited. (CC BY 4.0).
Share & Cite This Article
MDPI and ACS Style
Viney, M.; Dietrich, D.; Mustoe, G.; Link, P.; Lampke, T.; Götze, J.; Rößler, R. Multi-Stage Silicification of Pliocene Wood: Re-Examination of an 1895 Discovery from Idaho, USA. Geosciences 2016, 6, 21.
Note that from the first issue of 2016, MDPI journals use article numbers instead of page numbers. See further details here.
Related Articles
Comments
[Return to top]