Early Silurian (Aeronian) East Point Coral Patch Reefs of Anticosti Island, Eastern Canada: First Reef Recovery from the Ordovician/Silurian Mass Extinction in Eastern Laurentia
1
Loupicoubas, 46220 Prayssac, France
2
Department of Earth Sciences, Western University, London N6A 5B7, Canada
*
Author to whom correspondence should be addressed.
Received: 5 April 2012 / Revised: 11 May 2012 / Accepted: 15 May 2012 / Published: 24 May 2012
Abstract
An extensive late Aeronian patch reef swarm outcrops for 60–70 km on Anticosti Island, eastern Canada, located in the inner to mid-shelf area of a prominent tropical carbonate platform of southeastern Laurentia, at 20°–25° S paleolatitude of the southern typhoon belt. This complex, described here for the first time, includes more than 100 patch reefs, up to 60–80 m in diameter and 10 m high. Reefs are exposed three-dimensionally on present-day tidal flats, as well as inland along roads and rivers. Down the gentle 1°–2° paleoslope, the reefs grade into coral-sponge biostromes, and westerly they grade into inter-reef or deeper 'crinoidal meadow' facies. The reef builders were dominantly tabulate and rugose corals, with lesser stromatoporoids. Other components include crinoids, brachiopods, green algae (especially paleoporellids), and encrusting cyanobacteria: reefs display some of the earliest known symbiotic intergrowths of corals and stromatoporoids. Reefs were variably built on a base of crinoidal grainstones, meadows of baffling tabulate corals, brachiopod shells, or chlorophytes. These reefs mark an early phase of reef recovery after a prominent reef gap of 5–6 million years following the Ordovician/Silurian mass extinction events. The reefs feature a maximal diversity of calcifying cyanobacteria, corals and stromatoporoids, but low diversity of brachiopods, nautiloids and crinoids. Following the North American Stratigraphic Code, we define herein the Menier Formation, encompassing the lower two members of the existing Jupiter Formation.
View Full-Text
►

▼

Figures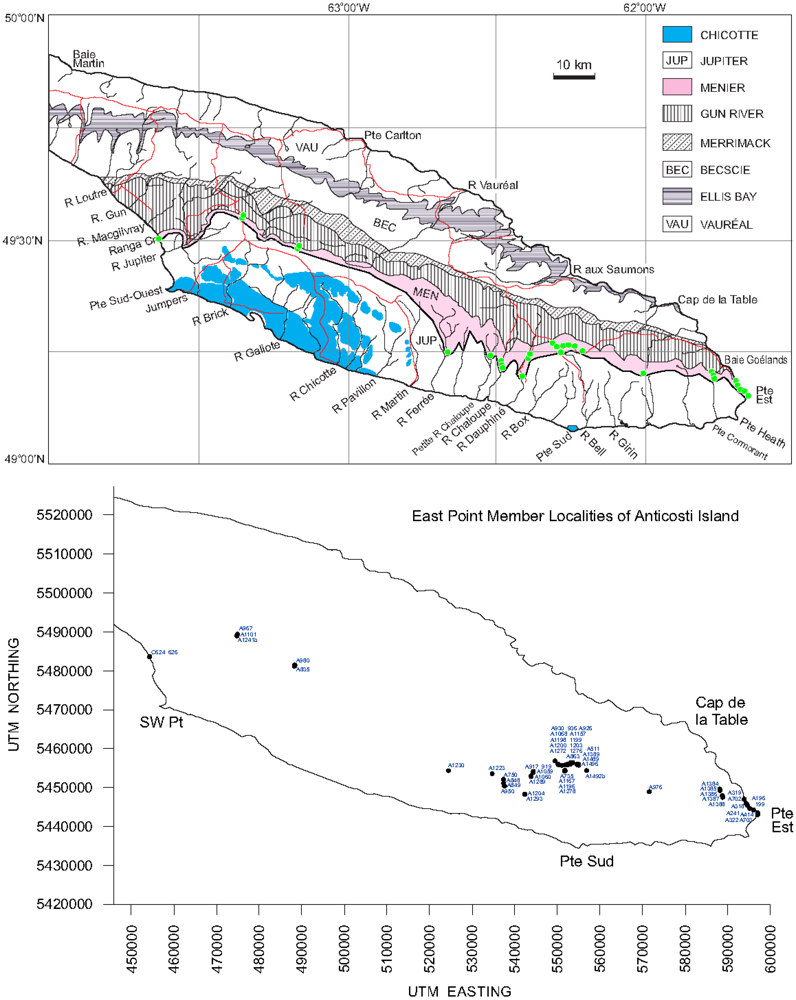 Figure 1
Share & Cite This Article
MDPI and ACS Style
Copper, P.; Jin, J. Early Silurian (Aeronian) East Point Coral Patch Reefs of Anticosti Island, Eastern Canada: First Reef Recovery from the Ordovician/Silurian Mass Extinction in Eastern Laurentia. Geosciences 2012, 2, 64-89.
Related Articles
Comments
[Return to top]