The Location and Styles of Ice-Free "Oases" during Neoproterozoic Glaciations with Evolutionary Implications
Department of Earth Sciences, Royal Holloway University of London, Queen's Building, Egham TW200EX, UK
Received: 13 March 2012 / Revised: 10 April 2012 / Accepted: 17 May 2012 / Published: 29 May 2012
Abstract
Evidence based on molecular clocks, together with molecular evidence/biomarkers and putative body fossils, points to major evolutionary events prior to and during the intense Cryogenian and Ediacaran glaciations. The glaciations themselves were of global extent. Sedimentological evidence, including hummocky cross-stratification (representing ice-free seas affected by intra-glacial storms), dropstone textures, microbial mat-bearing ironstones, ladderback ripples, and wave ripples, militates against a "hard" Snowball Earth event. Each piece of sedimentological evidence potentially allows insight into the shape and location, with respect to the shoreline, of ice-free areas ("oases") that may be viewed as potential refugia. The location of such oases must be seen in the context of global paleogeography, and it is emphasized that continental reconstructions at 600 Ma (about 35 millions years after the "Marinoan" ice age) are non-unique solutions. Specifically, whether continents such as greater India, Australia/East Antarctica, Kalahari, South and North China, and Siberia, were welded to a southern supercontinent or not, has implications for island speciation, faunal exchange, and the development of endemism.
View Full-Text
►

▼

Figures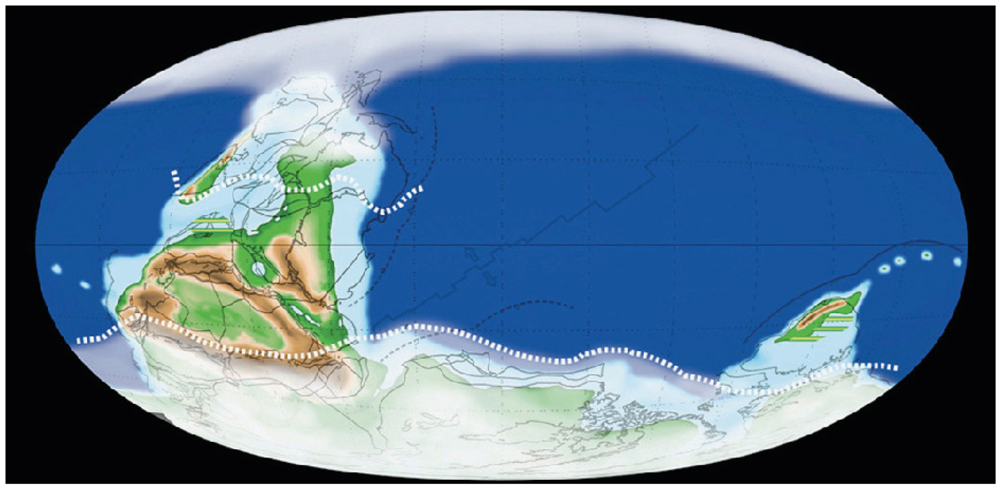 Figure 1
Share & Cite This Article
MDPI and ACS Style
Le Heron, D.P. The Location and Styles of Ice-Free "Oases" during Neoproterozoic Glaciations with Evolutionary Implications. Geosciences 2012, 2, 90-108.
Related Articles
Comments
[Return to top]