Physiological Effects of Ergot Alkaloid and Indole-Diterpene Consumption on Sheep under Hot and Thermoneutral Ambient Temperature Conditions
Faculty of Veterinary and Agricultural Sciences, University of Melbourne, Parkville 3010, Australia
*
Author to whom correspondence should be addressed.
Academic Editor: Marina von Keyserlingk
Received: 21 January 2016 / Revised: 8 May 2016 / Accepted: 13 May 2016 / Published: 2 June 2016
Abstract
A controlled feeding study was undertaken to determine the physiological and production effects of consuming perennial ryegrass alkaloids (fed via seed) under extreme heat in sheep. Twenty-four Merino ewe weaners (6 months; initial BW 30.8 ± 1.0 kg) were selected and the treatment period lasted 21 days following a 14 day acclimatisation period. Two levels of two factors were used. The first factor was alkaloid, fed at a nil (NilAlk) or moderate level (Alk; 80 μg/kg LW ergovaline and 20.5 μg/kg·LW lolitrem B). The second factor was ambient temperature applied at two levels; thermoneutral (TN; constant 21–22 °C) or heat (Heat; 9:00 AM–5:00 PM at 38 °C; 5:00 PM–9:00 AM at 21–22 °C), resulting in four treatments, NilAlk TN, NilAlk Heat, Alk TN and Alk Heat. Alkaloid consumption reduced dry matter intake (
p
= 0.008), and tended to reduce liveweight (
p
= 0.07). Rectal temperature and respiration rate were increased by both alkaloid and heat (
p
< 0.05 for all). Respiration rate increased to severe levels when alkaloid and heat were combined, indicating the short term effects which may be occurring in perennial ryegrass toxicosis (PRGT) areas during severe weather conditions, a novel finding. When alkaloid ingestion and heat were administered separately, similar physiological responses occurred, indicating alkaloid ingestion causes a similar heat stress response to 38 °C heat.
View Full-Text
►

▼

Figures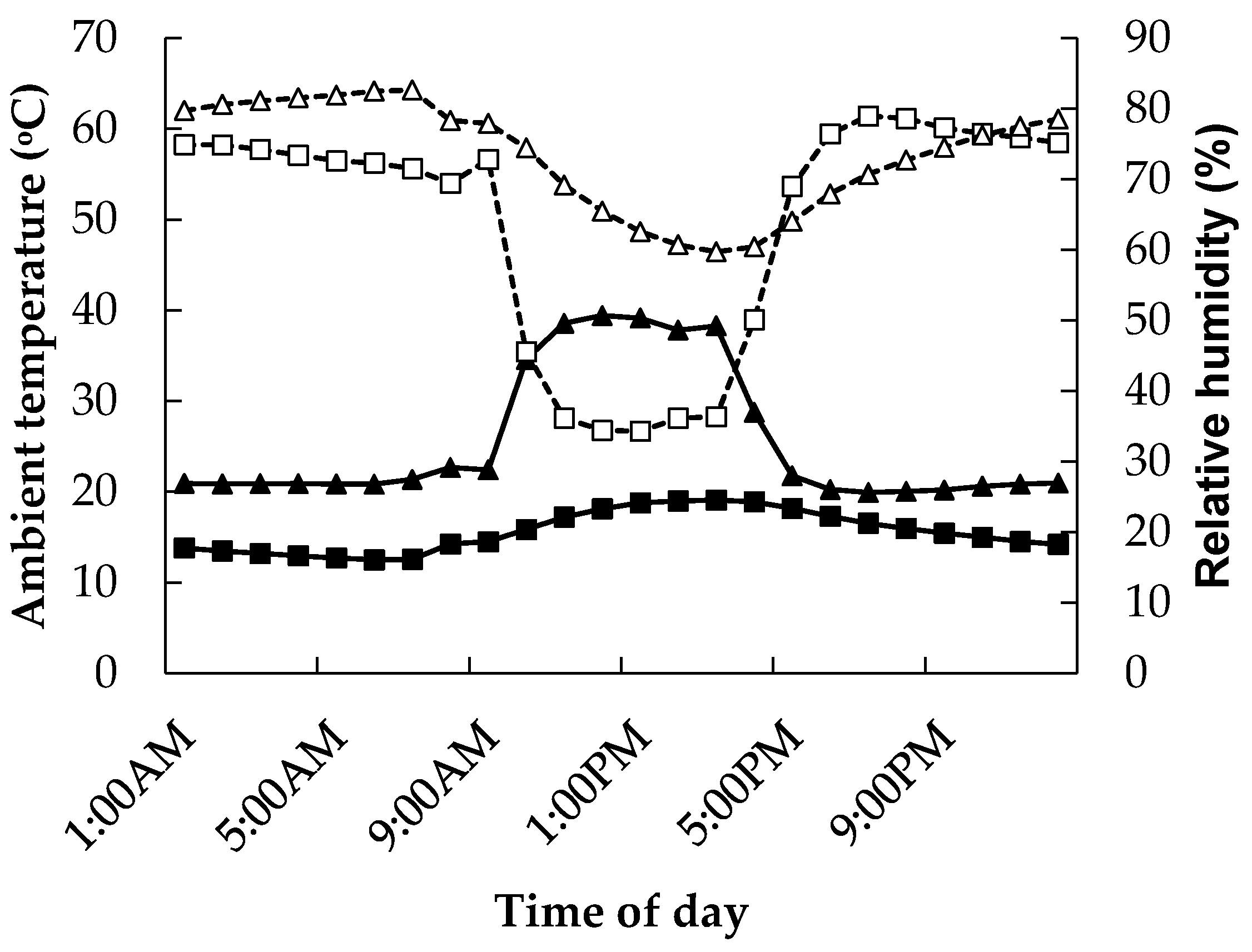 Figure 1
This is an open access article distributed under the
Creative Commons Attribution License
which permits unrestricted use, distribution, and reproduction in any medium, provided the original work is properly cited. (CC BY 4.0).
Share & Cite This Article
MDPI and ACS Style
Henry, M.L.E.; Kemp, S.; Dunshea, F.R.; Leury, B.J. Physiological Effects of Ergot Alkaloid and Indole-Diterpene Consumption on Sheep under Hot and Thermoneutral Ambient Temperature Conditions. Animals 2016, 6, 37.
Note that from the first issue of 2016, MDPI journals use article numbers instead of page numbers. See further details here.
Related Articles
Comments
[Return to top]