Recent Progress in Understanding the Large Scale Jets of Powerful Quasars
1
Department of Physics, University of Maryland, Baltimore, MD 21250, USA
2
Department of Physics, Florida Institute of Technology, Melbourne, FL 32901, USA
*
Author to whom correspondence should be addressed.
Academic Editors: Jose L. Gómez, Alan P. Marscher and Svetlana G. Jorstad
Received: 7 September 2016 / Revised: 8 November 2016 / Accepted: 10 November 2016 / Published: 23 November 2016
Abstract
Our understanding of the physics of kpc-scale quasar jets had seemed to converge to a paradigm in which these jets are as highly relativistic on the kpc scale as they are on sub-pc scales close to the central black hole. Retaining bulk Lorentz factors (Γ) on the order of 10–20 at these distances implies a jet power comparable to or higher than their Eddington luminosity. We recently started challenging this paradigm, which was put in place to explain the surprisingly bright X-ray emission of the knots of many quasar jets as inverse Compton scattering off the cosmic microwave background (IC/CMB). We have shown that the knot X-ray emission of the archetypical jets 3C 273 and PKS 0637-752 is not due to IC/CMB. With IC/CMB disfavored, an alternative interpretation for the X-rays is synchrotron radiation from a second population of electrons accelerated in situ up to ∼100 TeV. These results are the first step towards resolving the long-standing issue of the nature of the X-ray emission in powerful quasar jets. Comprehensive observational and theoretical work on essentially all X-ray-detected large-scale quasar jets to test the IC/CMB model over a much larger population needs to be done to examine the implications of slower jets that are extremely efficient accelerators. A fascinating case can be made that—contrary to popular belief—the total radiative power of the large-scale jet of these sources is comparable to that of the quasar core. Even more so, the angle-integrated TeV output of these (previously thought TeV-quiet) quasar jets likely makes them the dominant class among active galactic nuclei (AGN), exceeding the TeV production of so-called TeV blazars.
View Full-Text
►

▼

Figures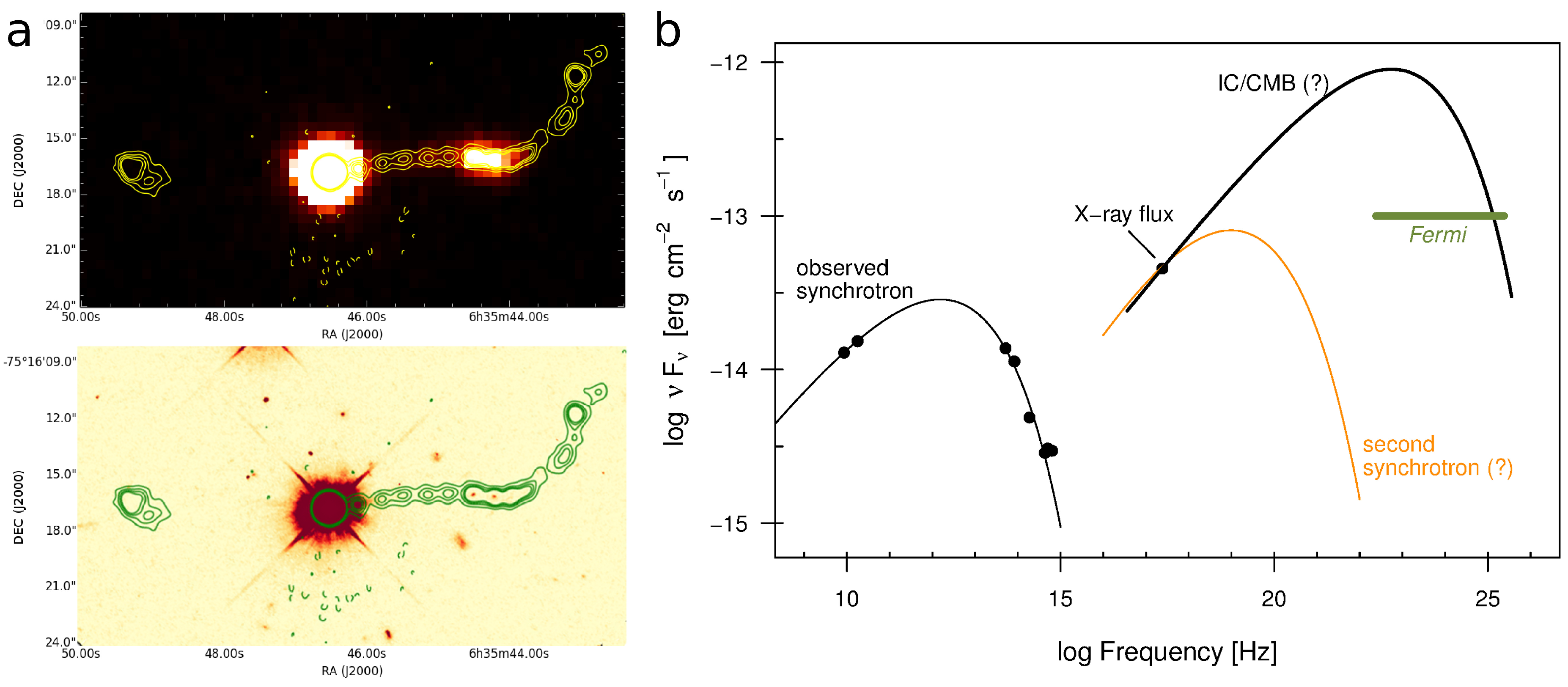 Figure 1
This is an open access article distributed under the
Creative Commons Attribution License
which permits unrestricted use, distribution, and reproduction in any medium, provided the original work is properly cited. (CC BY 4.0).
Share & Cite This Article
MDPI and ACS Style
Georganopoulos, M.; Meyer, E.T.; Perlman, E.S. Recent Progress in Understanding the Large Scale Jets of Powerful Quasars. Galaxies 2016, 4, 65.
Note that from the first issue of 2016, MDPI journals use article numbers instead of page numbers. See further details here.
Related Articles
Comments
[Return to top]