Advances in Understanding Carboxysome Assembly in Prochlorococcus and Synechococcus Implicate CsoS2 as a Critical Component
1
Department of Plant and Microbial Biology, University of California, Berkeley, CA 94720, USA
2
Physical Biosciences Division, Lawrence Berkeley National Laboratory, Berkeley, CA 94720, USA
3
Department of Chemistry and Biochemistry, The University of Southern Mississippi, Hattiesburg, MS 39406-5043, USA
4
MSU-DOE Plant Research Laboratory, Michigan State University, East Lansing, MI 48824, USA
5
Department of Genetics and Biochemistry, Clemson University, Clemson, SC 29634, USA
†
Current address: Department of Microbiology and Immunology, University of Michigan, Ann Arbor, MI 48109, USA
‡
Current address: School of Polymers and High Performance Materials, The University of Southern Mississippi, Hattiesburg, MS 39406-5217, USA
*
Author to whom correspondence should be addressed.
Academic Editors: John C. Meeks and Robert Haselkorn
Received: 5 December 2014 / Revised: 9 March 2015 / Accepted: 16 March 2015 / Published: 27 March 2015
Abstract
The marine
Synechococcus
and
Prochlorococcus
are the numerically dominant cyanobacteria in the ocean and important in global carbon fixation. They have evolved a CO
2
-concentrating-mechanism, of which the central component is the carboxysome, a self-assembling proteinaceous organelle. Two types of carboxysome, α and β, encapsulating form IA and form IB d-ribulose-1,5-bisphosphate carboxylase/oxygenase, respectively, differ in gene organization and associated proteins. In contrast to the β-carboxysome, the assembly process of the α-carboxysome is enigmatic. Moreover, an absolutely conserved α-carboxysome protein, CsoS2, is of unknown function and has proven recalcitrant to crystallization. Here, we present studies on the CsoS2 protein in three model organisms and show that CsoS2 is vital for α-carboxysome biogenesis. The primary structure of CsoS2 appears tripartite, composed of an N-terminal, middle (M)-, and C-terminal region. Repetitive motifs can be identified in the N- and M-regions. Multiple lines of evidence suggest CsoS2 is highly flexible, possibly an intrinsically disordered protein. Based on our results from bioinformatic, biophysical, genetic and biochemical approaches, including peptide array scanning for protein-protein interactions, we propose a model for CsoS2 function and its spatial location in the α-carboxysome. Analogies between the pathway for β-carboxysome biogenesis and our model for α-carboxysome assembly are discussed.
View Full-Text
►

▼

Figures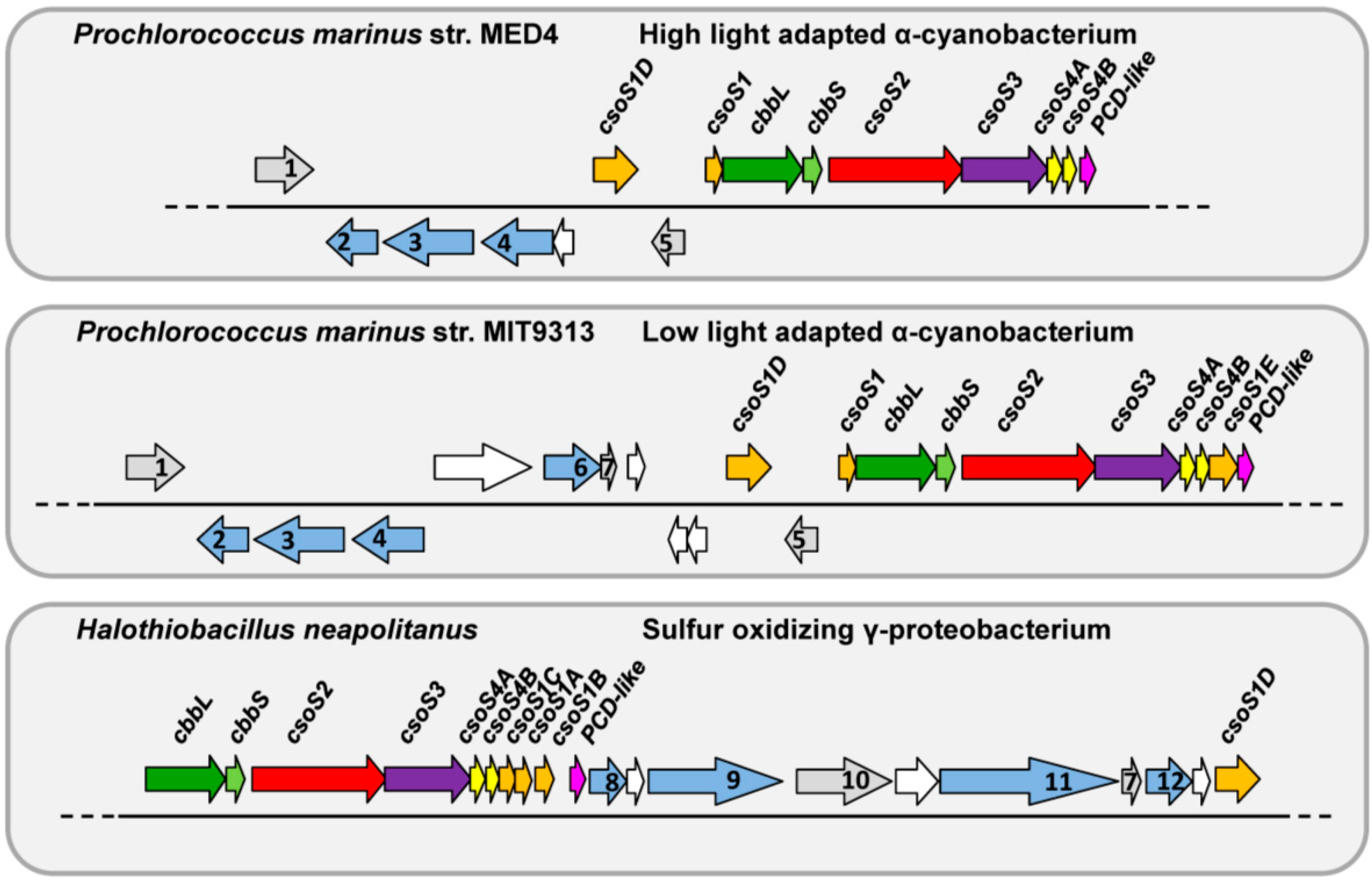 Figure 1
This is an open access article distributed under the
Creative Commons Attribution License
which permits unrestricted use, distribution, and reproduction in any medium, provided the original work is properly cited. (CC BY 4.0).
Share & Cite This Article
MDPI and ACS Style
Cai, F.; Dou, Z.; Bernstein, S.L.; Leverenz, R.; Williams, E.B.; Heinhorst, S.; Shively, J.; Cannon, G.C.; Kerfeld, C.A. Advances in Understanding Carboxysome Assembly in Prochlorococcus and Synechococcus Implicate CsoS2 as a Critical Component. Life 2015, 5, 1141-1171.
Related Articles
Comments
[Return to top]