Characteristic and Geological Implications of Major Elements and Rare Earth Elements of Triassic Chang 7 Oil Shale in Tongchuan City, Southern Ordos Basin (China)
1
School of Earth Sciences and Resources, Chang'an University, Xi'an 710054, China
2
No.2 Geo-Exploration Institute, Henan Provincial Bureau of Geo-Exploration and Mineral Development, Zhengzhou 450000, China
3
Yanchang Oilfiled Co., Ltd., Yan'an 716000, China
*
Authors to whom correspondence should be addressed.
Received: 19 February 2018 / Revised: 17 March 2018 / Accepted: 9 April 2018 / Published: 12 April 2018
Abstract
The study of the oil shale from Triassic Chang 7 oil layer in Ordos Basin is of great importance to oil and gas resources investigation. Based on systematic analyses of major elements and rare earth elements of twelve oil shale samples and grain size analyses of four sandstone samples from the Yishicun Profile in southern Ordos Basin, the elements characteristics and corresponding geological implications are discussed. The Al/Si and Si/(Si + Al + Fe) of oil shale samples are in small range, with the averages of 0.29 and 0.67, indicating that quartz is the main mineral and the oil shale deposits near terrigenous provenance. Rare earth elements of the oil shale illustrate the enrichment of light rare earth elements (LREEs) and deficit of heavy rare earth elements (HREEs). The Chondrite- and North American shale composite (NASC)-normalized distributing patterns manifested that the oil shale have been derived from the same terrigenous source and controlled by a similar sedimentary environment. The vertical variation of major elements and REEs show that the heterogeneity of oil shale samples is relatively low. By grain size analysis, the interlayer sandstone is the typical turbidite. The Chemical index of alteration (CIA) and (Fe + Mn)/Ti of the oil shale samples ranges in 65.02–78.09 and 6.60–25.82, respectively, indicating that during oil shale sedimentation, the paloeclimate is warm and humid with moderate chemical weathering and that there are obviously hydrothermal fliud activities. The correlation between δCe
N
and δEu
N
, total rare earth elements (ΣREE) and (Dy/Sm)
N
, implying that the diagenesis of oil shale is relatively low with middle diagenetic stage A period. The Ce
anom
of oil shale samples ranges from −0.094 to −0.049, suggesting that the redox condition of oil shale sedimentation is dominated by strong reducing condition, and the (La/Yb)n is from 1.3 to 2.1, manifesting the whole sedimentary rate of oil shale is relatively low. By the comparison with REEs distribution characteristics from surrounding potential provenance, the main provenances of Chang 7 sedimentation in southern Ordos Basin are from Yinshan Mountain and Qinling-Dabie Mountain.
View Full-Text
►

▼

Figures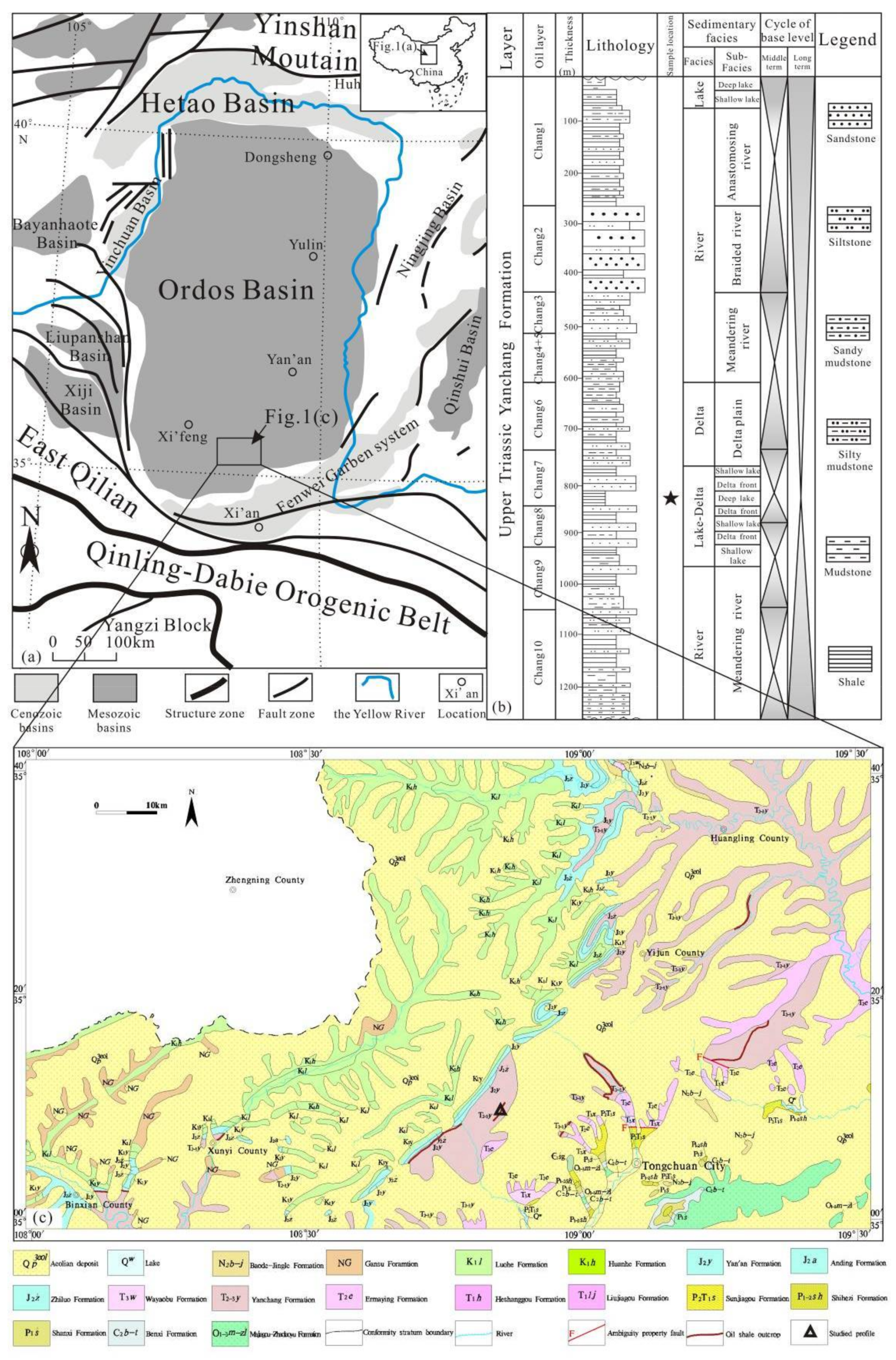 Figure 1
This is an open access article distributed under the
Creative Commons Attribution License
which permits unrestricted use, distribution, and reproduction in any medium, provided the original work is properly cited. (CC BY 4.0).
Share & Cite This Article
MDPI and ACS Style
Li, D.; Li, R.; Xue, T.; Wang, B.; Liu, F.; Zhao, B.; Zhao, D. Characteristic and Geological Implications of Major Elements and Rare Earth Elements of Triassic Chang 7 Oil Shale in Tongchuan City, Southern Ordos Basin (China). Minerals 2018, 8, 157.
Note that from the first issue of 2016, MDPI journals use article numbers instead of page numbers. See further details here.
Related Articles
Comments
[Return to top]