Growth Oscillatory Zoning in Erythrite, Ideally Co3(AsO4)2·8H2O: Structural Variations in Vivianite-Group Minerals
Department of Geoscience, University of Calgary, Calgary, AB T2N 1N4, Canada
*
Author to whom correspondence should be addressed.
Received: 11 July 2017 / Revised: 28 July 2017 / Accepted: 30 July 2017 / Published: 2 August 2017
Abstract
The crystal structure of an oscillatory zoned erythrite sample from Aghbar mine, Bou Azzer, Morocco, was refined using synchrotron high-resolution powder X-ray diffraction (HRPXRD) data, Rietveld refinement, space group
C
2/
m
, and Z
= 2. The crystal contains two sets of oscillatory zones that appear to have developed during epitaxial growth. The unit-cell parameters obtained are
a =
10.24799(3) Å,
b =
13.42490(7) Å,
c =
4.755885(8) Å,
β
= 105.1116(3)°, and
V
= 631.680(4) Å
3
. The empirical formula for erythrite, obtained with electron-probe micro-analysis (EPMA), is [Co
2.78
Zn
0.11
Ni
0.07
Fe
0.04
]
∑3.00
(AsO
4
)
2
·8H
2
O. Erythrite belongs to the vivianite-type structure that contains M1O
2
(H
2
O)
4
octahedra and M2
2
O
6
(H
2
O)
4
octahedral dimers that are linked by TO
4
(T
5+
= As or P) tetrahedra to form complex layers parallel to the (010) plane. These layers are connected by hydrogen bonds. The average <M1–O>[6] = 2.122(1) Å and average <M2–O>[6] = 2.088(1) Å. With space group
C
2/
m
, there are two solid solutions: M
3
(AsO
4
)
2
·8H
2
O and M
3
(PO
4
)
2
·8H
2
O where M
2+
= Mg, Fe, Co, Ni, or Zn. In these As- and P-series, using data from this study and from the literature, we find that their structural parameters evolve linearly with
V
and in a nearly parallel manner despite of the large difference in size between P
5+
(0.170 Å) and As
5+
(0.355 Å) cations. Average <T–O>[4], <M1–O>[6], and <M2–O>[6] distances increase linearly with
V
. The average <As–O> distance is affected by M atoms, whereas the average <P–O> distance is unaffected because it contains shorter and stronger P–O bonds. Although As- and P-series occur naturally, there is no structural reason why similar V-series vivianite-group minerals do not occur naturally or cannot be synthesized.
View Full-Text
►

▼

Figures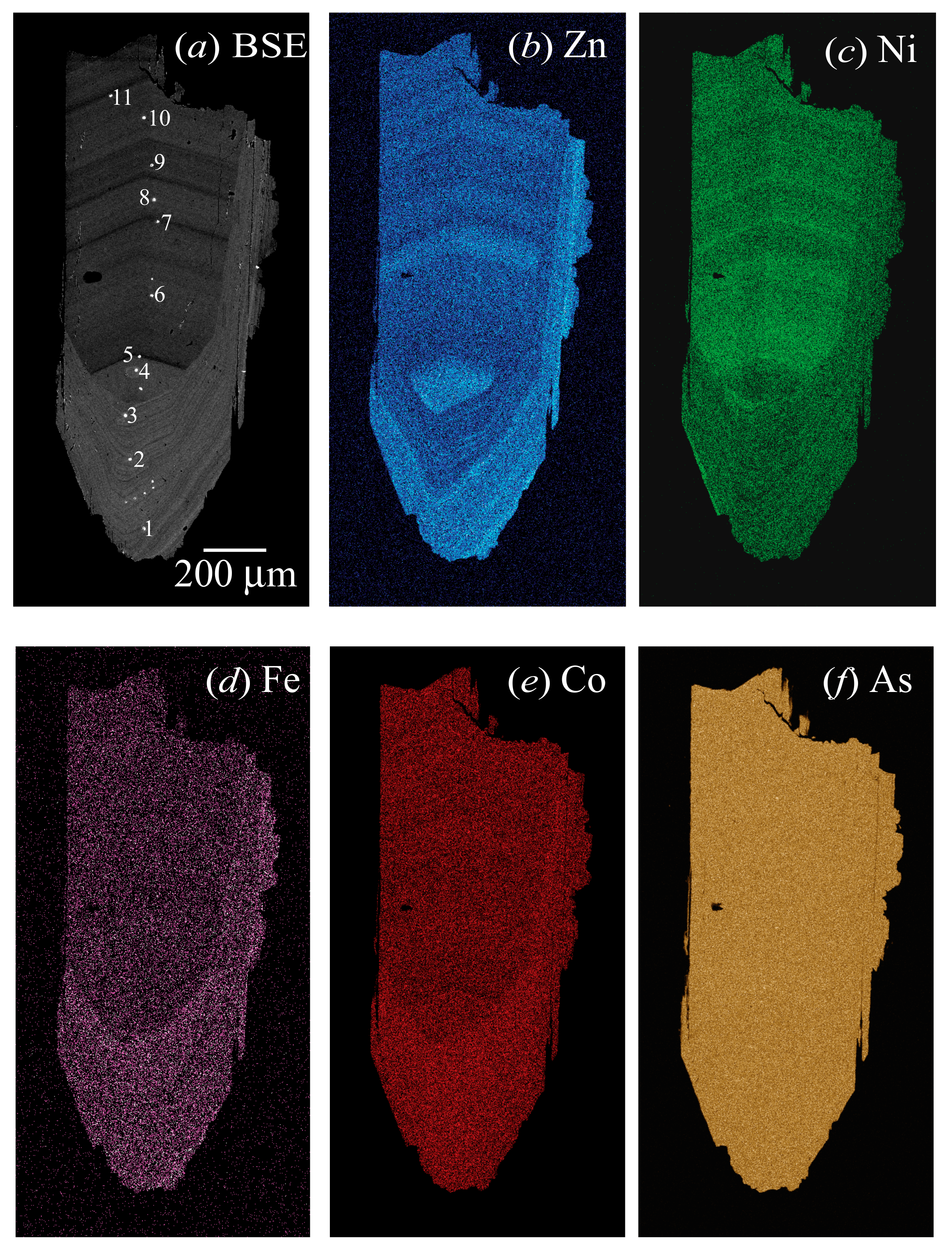 Figure 1
This is an open access article distributed under the
Creative Commons Attribution License
which permits unrestricted use, distribution, and reproduction in any medium, provided the original work is properly cited. (CC BY 4.0).
Share & Cite This Article
MDPI and ACS Style
Antao, S.M.; Dhaliwal, I. Growth Oscillatory Zoning in Erythrite, Ideally Co3(AsO4)2·8H2O: Structural Variations in Vivianite-Group Minerals. Minerals 2017, 7, 136.
Note that from the first issue of 2016, MDPI journals use article numbers instead of page numbers. See further details here.
Related Articles
Comments
[Return to top]