Evolution of Geochemical and Mineralogical Parameters during In Situ Remediation of a Marine Shore Tailings Deposit by the Implementation of a Wetland Cover
1
Institut de Minéralogie et Géochimie, Université de Lausanne, CH-1015 Lausanne, Switzerland
2
Present Address: Laboratoire de Traitement des Eaux usées, Institut Fondamental d'Afrique Noire (IFAN), Université Cheikh Anta Diop, BP 206 Dakar, Senegal
3
Present Address: SUMIRCO (Sustainable Mining Research & Consult EIRL), Casilla 28, San Pedro de la Paz 4130000, Chile
*
Author to whom correspondence should be addressed.
Received: 27 February 2014 / Revised: 23 June 2014 / Accepted: 24 June 2014 / Published: 8 July 2014
Abstract
We present data of the time-evolution of a remediation approach on a marine shore tailings deposit by the implementation of an artificial wetland. Two remediation cells were constructed: one in the northern area at sea-level and one in the central delta area (above sea-level) of the tailings. At the beginning, the "sea-level" remediation cell had a low pH (3.1), with high concentrations of dissolved metals and sulfate and chloride ions and showed sandy grain size. After wetland implementation, the "sea-level" remediation cell was rapidly water-saturated, the acidity was consumed, and after four months the efficiency of metal removal from solution was up to 79.5%–99.4% for Fe, 94.6%–99.9% for Mn, and 96.1%–99.6% for Zn. Al and Cu concentrations decreased below detection limit. The "above sea-level" remediation cell was characterized by the same pH (3.1) and finer grain size (clayey–silty), and with some lower element concentrations than in the "sea-level" cell. Even after one year of flooding, the "above sea-level" cell was not completely flooded, showing on-going sulfide oxidation in between the wetland cover and the groundwater level; the pH increased only to 4.4 and metal concentrations decreased only by 96% for Fe, 88% for Al, 51% for Cu, 97% for Mn, and 95% for Zn. During a dry period, the water level dropped in the "sea-level" cell, resulting in a seawater ingression, which triggered the desorption of As into solution. These data show that the applied remediation approach for this tailings deposit is successful, if the system is maintained water-saturated. Metal removal from solution was possible in both systems: first, as a result of sorption on Fe(III) hydroxide/and/or clay minerals and/or co-precipitation processes after rise of pH; and then, with more reducing conditions, due to metal sulfides precipitation.
View Full-Text
►

▼

Figures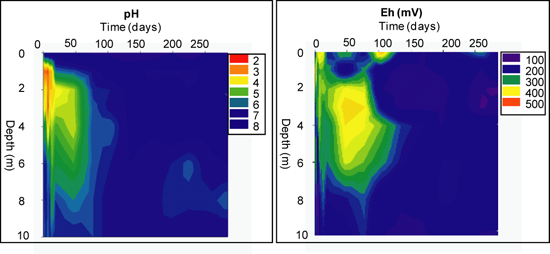 Share & Cite This Article
MDPI and ACS Style
Diaby, N.; Dold, B. Evolution of Geochemical and Mineralogical Parameters during In Situ Remediation of a Marine Shore Tailings Deposit by the Implementation of a Wetland Cover. Minerals 2014, 4, 578-602.
Related Articles
Comments
[Return to top]