Climate Change Impacts on Nutrient Losses of Two Watersheds in the Great Lakes Region
1
Department of Agricultural & Biological Engineering, Purdue University, 225 South University Street, West Lafayette, IN 47907, USA
2
Key Laboratory of Water Cycle and Related Land Surface Processes, Institute of Geographic Sciences and Natural Resources Research, Chinese Academy of Sciences, Beijing 100101, China
3
National Soil Erosion Research Laboratory, USDA-Agricultural Research Service, West Lafayette, IN 47907, USA
*
Authors to whom correspondence should be addressed.
Received: 5 January 2018 / Revised: 26 March 2018 / Accepted: 27 March 2018 / Published: 8 April 2018
(This article belongs to the Section
Hydrology
)
Abstract
Non-point sources (NPS) of agricultural chemical pollution are one major reason for the water quality degradation of the Great Lakes, which impacts millions of residents in the states and provinces that are bordering them. Future climate change will further impact water quality in both direct and indirect ways by influencing the hydrological cycle and processes of nutrient transportation and transformation, but studies are still rare. This study focuses on quantifying the impacts of climate change on nutrient (Nitrogen and Phosphorus) losses from the two small watersheds (Walworth watershed and Green Lake watershed) within the Great Lakes region. Analysis focused on changes through this century (comparing the nutrient loss prediction of three future periods from 2015 to 2099 with 30 years for each period against the historical nutrient estimation data from 1985 to 2008). The effects on total phosphorus and nitrate-nitrogen losses due to changes in precipitation quantity, intensity, and frequency, as well as air temperature, are evaluated for the two small watersheds, under three special report emission scenarios (SRES A2, A1B, B1). The newly developed Water Erosion Prediction Project-Water Quality (WEPP-WQ) model is utilized to simulate nutrient losses with downscaled and bias corrected future climate forcing from two General Circulation Models (GFDL, HadCM3). For each watershed, the observed runoff and nutrient loads are used to calibrate and validate the model before the application of the WEPP-WQ model to examine potential impacts from future climate change. Total phosphorus loss is projected to increase by 28% to 89% for the Green Lake watershed and 25% to 108% for the Walworth watershed mainly due to the combined effects of increase of precipitation quantity, extreme storm events in intensity and frequency, and air temperature. Nitrate-nitrogen losses are projected to increase by 1.1% to 38% for the Green Lake watershed and 8% to 95% for the Walworth watershed with the different major influencing factors in each future periods.
View Full-Text
►

▼

Figures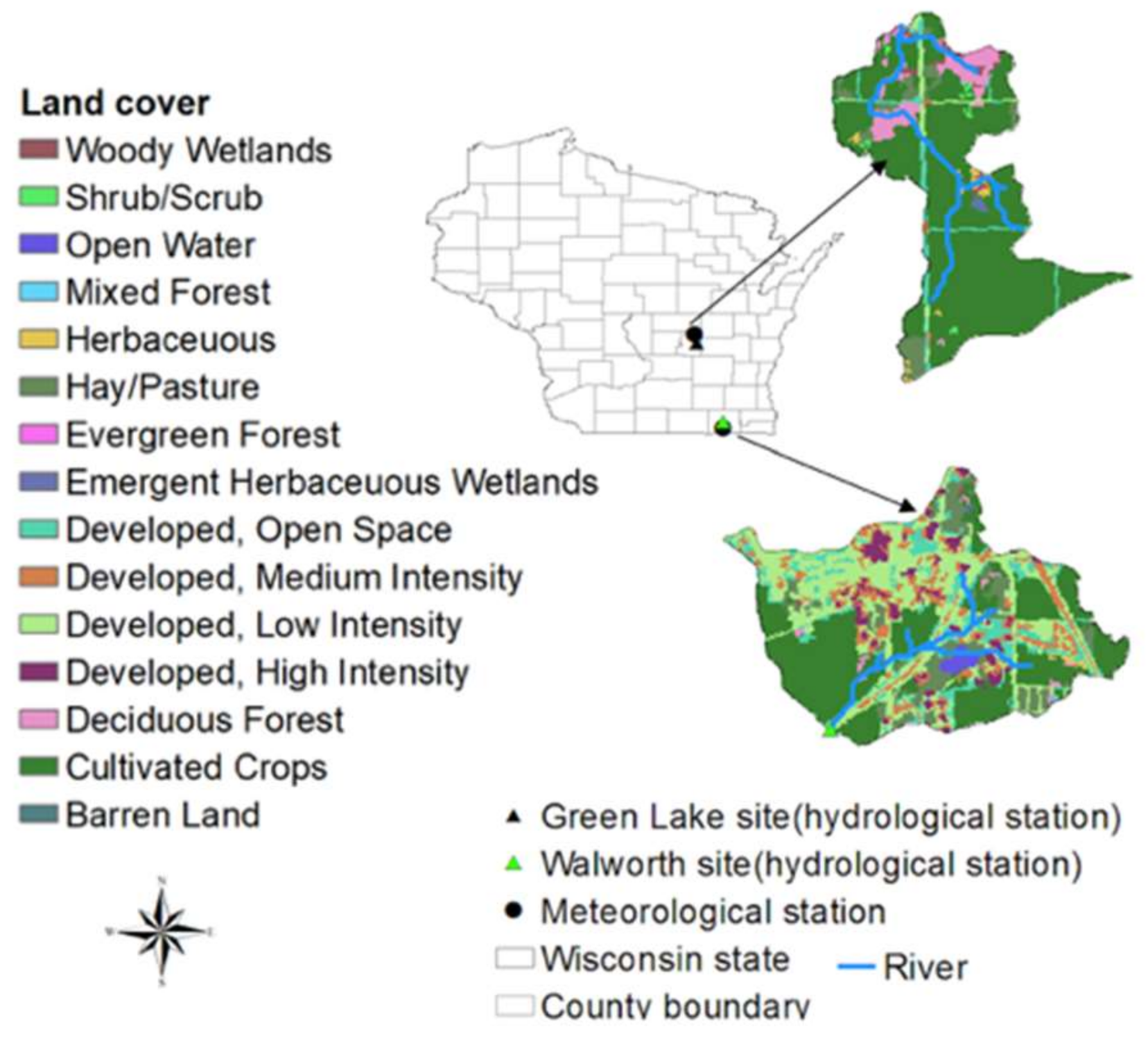 Figure 1
This is an open access article distributed under the
Creative Commons Attribution License
which permits unrestricted use, distribution, and reproduction in any medium, provided the original work is properly cited. (CC BY 4.0).
Share & Cite This Article
MDPI and ACS Style
Wang, L.; Flanagan, D.C.; Wang, Z.; Cherkauer, K.A. Climate Change Impacts on Nutrient Losses of Two Watersheds in the Great Lakes Region. Water 2018, 10, 442.
Note that from the first issue of 2016, MDPI journals use article numbers instead of page numbers. See further details here.
Related Articles
Comments
[Return to top]