Crop Evapotranspiration, Irrigation Water Requirement and Water Productivity of Maize from Meteorological Data under Semiarid Climate
1
Department of Plant and Environmental Sciences, New Mexico State University, Agricultural Science Center at Farmington, P.O. Box 1018, Farmington, NM 87499, USA
2
ADA Consulting Africa, 07 BP 14284 Lomé, Togo
3
Department of Biological Systems Engineering, University of Nebraska-Lincoln, Lincoln, NE 68583-0726, USA
*
Author to whom correspondence should be addressed.
Received: 28 February 2018 / Revised: 23 March 2018 / Accepted: 27 March 2018 / Published: 30 March 2018
Abstract
Under the semiarid climate of the Southwest United States, accurate estimation of crop water use is important for water management and planning under conservation agriculture. The objectives of this study were to estimate maize water use and water productivity in the Four Corners region of New Mexico. Maize was grown under full irrigation during the 2011, 2012, 2013, 2014 and 2017 seasons at the Agricultural Science Center at Farmington (NM). Seasonal amounts of applied irrigation varied from 576.6 to 1051.6 mm and averaged 837.7 mm and the total water supply varied from 693.4 to 1140.5 mm. Maize actual evapotranspiration was estimated using locally developed crop coefficient curve and the tabulated United Nations Food and Agriculture Organization (FAO) crop coefficients, and from this maize water productivity was determined. Maize actual daily evapotranspiration (ETa) varied from 0.23 to 10.2 mm and the seasonal ETa varied with year and ranged from 634.2 to 697.7 mm averaging 665.3 mm by the local Kc curve, from 687.3 to 739.3 mm averaging 717.8 mm by the non-adjusted FAO Kc values, and from 715.8 to 779.6 mm averaging 754.9 mm with the FAO adjusted Kc values. Maize irrigation requirements varied from 758.4 to 848.3 mm and averaged 800.2 mm using the local developed Kc and varied from 835.5 to 935.6 mm and averaged 912.2 mm using FAO Kc. The net irrigation requirement varied from 606.8 to 678.6 using local Kc curve, and from 682.78 to 748.5 mm when adopting the FAO Kc values. Average irrigation requirement was 641 mm under the local Kc option and 730 mm under FAO Kc values option. Maize crop water use efficiency (CWUE) ranged from 1.3 to 1.9 kg/m
3
and averaged 1.53 kg/m
3
, evapotranspiration water use efficiency (ETWUE) values were higher than CWUE and varied from 2.0 to 2.3 kg/m
3
, averaging 2.1 kg/m
3
. Maize irrigation water use efficiency (IWUE) was varied with years and averaged 1.74 kg/m
3
. There were strong relationships between maize CWUE and maize seasonal irrigation amounts of IWUE and the seasonal irrigation amounts with R
2
of 0.97 and 0.92, respectively. Maize CWUE increased linearly with maize IWUE with a coefficient of determination R
2
of 0.99, while IWUE showed a strong quadratic relationship with ETWUE (R
2
= 0.94). The results of this study can be used as a guideline for maize water management under the semiarid conditions in northwestern New Mexico and other locations with similar climate and management conditions. Irrigation requirements for maize should be adjusted to the local meteorological conditions for optimizing maize irrigation requirement and improving maize water productivity.
View Full-Text
►

▼

Figures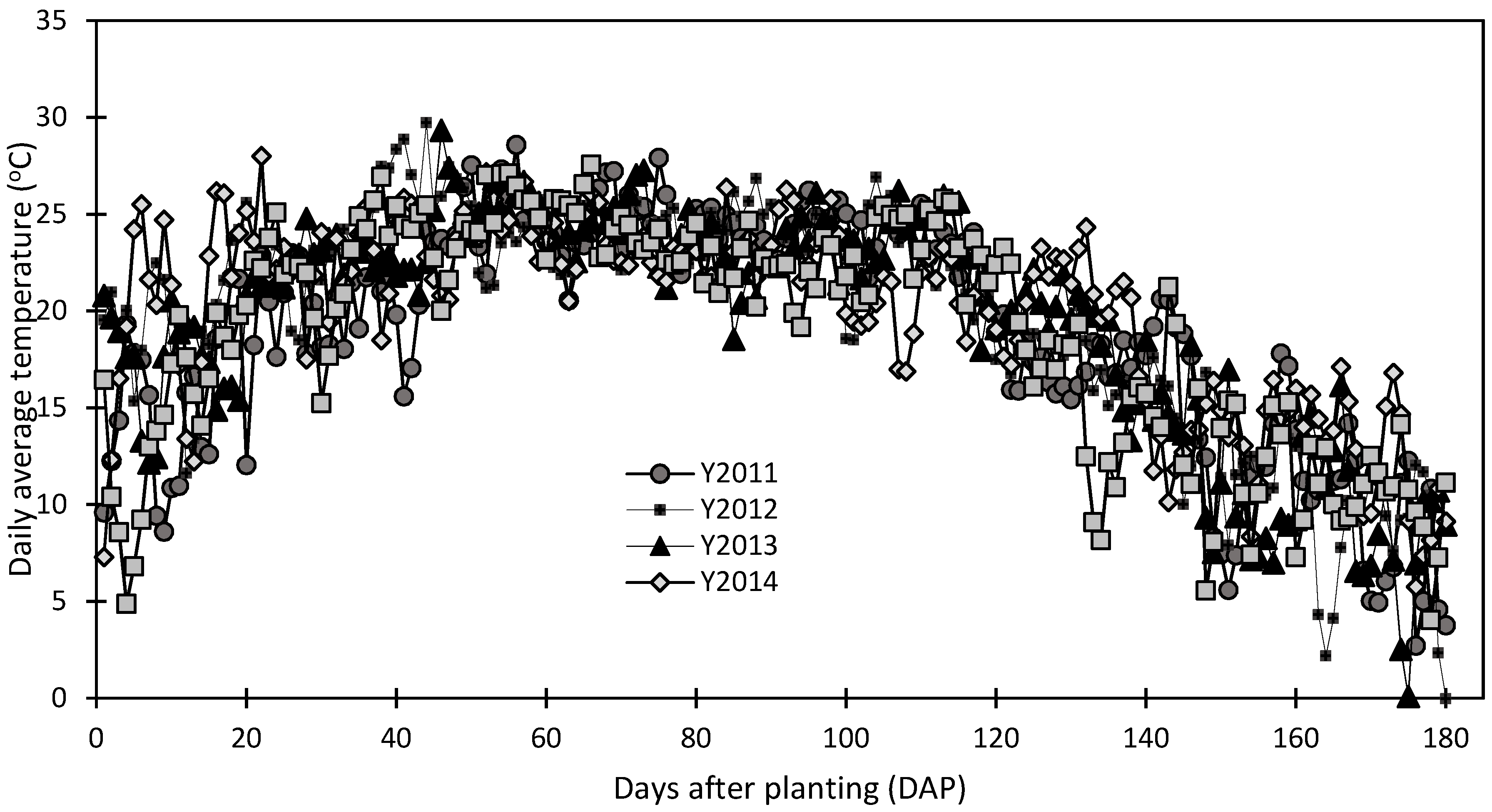 Figure 1
This is an open access article distributed under the
Creative Commons Attribution License
which permits unrestricted use, distribution, and reproduction in any medium, provided the original work is properly cited. (CC BY 4.0).
Share & Cite This Article
MDPI and ACS Style
Djaman, K.; O'Neill, M.; Owen, C.K.; Smeal, D.; Koudahe, K.; West, M.; Allen, S.; Lombard, K.; Irmak, S. Crop Evapotranspiration, Irrigation Water Requirement and Water Productivity of Maize from Meteorological Data under Semiarid Climate. Water 2018, 10, 405.
Note that from the first issue of 2016, MDPI journals use article numbers instead of page numbers. See further details here.
Related Articles
Comments
[Return to top]