An 'Aukward' Tale: A Genetic Approach to Discover the Whereabouts of the Last Great Auks
1
Molecular Ecology and Fisheries Genetics Laboratory, School of Biological Sciences, Bangor University, Bangor, Gwynedd LL57 2UW, UK
2
Natural History Museum of Denmark, University of Copenhagen, Øster Voldgade 5–7, 1350 Copenhagen K, Denmark
3
Department of Natural History, Norwegian University of Science and Technology, University Museum, NO-7491 Trondheim, Norway
4
Natural History Museum, University of Oslo, P.O. Box 1172 Blindern, N-0318 Oslo, Norway
5
Otago Palaeogenetics Laboratory, Department of Zoology, University of Otago, Dunedin 9054, New Zealand
6
65 Springfield Road, Southborough, Tunbridge Wells TN4 0RD, Kent, UK
7
Center for Macroecology, Evolution and Climate, the Natural History Museum of Denmark, University of Copenhagen, Universitetsparken 15, DK-2100 Copenhagen Ø, Denmark
8
Department of Mathematics and Natural Sciences, Evolutionary Adaptive Genomics, Institute for Biochemistry and Biology, University of Potsdam, Karl-Liebknecht-Str. 24-25, 14476 Potsdam, Germany
9
Faculty of Science and Technology, Bournemouth University, Dorset BH12 5BB, UK
10
Department of Anatomy, University of Otago, 270 Great King Street, Dunedin 9016, New Zealand
†
These authors contributed equally to this work
*
Author to whom correspondence should be addressed.
Academic Editor: Peter W. Young
Received: 30 May 2017 / Accepted: 9 June 2017 / Published: 15 June 2017
Abstract
One hundred and seventy-three years ago, the last two Great Auks,
Pinguinus impennis
, ever reliably seen were killed. Their internal organs can be found in the collections of the Natural History Museum of Denmark, but the location of their skins has remained a mystery. In 1999, Great Auk expert Errol Fuller proposed a list of five potential candidate skins in museums around the world. Here we take a palaeogenomic approach to test which—if any—of Fuller's candidate skins likely belong to either of the two birds. Using mitochondrial genomes from the five candidate birds (housed in museums in Bremen, Brussels, Kiel, Los Angeles, and Oldenburg) and the organs of the last two known individuals, we partially solve the mystery that has been on Great Auk scholars' minds for generations and make new suggestions as to the whereabouts of the still-missing skin from these two birds.
View Full-Text
►

▼

Figures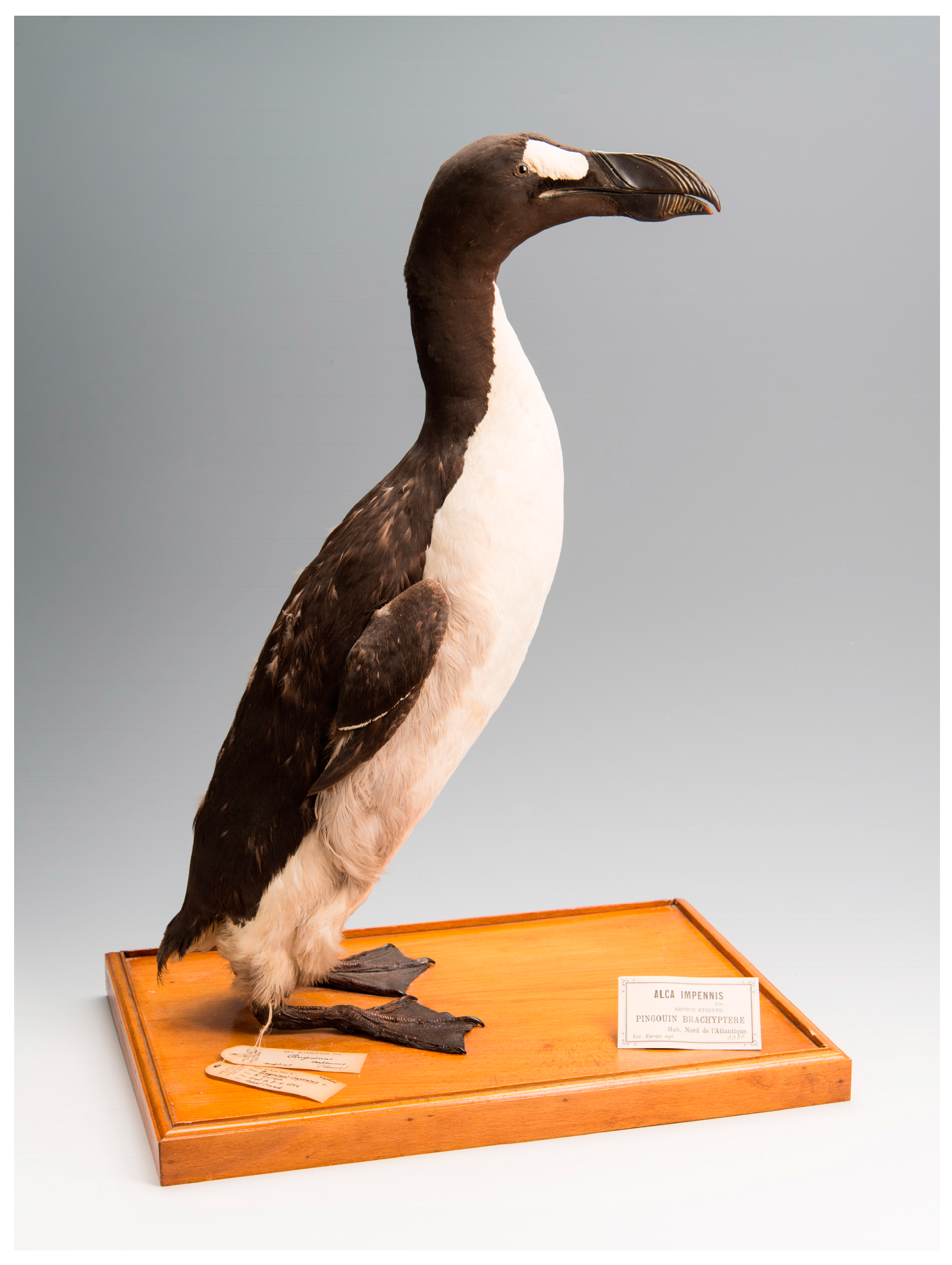 Figure 1
This is an open access article distributed under the
Creative Commons Attribution License
which permits unrestricted use, distribution, and reproduction in any medium, provided the original work is properly cited. (CC BY 4.0).
Share & Cite This Article
MDPI and ACS Style
Thomas, J.E.; Carvalho, G.R.; Haile, J.; Martin, M.D.; Castruita, J.A.S.; Niemann, J.; Sinding, M.-H.; Sandoval-Velasco, M.; Rawlence, N.J.; Fuller, E.; Fjeldså, J.; Hofreiter, M.; Stewart, J.R.; Gilbert, M.T.P.; Knapp, M. An 'Aukward' Tale: A Genetic Approach to Discover the Whereabouts of the Last Great Auks. Genes 2017, 8, 164.
Note that from the first issue of 2016, MDPI journals use article numbers instead of page numbers. See further details here.
Related Articles
Comments
[Return to top]