The Genetics of Symbiotic Nitrogen Fixation: Comparative Genomics of 14 Rhizobia Strains by Resolution of Protein Clusters
1
Centre for Comparative Genomics, Murdoch University, South Street, Murdoch, Perth, WA 6150, Australia
2
Centre for Rhizobium Studies, Murdoch University, South Street, Murdoch, Perth, WA 6150, Australia
3
Embrapa Soja, Cx. Postal 231, Londrina, Parana, 86001-970, Brazil
*
Authors to whom correspondence should be addressed.
Received: 24 January 2012 / Revised: 10 February 2012 / Accepted: 13 February 2012 / Published: 16 February 2012
Abstract
The symbiotic relationship between legumes and nitrogen fixing bacteria is critical for agriculture, as it may have profound impacts on lowering costs for farmers, on land sustainability, on soil quality, and on mitigation of greenhouse gas emissions. However, despite the importance of the symbioses to the global nitrogen cycling balance, very few rhizobial genomes have been sequenced so far, although there are some ongoing efforts in sequencing elite strains. In this study, the genomes of fourteen selected strains of the order
Rhizobiales
, all previously fully sequenced and annotated, were compared to assess differences between the strains and to investigate the feasibility of defining a core 'symbiome'—the essential genes required by all rhizobia for nodulation and nitrogen fixation. Comparison of these whole genomes has revealed valuable information, such as several events of lateral gene transfer, particularly in the symbiotic plasmids and genomic islands that have contributed to a better understanding of the evolution of contrasting symbioses. Unique genes were also identified, as well as omissions of symbiotic genes that were expected to be found. Protein comparisons have also allowed the identification of a variety of similarities and differences in several groups of genes, including those involved in nodulation, nitrogen fixation, production of exopolysaccharides, Type I to Type VI secretion systems, among others, and identifying some key genes that could be related to host specificity and/or a better saprophytic ability. However, while several significant differences in the type and number of proteins were observed, the evidence presented suggests no simple core symbiome exists. A more abstract systems biology concept of nitrogen fixing symbiosis may be required. The results have also highlighted that comparative genomics represents a valuable tool for capturing specificities and generalities of each genome.
View Full-Text
►

▼

Figures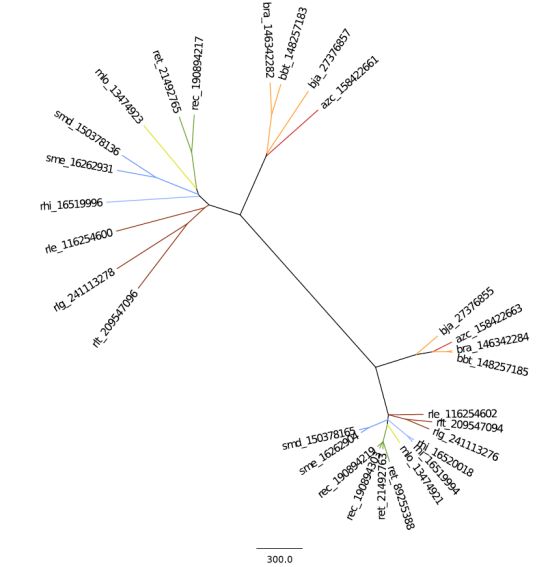 Share & Cite This Article
MDPI and ACS Style
Black, M.; Moolhuijzen, P.; Chapman, B.; Barrero, R.; Howieson, J.; Hungria, M.; Bellgard, M. The Genetics of Symbiotic Nitrogen Fixation: Comparative Genomics of 14 Rhizobia Strains by Resolution of Protein Clusters. Genes 2012, 3, 138-166.
Related Articles
Comments
[Return to top]