What is Known Regarding the Participation of Factor Nrf-2 in Liver Regeneration?
1
Laboratorio Medicina de Conservación, Escuela Superior de Medicina, Instituto Politécnico Nacional, Plan de San Luis y Díaz Mirón, Col. Casco de Santo Tomás, Del. Miguel Hidalgo, México D.F. 11340, Mexico
2
Escuela Superior de Cómputo, Instituto Politécnico Nacional, México D.F.11340, Mexico
3
Instituto de Ciencias de la Salud, UAEH, Abasolo 600 Col. Centro, Pachuca 42000, Hidalgo, Mexico
*
Author to whom correspondence should be addressed.
Academic Editor: Alexander E. Kalyuzhny
Received: 12 March 2015 / Revised: 2 May 2015 / Accepted: 13 May 2015 / Published: 20 May 2015
Abstract
It has been known for years that, after chemical damage or surgical removal of its tissue, the liver initiates a series of changes that, taken together, are known as regeneration, which are focused on the recovery of lost or affected tissue in terms of the anatomical or functional aspect. The Nuclear factor-erythroid 2-related factor (Nrf-2) is a reduction-oxidation reaction (redox)-sensitive transcriptional factor, with the basic leucine Zipper domain (bZIP) motif, encoding the
NFE2L2
gene. The Keap1-Nrf2-ARE pathway is transcendental in the regulation of various cellular processes, such as antioxidant defenses, redox equilibrium, the inflammatory process, the apoptotic processes, intermediate metabolism, detoxification, and cellular proliferation. Some reports have demonstrated the regulator role of Nrf-2 in the cellular cycle of the hepatocyte, as well as in the modulation of the antioxidant response and of apoptotic processes during liver regeneration. It has been reported that there is a delay in liver regeneration after Partial hepatectomy (PH) in the absence of Nrf-2, and similarly as a regulator of hepatic cytoprotection due to diverse chemical or biological agents, and in diseases such as hepatitis, fibrosis, cirrhosis, and liver cancer. This regulator/protector capacity is due to the modulation of the Antioxidant response elements (ARE). It is postulated that oxidative stress (OS) can participate in the initial stages of liver regeneration and that Nrf-2 can probably participate. Studies are lacking on the different initiation stages, maintenance, and the termination of liver regeneration alone or with ethanol.
View Full-Text
►

▼

Figures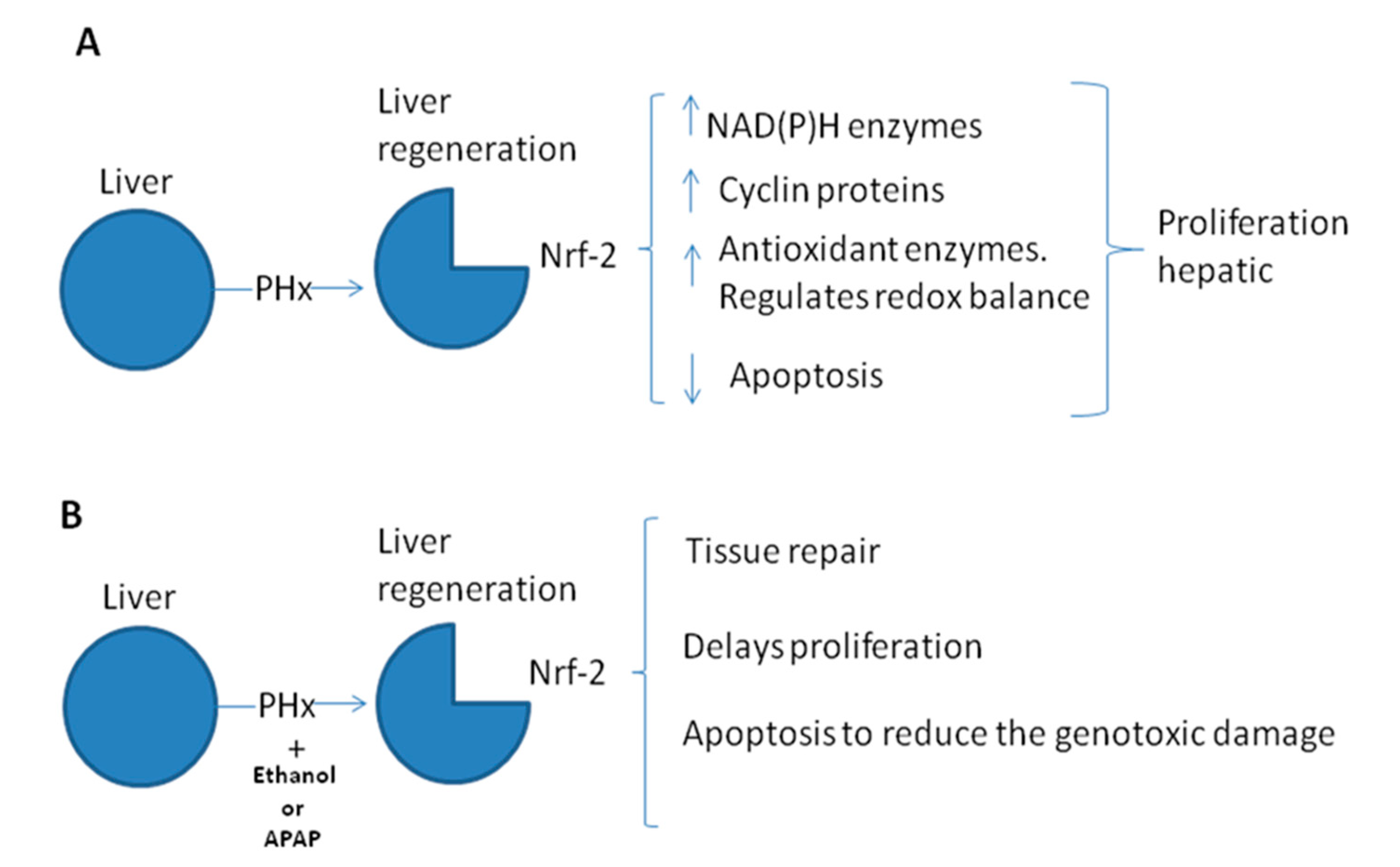 Figure 1
This is an open access article distributed under the
Creative Commons Attribution License
which permits unrestricted use, distribution, and reproduction in any medium, provided the original work is properly cited. (CC BY 4.0).
Share & Cite This Article
MDPI and ACS Style
Morales-González, J.A.; Madrigal-Santillán, E.; Morales-González, Á.; Bautista, M.; Gayosso-Islas, E.; Sánchez-Moreno, C. What is Known Regarding the Participation of Factor Nrf-2 in Liver Regeneration? Cells 2015, 4, 169-177.
Related Articles
Comments
[Return to top]