Regulation of Endoplasmic Reticulum-Associated Protein Degradation (ERAD) by Ubiquitin
Department of Genetics, University of Seville, Av. Reina Mercedes 6, 41012 Seville, Spain
*
Author to whom correspondence should be addressed.
Received: 6 June 2014 / Revised: 9 July 2014 / Accepted: 20 July 2014 / Published: 5 August 2014
Abstract
Quality control of protein folding inside the endoplasmic reticulum (ER) includes chaperone-mediated assistance in folding and the selective targeting of terminally misfolded species to a pathway called ER-associated protein degradation, or simply ERAD. Once selected for ERAD, substrates will be transported (back) into the cytosol, a step called retrotranslocation. Although still ill defined, retrotranslocation likely involves a protein conducting channel that is in part formed by specific membrane-embedded E3 ubiquitin ligases. Early during retrotranslocation, reversible self-ubiquitination of these ligases is thought to aid in initiation of substrate transfer across the membrane. Once being at least partially exposed to the cytosol, substrates will become ubiquitinated on the cytosolic side of the ER membrane by the same E3 ubiquitin ligases. Ubiquitin on substrates was originally thought to be a permanent modification that (1) promotes late steps of retrotranslocation by recruiting the energy-providing ATPase Cdc48p/p97 via binding to its associated adaptor proteins and that (2) serves to target substrates to the proteasome. Recently it became evident, however, that the poly-ubiquitin chains (PUCs) on ERAD substrates are often subject to extensive remodeling, or processing, at several stages during ERAD. This review recapitulates the current knowledge and recent findings about PUC processing on ERAD substrates and ubiquitination of ERAD machinery components and discusses their functional consequences.
View Full-Text
►

▼

Figures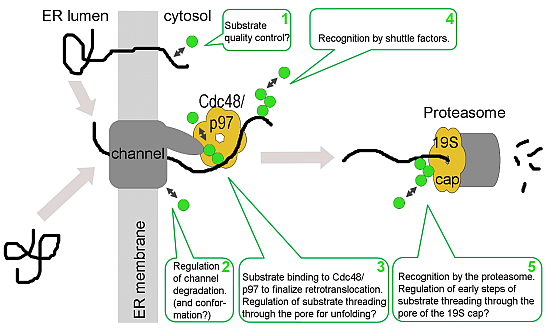 Share & Cite This Article
MDPI and ACS Style
Lemus, L.; Goder, V. Regulation of Endoplasmic Reticulum-Associated Protein Degradation (ERAD) by Ubiquitin. Cells 2014, 3, 824-847.
Related Articles
Comments
[Return to top]