Synthesis and Luminescence Properties of New Metal-Organic Frameworks Based on Zinc(II) Ions and 2,5-Thiophendicarboxylate Ligands
1
Nikolaev Institute of Inorganic Chemistry, Siberian Branch of the Russian Academy of Sciences, 3 Lavrentieva Ave., 630090 Novosibirsk, Russia
2
Department of Natural Sciences, Novosibirsk State University, 2 Pirogova Str., 630090 Novosibirsk, Russia
*
Author to whom correspondence should be addressed.
Received: 29 November 2017 / Revised: 21 December 2017 / Accepted: 22 December 2017 / Published: 24 December 2017
Abstract
Six new metal-organic frameworks based on 2,5-thiophendicarboxylate (tdc
2–
) and zinc(II) ions were prepared in different reaction conditions, and their crystal structures were determined by XRD analysis. The compound [Zn(tdc)(dabco)(H
2
O)]∙DMF (
1
) is based on mononuclear Zn(II) ions connected by tdc
2–
and dabco linkers into square-grid layered nets. The compound [Zn
3
(tdc)
3
(dabco)
2
] (
2
) is a rare example of monocoordinated dabco ligands in the metal-organic framework chemistry. Its crystal structure contains trinuclear linear carboxylate building units, connected into a distorted primitive cubic net. Similar trinuclear units were also found in [Zn
5
(tdc)
4
(Htdc)
2
(dabco)
2
]∙4DMF∙14H
2
O (
3
), although as a part of more complicated pentanuclear motives. The compound [Na
2
Zn(tdc)
2
(DMF)
2
] (
4
), quantitatively isolated by the addition of NaOH to the mixture of Zn(NO
3
)
2
and H
2
tdc, is based on 1D chain motives, interconnected by tdc
2–
linkers into a three-dimensional framework. The compounds [Zn
3
(tdc)
3
(DMF)
2
]∙0.8DMF∙1.1H
2
O (
5
) and [Zn
3
(tdc)
3
(DMF)
3
]∙0.8DMF∙1.3H
2
O (
6
) were prepared in very similar reaction conditions, but with different times of heating, indirectly indicating higher thermodynamic stability of the three-dimensional metal-organic framework
6
, compared to the two-dimensional metal-organic framework
5
. The crystal structures of both
5
and
6
are based on the same trinuclear linear units as in
2
. Luminescence properties of the compounds
4
–
6
were studied and compared with those for Na
2
tdc salt. In particular, the luminescence spectra of
4
practically coincide with those for the reference Na
2
tdc, while
5
and
6
exhibit coherent shifts of peaks to higher energies. Such hypsochromic shifts are likely associated with a different effective charge on the tdc
2–
anions in Na
2
tdc and sodium-containing
4
, compared to zinc-based
5
and
6
.
View Full-Text
►

▼

Figures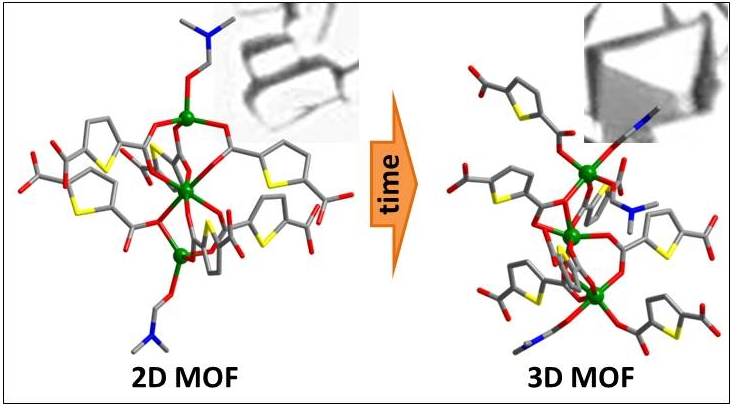 This is an open access article distributed under the
Creative Commons Attribution License
which permits unrestricted use, distribution, and reproduction in any medium, provided the original work is properly cited. (CC BY 4.0).
Share & Cite This Article
MDPI and ACS Style
Lysova, A.; Samsonenko, D.; Dybtsev, D.; Fedin, V. Synthesis and Luminescence Properties of New Metal-Organic Frameworks Based on Zinc(II) Ions and 2,5-Thiophendicarboxylate Ligands. Crystals 2018, 8, 7.
Note that from the first issue of 2016, MDPI journals use article numbers instead of page numbers. See further details here.
Related Articles
Comments
[Return to top]