Identification and Crystallographic Analysis of a New Carbohydrate Acetylesterase (SmAcE1) from Sinorhizobium meliloti
1
Department of Molecular Cell Biology, Samsung Medical Center, Sungkyunkwan University School of Medicine, Suwon 16419, Korea
2
Beamline Department, Pohang Accelerator Laboratory, Pohang University of Science and Technology, Pohang 37673, Korea
3
Department of Chemistry, College of Natural Sciences, Sookmyung Woman's University, Seoul 04310, Korea
*
Authors to whom correspondence should be addressed.
Received: 23 October 2017 / Revised: 20 December 2017 / Accepted: 24 December 2017 / Published: 1 January 2018
Abstract
Carbohydrate-active enzymes (CAZymes) regulate the synthesis, degradation, and modification of the poly—and oligosaccharides in all three kingdoms of life. A novel carbohydrate acetylesterase from
Sinorhizobium meliloti
, designated SmAcE1, was identified, characterized, and crystallized. This SmAcE1 is classified into the carbohydrate esterase family 3 (CE3) based on the sequence alignments with other currently known carbohydrate esterase (CE) family enzymes. The SmAcE1 was crystallized as a hexamer in a space group
P
2
1
2
1
2
1
with the unit cell parameters: a = 99.12 Å, b = 148.88 Å, c = 149.84 Å, and α = β = γ = 90.00°. The diffraction data set was collected up to a 2.05 Å resolution. Hydrolysis activity of SmAcE1 towards glucose pentaacetate and cellulose acetate was further confirmed using acetic acid release assay. Further crystallographic and functional analyses studies on SmAcE1 would be followed to fully understand the reaction mechanisms of CEs.
View Full-Text
►

▼

Figures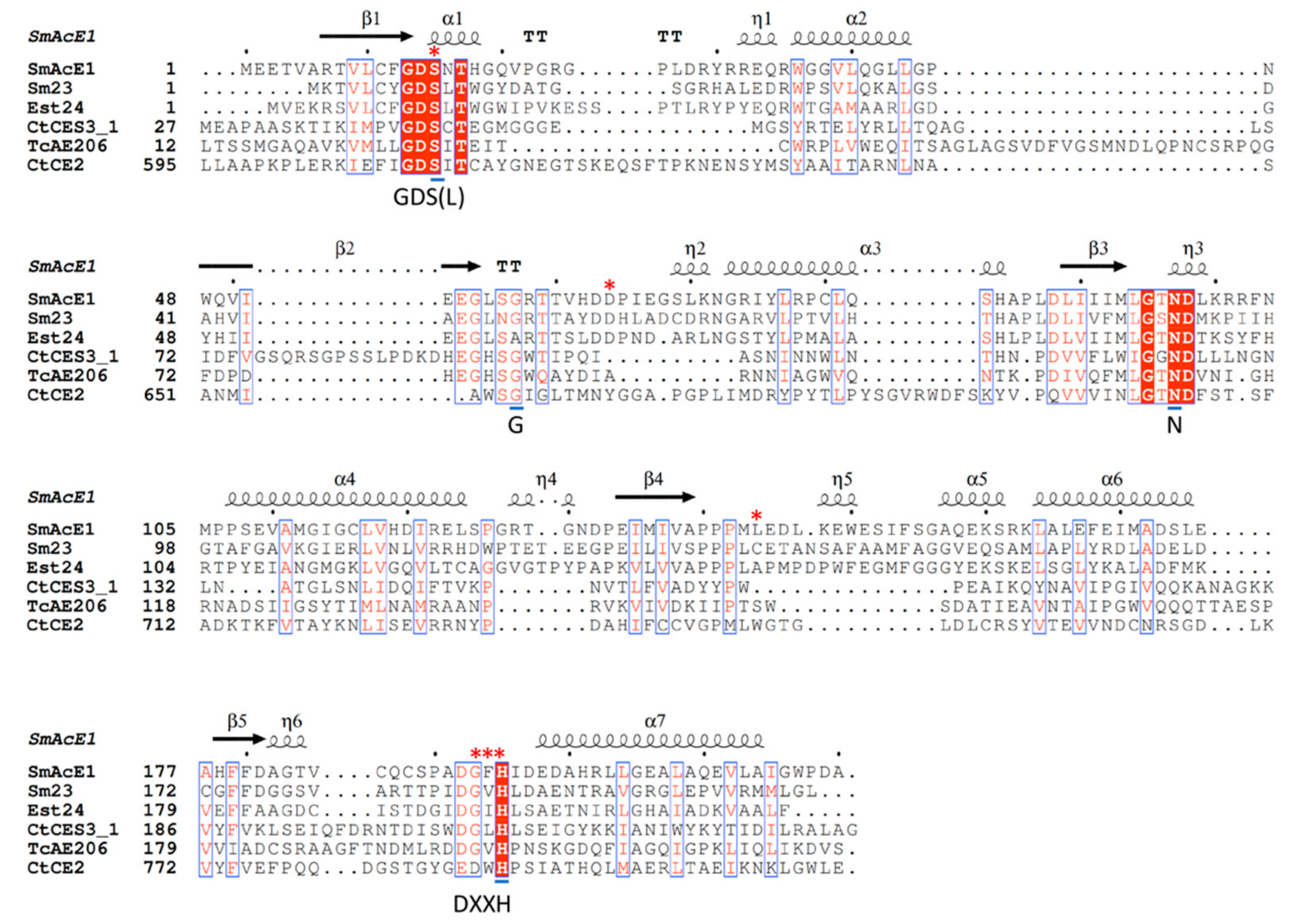 Figure 1
This is an open access article distributed under the
Creative Commons Attribution License
which permits unrestricted use, distribution, and reproduction in any medium, provided the original work is properly cited. (CC BY 4.0).
Share & Cite This Article
MDPI and ACS Style
Oh, C.; Ryu, B.H.; Yoo, W.; Nguyen, D.D.; Kim, T.; Ha, S.-C.; Kim, T.D.; Kim, K.K. Identification and Crystallographic Analysis of a New Carbohydrate Acetylesterase (SmAcE1) from Sinorhizobium meliloti. Crystals 2018, 8, 12.
Note that from the first issue of 2016, MDPI journals use article numbers instead of page numbers. See further details here.
Related Articles
Comments
[Return to top]