Open Access This article is
freely available
re-usable
Article
Atomistic Studies of Nanoindentation—A Review of Recent Advances
1
Facultad de Ciencias Exactas y Naturales, Universidad Nacional de Cuyo and CONICET, Mendoza 5500, Argentina
2
Physics Department and Research Center OPTIMAS, University Kaiserslautern, Erwin-Schrödinger-Straße, D-67663 Kaiserslautern, Germany
*
Author to whom correspondence should be addressed.
Academic Editors: Ronald Armstrong, Stephen M. Walley and Wayne L. Elban
Received: 12 September 2017 / Accepted: 26 September 2017 / Published: 29 September 2017
Abstract
:
This review covers areas where our understanding of the mechanisms underlying nanoindentation has been increased by atomistic studies of the nanoindentation process. While such studies have been performed now for more than 20 years, recent investigations have demonstrated that the peculiar features of nanoplasticity generated during indentation can be analyzed in considerable detail by this technique. Topics covered include: nucleation of dislocations in ideal crystals, effect of surface orientation, effect of crystallography (fcc, bcc, hcp), effect of surface and bulk damage on plasticity, nanocrystalline samples, and multiple (sequential) indentation. In addition we discuss related features, such as the influence of tip geometry on the indentation and the role of adhesive forces, and how pre-existing plasticity affects nanoindentation.
Keywords:
nanoindentation; molecular dynamics; hardness
2. Ideal Crystals, Effect of Surface Orientation and Crystallography
2.3. Hcp Metals
While nanoindentation in fcc and bcc metals has been characterized fairly well using MD simulation, little work has been published on the indentation of hcp metals, and only recently. Most of these studies are concerned with Mg [
35
,
36
,
37
], while Lu et al. [
38
] indent into Zr. In a comparative study, Alhafez et al. [
39
] simulated Mg, Ti, Zr in three different orientations; they found that here the surface crystallography plays a comparatively larger role than in the fcc and bcc materials. The reason is that the anisotropy of the crystal (unequal
a
and
c
axes) makes slip in the pertinent directions differ more pronouncedly than in the cubic crystal classes. In other words, slip by basal and prismatic or pyramidal dislocations shows more variety than in the fcc and bcc crystals.
Figure 2
exemplifies the dislocation network generated by indentation in an hcp metal, Ti. Dislocations are dominated by the partials , while the perfect dislocations occur more rarely. Prismatic dislocation loops are emitted abundantly, leading to quite extended plastic zones.
Figure 2
thus demonstrates the influence of surface orientation on the density of the network and the direction and intensity of loop emission.
2.4. Si
It must be concluded that the mechanism of plastic yield in Si is dominated or at least strongly influenced by phase transformations.
3. Effect of Surface and Bulk Defects on Plasticity
4. Multiple (Sequential, Cyclic) Indentation
In 2002, Van Vliet and Suresh [
85
] pointed out the lack of direct and in situ studies of the evolution of damage at surfaces subjected to cyclic contact loading on the atomic level and performed simulations of cyclic indentation using the bubble-raft model [
86
], observing the homogeneous nucleation of dislocations beneath the indenter and showing that there is a contact-fatigue response under cyclic indentation that is different from monotonic response. Zarudi et al. [
87
] studied the microstructure evolution of monocrystalline Si during cyclic microindentations. Molecular dynamics simulation of repeated indentation started with the work of Komvopoulos and Yan [
88
], investigating the evolution of deformation and heating in an fcc model crystal with indentation cycles. Later, Cheong and Zhang [
89
] used MD to study the effect of repeated nano-indentations on the deformation in monocrystalline silicon. Some years later Shiari and Miller [
90
] performed cyclic indentation of aluminum single crystals at the nanoscale by means of a multiscale 2D approach, using an atomistic model calculated using the molecular dynamics method for the contact region and a continuum model for regions away from it.
Cordill et al. [
91
] performed coupled experiments and MD simulations to study the response of Ni under oscillatory dynamic nanoindentation, coining the Nano-Jackhammer effect, a combination of dislocation nucleation and strain rate sensitivity caused by indentation with a superimposed dynamic oscillation. Deng and Schuh [
92
] performed MD simulations of nanoindentation and cyclic loading in a Cu-Zr metallic glass, showing hardening effects and attributed this response to confined plasticity and stiffening in regions initially preferred for yielding, requiring higher applied loads for triggering secondary plasticity events. Imran et al. [
93
] used MD to explore the response of a Ni single crystal subjected to multiple loading-unloading nanoindentation cycles, observing that an increase in the number of loading/unloading cycles reduces the maximum load and hardness of the Ni substrate and attributed this effect to the decrease in recovery force due to defects and dislocations produced after each indentation cycle. Salehinia et al. [
94
] performed repeated indentation in Nb/NbC multilayers using molecular dynamics simulations showing that the damage produced by the first indentation has a significant effect on the strength and the ductility of Nb/NbC nanolaminates as measured by subsequent indentations.
Wang, Yan and Li [
95
] conducted a mesoscopic examination of cyclic hardening in metallic glass by combining finite-element-method simulations coupled with kinetic Monte Carlo, finding that the yield load of the metallic glass increases after cyclic indentation in the microplastic regime. More recently, Zhao et al. [
61
] performed an investigation on the hardening behavior of a Cu-Zr metallic glass under cyclic indentation loading via molecular dynamics simulation revealing that the cycling hardening has a dependence on the cyclic indentation amplitudes so that with higher cyclic indentation amplitudes, the hardening behavior is more pronounced.
5. Tip Geometry
Still, it may be found useful to investigate the effect of tip shape on the indentation process. There are at least two reasons for this: (i) indentation into single crystals is governed by crystal plasticity, and the governing rules are similar in the nano- and microworld; (ii) available macroscopic laws may thus be tested in the nanoscale.
6. Role of Adhesive Forces and Tip Wetting
Unlike in large-scale nanoindentation behavior, adhesion between indenter and substrate may play a significant role in nanocontact mechanics. Adhesion and tip wetting can be very pronounced at the nanoscale, with large surface area to volume ratio, clean surface and ultra high vacuum conditions. Molecular dynamics simulations of nanoindentation showed some of their potential in this area with the pioneering work of Landman et al. [
14
], showing metallic bonding and substrate-to-tip atom transfer (also known as the tip-wetting or jump-to-contact phenomenon) as a result of the need of optimization of the interaction energy. The high surface energies associated with clean metal surfaces can lead to strong attractive forces between surfaces close to contact, and these forces can become stronger in certain environmental conditions such as ultra-high vacuum. If the attraction is strong enough, surface atoms jump from the surface to the tip. Adhesion forces also play a role in retraction; as the tip retracts from the sample, a connective neck of atoms forms between the substrate and the tip. MD simulations also suggested that material transfer usually occurs during contact separation [
30
]. A similar phenomenon was found by Oliver et al. [
100
] when they performed one-to-one spatially matched experiment and atomistic simulations of nanometre-scale indentation; they reported that many features of the experiment were correctly reproduced by MD simulations, in some cases only when an atomically rough indenter rather than a smooth repulsive-potential indenter is used, tip wetting being one of these features. Paul et al. [
101
] highlighted the need to further explore the role of adhesive forces and tip wetting, ranging from the mechanisms of substrate-to-tip material transfer to electronic transport properties.
Tavazza et al. [
102
,
103
,
104
] used density-functional theory to study the details of the interaction of a diamond tip with a Ni surface. They found that the chemical interaction between the two materials leads to the formation of new ordered phases—comparable to a nickel carbide—at the contact area. This influences the substrate surface, but has also consequences for the wear of the tip, since substrate material is transferred to it. They argue that for the detailed investigation of such chemical changes quantum mechanical methods are necessary. In [
102
] this study is extended to oxidized and hydrogenated Ni surfaces; while O at the surface leads to similar results as a bare Ni surface, the presence of H reduces material transfer to the tip.
Figure 5
exemplifies the effect of adhesive forces between a diamond indenter (radius 10 nm) and an Fe (100) surface. A Morse potential with a well depth of 95 meV was assumed to act between C and Fe atoms [
105
]. We see that the indenter extracts some substrate material after retraction from the surface; this is identified by the red-colored atoms decorating the retracted tip. The pit size is smaller for the case of the adhesive interaction where the atoms move with the indenter upwards during unload.
The load-depth curve shows a clear minimum when the indenter approaches the surface due to the mutual attraction, and forces are lower than in the purely repulsive scenario during the entire indentation process. However, adhesive effects are even larger upon pit retraction. The final hardness—that is the contact pressure after full indentation—is, however, nearly the same in the repulsive and in the attractive case.
7. Conclusions
This report on recent results in the field of MD simulation of nanoindentation demonstrates the high level of activity in this field. Seemingly a simple process—a tip is pushed in a material leading to plastic deformation—still many details are unclear, and MD simulation seems a promising technique to further the understanding of this process. Of particular interest of the nanoindentation technique is its capability of creating localized plasticity.
Our review identified the fields in which further simulations efforts are required to advance our understanding of localized plasticity even further. While the effect of GBs and TBs on dislocation activity has already been studied to some extent [
106
], the response of nc metals and more generally defective materials—containing preexisting vacancies, dislocations, steps, ledges, etc.—needs further clarification. Also effects of surface roughness, nanostructured surfaces or of hard inclusions appear not to have been modeled up to now and requires clarification.
Acknowledgments
Iyad Alabd Alhafez and Herbert M. Urbassek acknowledge support by the Deutsche Forschungsgemeinschaft via the Sonderforschungsbereich 926. Carlos J. Ruestes acknowledges support by ANPCyT PICT-2015-0342, SECTyP UNCuyo and high performance computing resources at Mendieta CCAD-UNC through PDC-SNCAD MinCyT initiative.
Author Contributions
The authors contributed equally to this work.
Conflicts of Interest
The authors declare no conflict of interest.
Abbreviations
The following abbreviations are used in this manuscript:
| | |
| --- | --- |
| bcc | body centered cubic |
| fcc | face centered cubic |
| hcp | hexagonal close packed |
| nc | nanocrystalline |
| nt | nanotwinned |
| sc | single-crystalline |
| GB | grain boundary |
| MD | molecular dynamics |
| SFE | stacking fault energy |
| TB | twin boundary |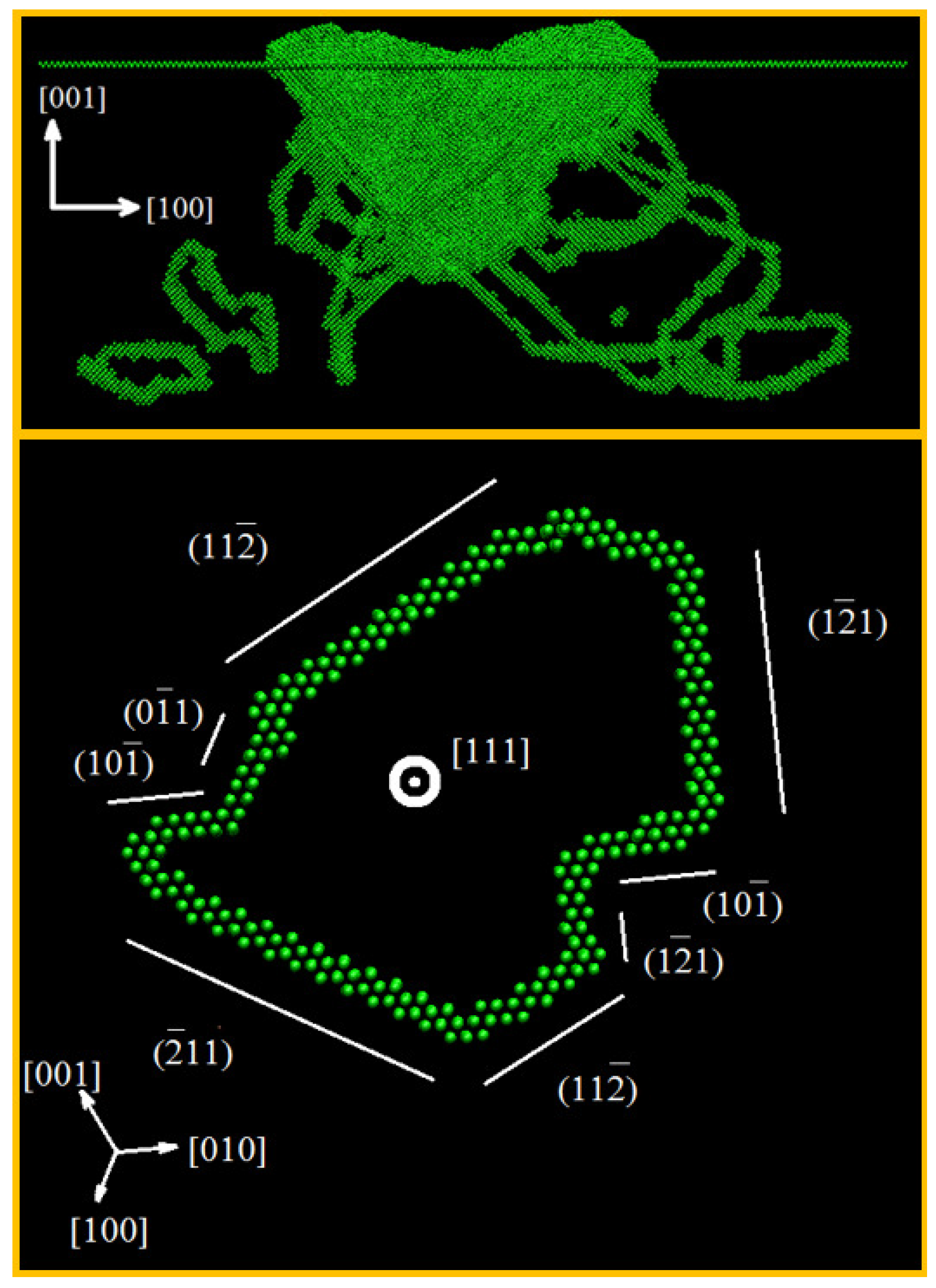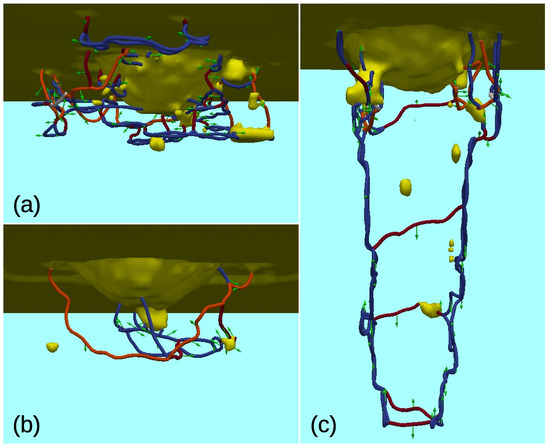 Figure 2. Dislocation networks generated for indentation into Ti. (a) Basal plane, (b) first prismatic plane, (c) second prismatic plane. Dislocations with Burgers vector are colored dark red, orange, white, and blue. The deformed surface and other defects are colored yellow. Original contribution of the authors.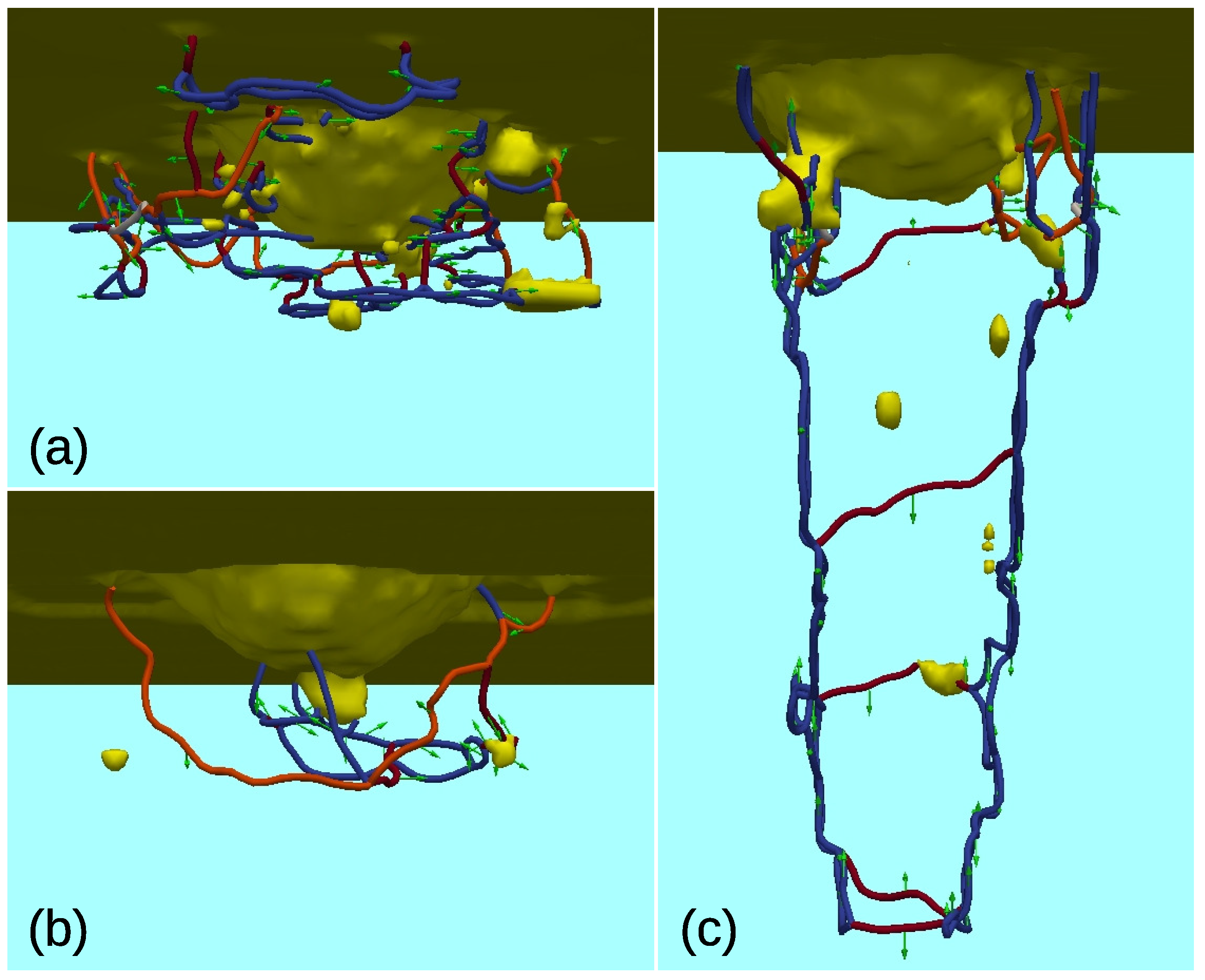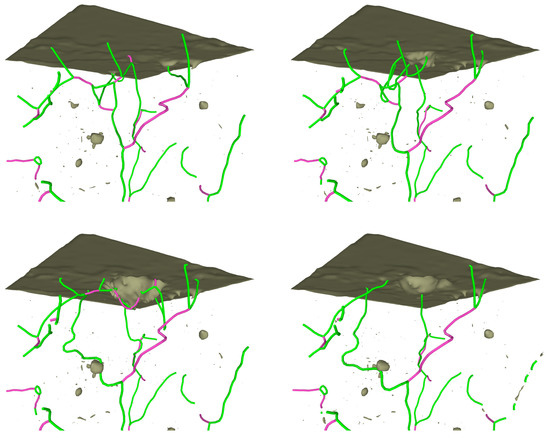 Figure 3. Sequence of indentation and release in a Fe sample with pre-existing defects, see text. Original contribution of the authors.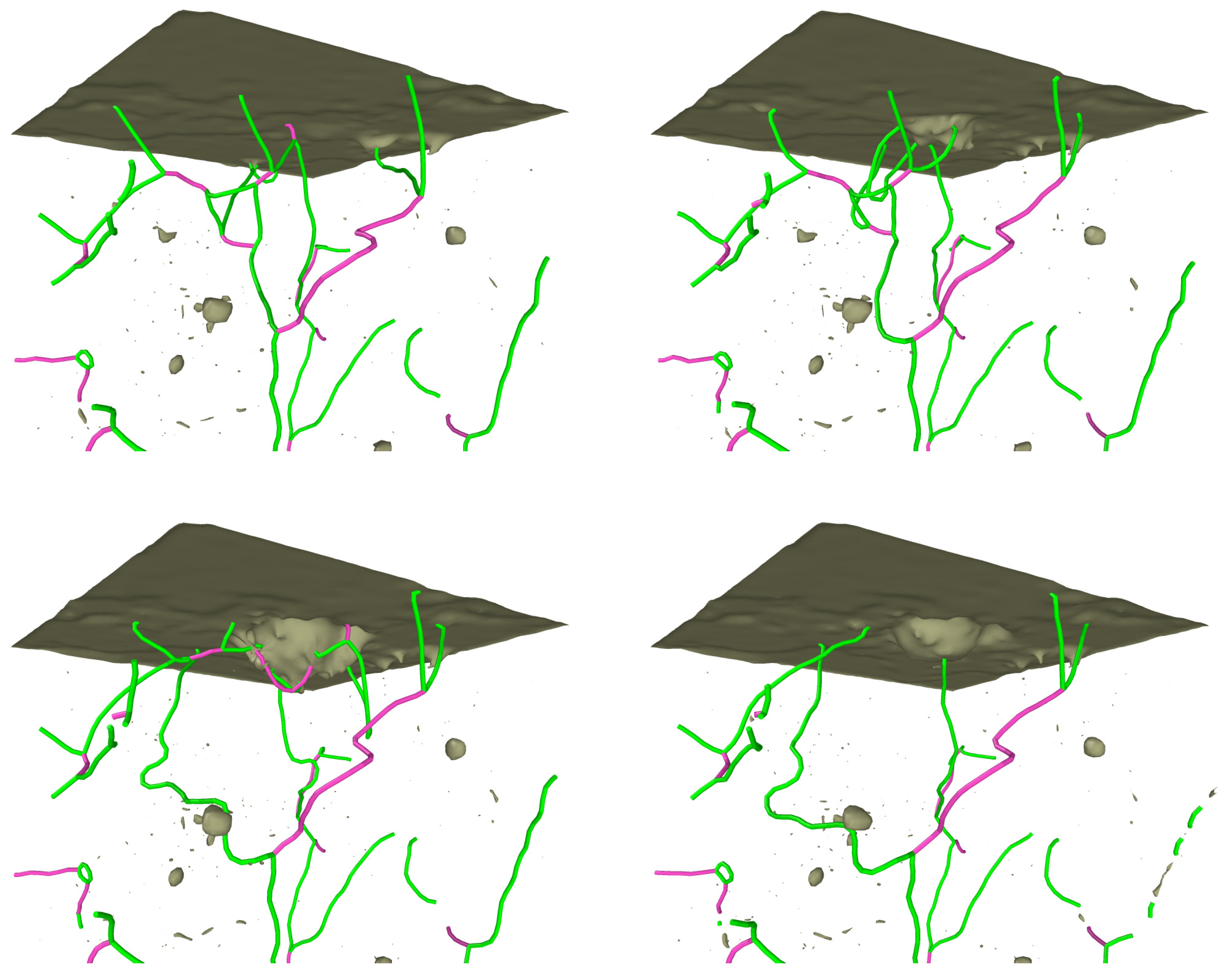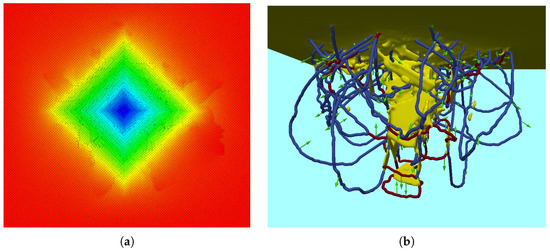 Figure 4. Indentation with a Vickers indenter into an Fe (100) surface. (a) Indent pit. (b) Dislocation network. Original contribution of the authors.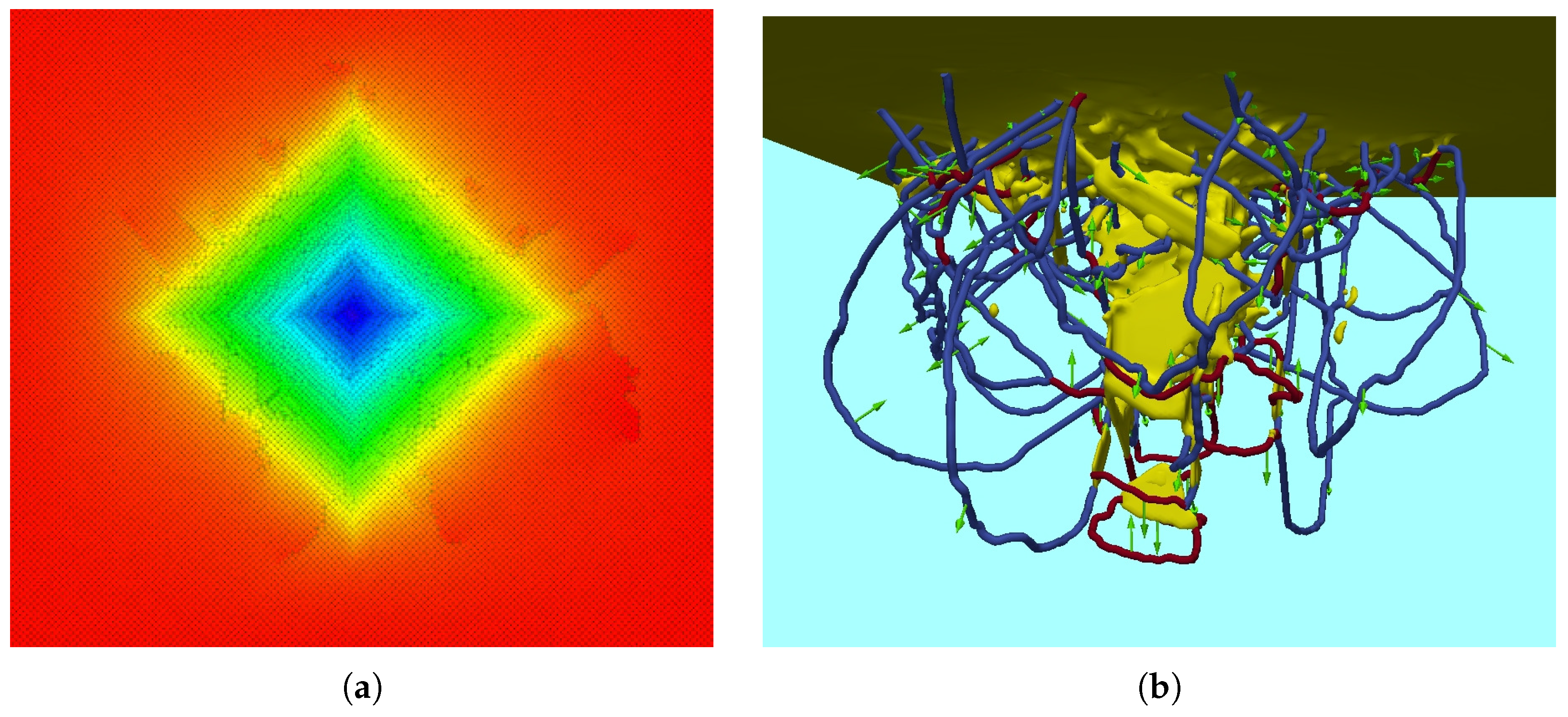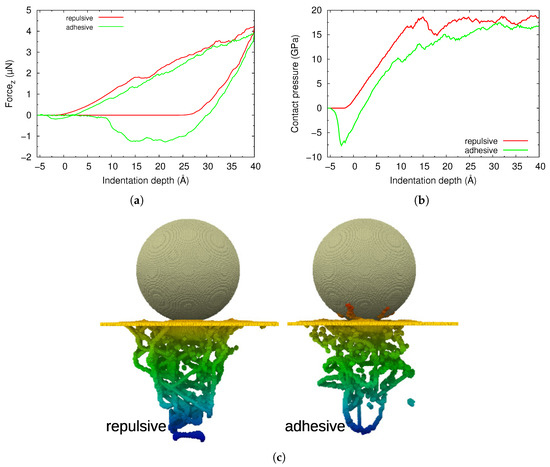 Figure 5. Comparison of indentation with a repulsive and an attractive diamond indenter into a Fe (100) surface. (a) Load-depth curve. (b) Contact pressure. (c) Pile-up after retraction of the indenter. Original contribution of the authors.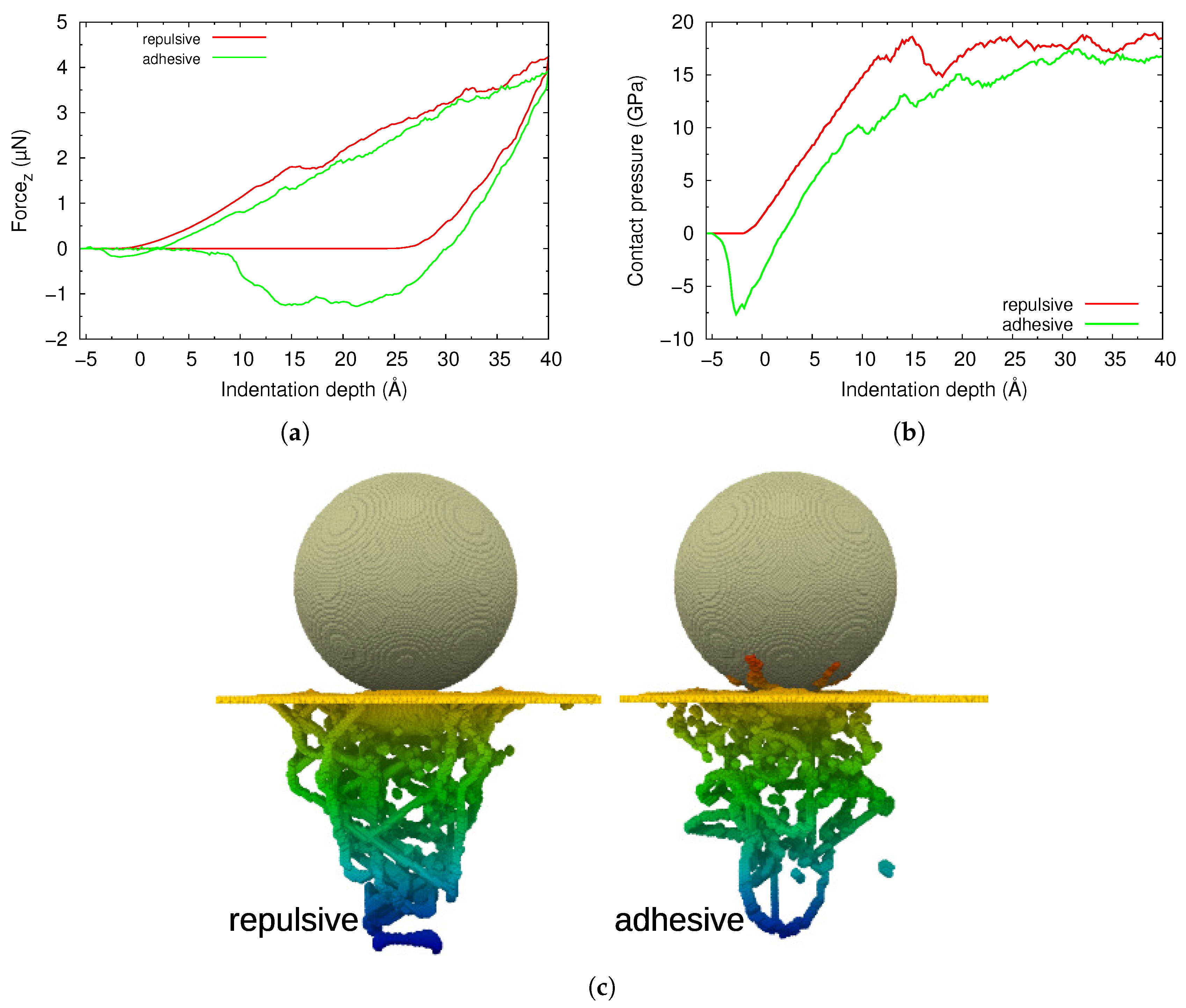 © 2017 by the authors. Licensee MDPI, Basel, Switzerland. This article is an open access article distributed under the terms and conditions of the Creative Commons Attribution (CC BY) license (http://creativecommons.org/licenses/by/4.0/).