Apc-Mutant Kyoto Apc Delta (KAD) Rats Are Susceptible to 4-NQO-Induced Tongue Carcinogenesis
1
Department of Diagnostic Pathology (DDP) & Research Center of Diagnostic Pathology (RC-DiP), Gifu Municipal Hospital, 7-1 Kashima-Cho, Gifu 500-8513, Japan
2
Department of Tumor Pathology, Gifu University Graduate School of Medicine, 1-1 Yanagido, Gifu 501-1194, Japan
3
Department of Internal Medicine/Gastroenterology, Gifu University Graduate School of Medicine, 1-1 Yanagido, Gifu 501-1194, Japan
4
Department of Pharmacy, Ogaki Municipal Hospital, 4-86 Minaminokawa-cho, Ogaki 503-8502, Japan
5
Department of Clinical Laboratory, Gifu Municipal Hospital, 7-1 Kashima-cho, Gifu 500-8513, Japan
6
The Institute of Laboratory Animals, Graduate School of Medicine, Kyoto University, Yoshidakonoe-cho, Sakyo-ku, Kyoto 606-8501, Japan
*
Author to whom correspondence should be addressed.
Received: 12 May 2014 / Revised: 26 June 2014 / Accepted: 1 July 2014 / Published: 21 July 2014
Abstract
Despite widening interest in the possible association between infection/ inflammation and cancer development, knowledge of this issue in relation to oral cancer remains inadequate. This study aimed to determine the susceptibility of
Apc
-mutant Kyoto Apc Delta (KAD) rats, which are vulnerable to developing inflammation-associated colorectal carcinogenesis, to 4-nitroquinoline 1-oxide (4-NQO)-induced tongue carcinogenesis in order to clarify the role of inflammation in oral cancer. KAD (20 males and 22 females) and F344/NS1c (22 males and 23 females) rats received drinking water with or without 4-NQO (20 ppm) for eight weeks. Histopathological and immunohistochemical analyses of the tongue were performed at week 20. Additionally, the mRNA expression of inflammatory cytokines in the tongue mucosa was determined at week 8. Tongue squamous cell carcinoma (SCC) developed in the KAD and F344/NS1c rats that received 4-NQO. Regardless of gender, the incidence and multiplicity of tongue SCC were greater in the KAD rats than in the F344/NS1c rats. In addition, the multiplicity of tongue SCC in the female KAD rats was significantly greater than that observed in the male KAD (
p
< 0.01) and female F344/NS1c rats (
p
< 0.05). The levels of inflammation and the mRNA expression of inflammatory cytokines in the tongue in the 4-NQO-treated female KAD rats were the highest among the rats given 4-NQO. These results show that KAD rats, particularly females, are susceptible to 4-NQO-induced tongue carcinogenesis, suggesting the utility of models employing KAD rats for investigating the pathobiology of oral (tongue) carcinogenesis associated with inflammation.
View Full-Text
►

▼

Figures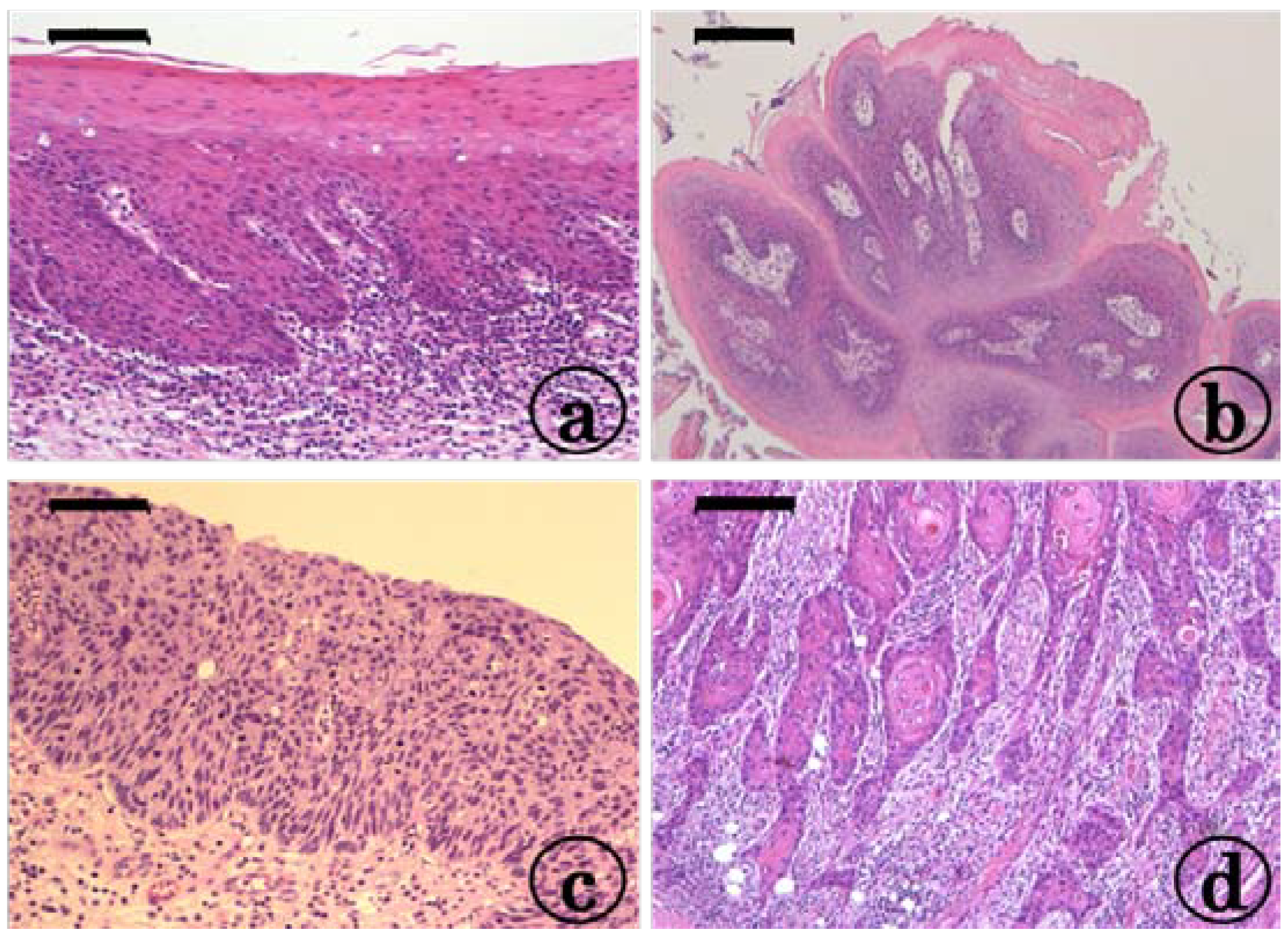 Figure 1
Share & Cite This Article
MDPI and ACS Style
Tanaka, T.; Shimizu, M.; Kochi, T.; Shirakami, Y.; Mori, T.; Watanabe, N.; Naiki, T.; Moriwaki, H.; Yoshimi, K.; Serikawa, T.; Kuramoto, T. Apc-Mutant Kyoto Apc Delta (KAD) Rats Are Susceptible to 4-NQO-Induced Tongue Carcinogenesis. Cancers 2014, 6, 1522-1539.
Related Articles
Comments
[Return to top]