Outcomes in Newly Diagnosed Elderly Glioblastoma Patients after Concomitant Temozolomide Administration and Hypofractionated Radiotherapy
1
Neurology Department, CHU Hautepierre, rue Molière, Strasbourg 67000, France
2
Radiation Oncology University Department, Paul Strauss Center, 3, rue de la Porte de l'Hôpital, BP 42, Strasbourg cedex 67065, France
3
Oncology Geriatric Department, Paul Strauss Center, 3, rue de la Porte de l'Hôpital, BP 42, Strasbourg cedex 67065, France
4
Radiation Oncology Department, Soviet-Khmer Friendship Hospital, Pnom-Pehn 12400, Cambodia
5
Oncology Department, Paul Strauss Center, 3, rue de la Porte de l'Hôpital, BP 42, Strasbourg cedex 67065, France
6
Neurosurgery Department, CHU Hautepierre, rue Molière, Strasbourg 67000, France
7
Laboratoire EA 3430, Fédération de Médecine Translationnelle de Strasbourg (FMTS), Université de Strasbourg, Strasbourg 67000, France
*
Author to whom correspondence should be addressed.
Received: 1 July 2013 / Revised: 12 August 2013 / Accepted: 10 September 2013 / Published: 24 September 2013
Abstract
This study aimed to analyze the treatment and outcomes of older glioblastoma patients. Forty-four patients older than 70 years of age were referred to the Paul Strauss Center for chemotherapy and radiotherapy. The median age was 75.5 years old (range: 70–84), and the patients included 18 females and 26 males. The median Karnofsky index (KI) was 70%. The Charlson indices varied from 4 to 6. All of the patients underwent surgery. O
6
-methylguanine–DNA methyltransferase (MGMT) methylation status was determined in 25 patients. All of the patients received radiation therapy. Thirty-eight patients adhered to a hypofractionated radiation therapy schedule and six patients to a normofractionated schedule. Neoadjuvant, concomitant and adjuvant chemotherapy regimens were administered to 12, 35 and 20 patients, respectively. At the time of this analysis, 41 patients had died. The median time to relapse was 6.7 months. Twenty-nine patients relapsed, and 10 patients received chemotherapy upon relapse. The median overall survival (OS) was 7.2 months and the one- and two-year OS rates were 32% and 12%, respectively. In a multivariate analysis, only the Karnofsky index was a prognostic factor. Hypofractionated radiotherapy and chemotherapy with temozolomide are feasible and acceptably tolerated in older patients. However, relevant prognostic factors are needed to optimize treatment proposals.
View Full-Text
►

▼

Figures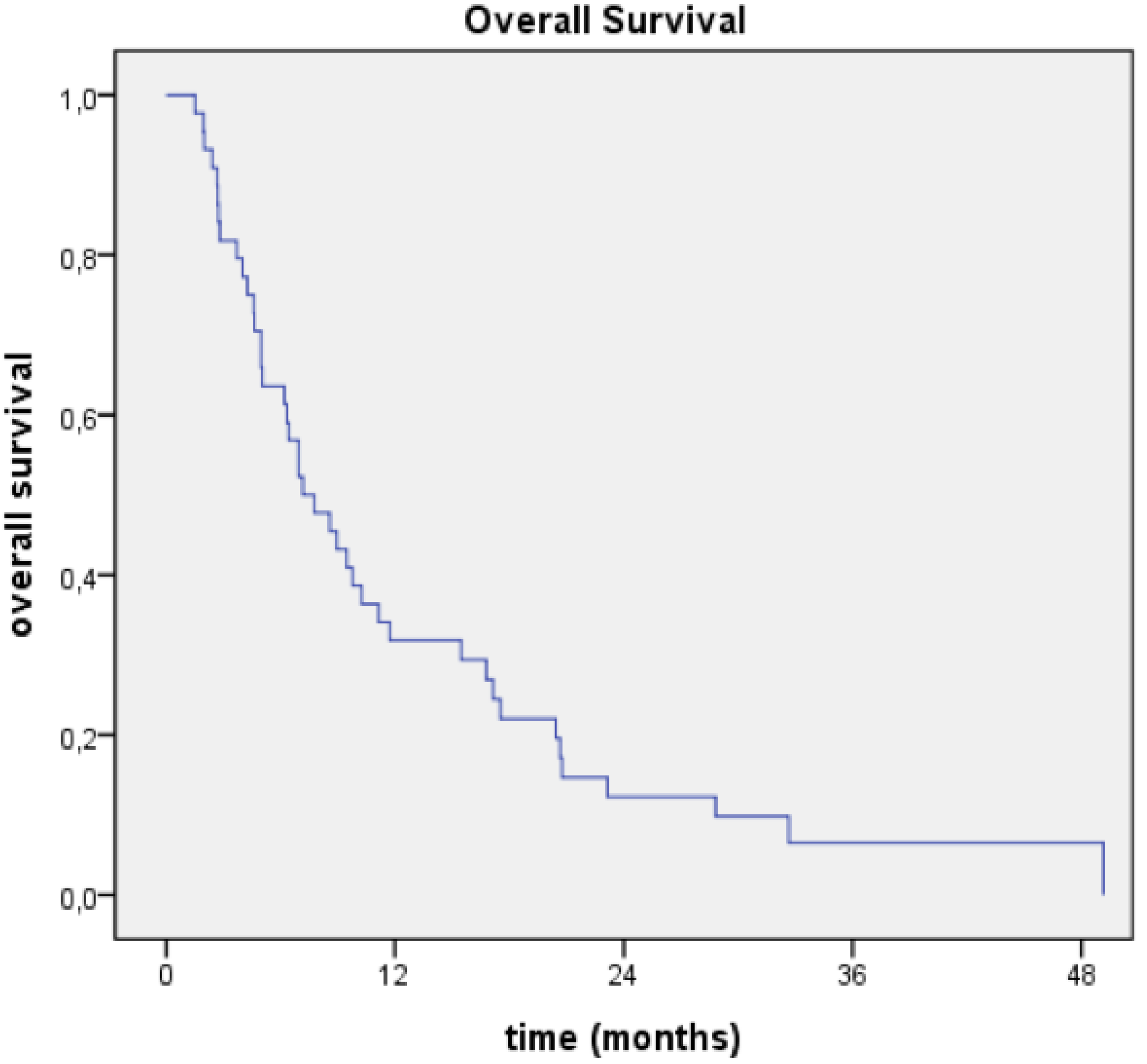 Figure 1
Share & Cite This Article
MDPI and ACS Style
Nguyen, L.T.; Touch, S.; Nehme-Schuster, H.; Antoni, D.; Eav, S.; Clavier, J.-B.; Bauer, N.; Vigneron, C.; Schott, R.; Kehrli, P.; Noël, G. Outcomes in Newly Diagnosed Elderly Glioblastoma Patients after Concomitant Temozolomide Administration and Hypofractionated Radiotherapy. Cancers 2013, 5, 1177-1198.
Related Articles
Comments
[Return to top]