Two Domains of Vimentin Are Expressed on the Surface of Lymph Node, Bone and Brain Metastatic Prostate Cancer Lines along with the Putative Stem Cell Marker Proteins CD44 and CD133
1
Case Western Reserve University, Department of Biomedical Engineering, 10900 Euclid Ave, Cleveland, OH 44106, USA
2
Sanford-Burnham, Medical Research Institute, 10901 North Torrey Pines Road, La Jolla, CA 92037, USA
3
Torrey Pines Institute for Molecular Studies, Division of Immune Regulation, 3550 General Atomics Court, San Diego, CA 92121, USA
4
INSERM U976, Hôpital Saint Louis, F-75475 Paris, France
5
Department of Immunology, Dermatology and Oncology, Univ Paris Diderot, Sorbonne Paris Cité, UMRS976 F-75475 Paris, France
6
Torrey Pines Institute for Molecular Studies, Laboratory of Autoimmunity, 3550 General Atomics Court, San Diego, CA 92121, USA
*
Author to whom correspondence should be addressed.
Received: 24 May 2011 / Revised: 27 June 2011 / Accepted: 6 July 2011 / Published: 13 July 2011
Abstract
Vimentin was originally identified as an intermediate filament protein present only as an intracellular component in many cell types. However, this protein has now been detected on the surface of a number of different cancer cell types in a punctate distribution pattern. Increased vimentin expression has been indicated as an important step in epithelial-mesenchymal transition (EMT) required for the metastasis of prostate cancer. Here, using two vimentin-specific monoclonal antibodies (SC5 and V9 directed against the coil one rod domain and the
C
-terminus of the vimentin protein, respectively), we examined whether either of these domains would be displayed on the surface of three commonly studied prostate cancer cell lines isolated from different sites of metastases. Confocal analysis of LNCaP, PC3 and DU145 prostate cancer cell lines (derived from lymph node, bone or brain prostate metastases, respectively) demonstrated that both domains of vimentin are present on the surface of these metastatic cancer cell types. In addition, flow cytometric analysis revealed that vimentin expression was readily detected along with CD44 expression but only a small subpopulation of prostate cancer cells expressed vimentin and the putative stem cell marker CD133 along with CD44. Finally, Cowpea mosaic virus (CPMV) nanoparticles that target vimentin could bind and internalize into tested prostate cancer cell lines. These results demonstrate that at least two domains of vimentin are present on the surface of metastatic prostate cancer cells and suggest that vimentin could provide a useful target for nanoparticle- or antibody- cancer therapeutic agents directed against highly invasive cancer and/or stem cells.
View Full-Text
►

▼

Figures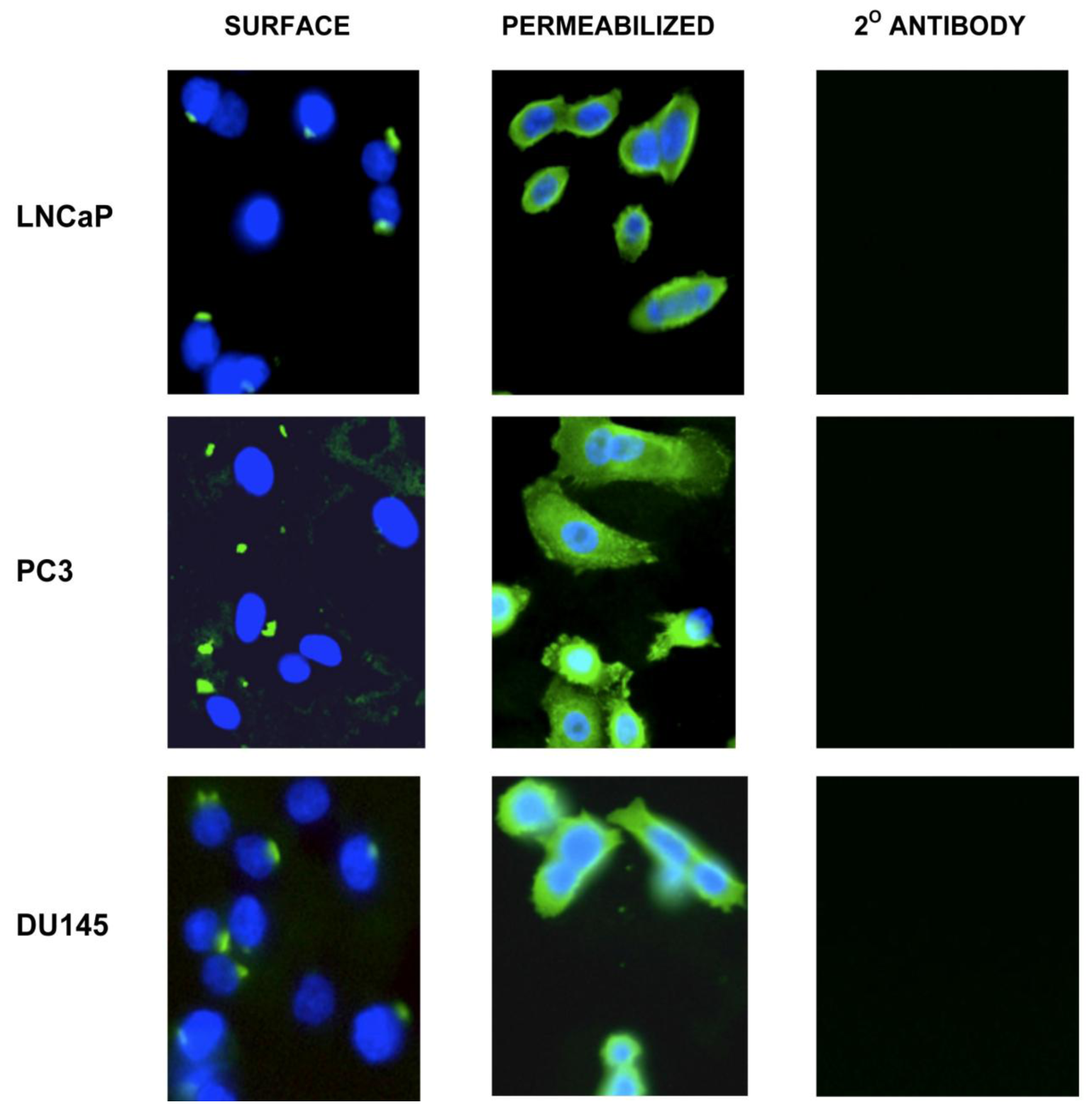 Share & Cite This Article
MDPI and ACS Style
Steinmetz, N.F.; Maurer, J.; Sheng, H.; Bensussan, A.; Maricic, I.; Kumar, V.; Braciak, T.A. Two Domains of Vimentin Are Expressed on the Surface of Lymph Node, Bone and Brain Metastatic Prostate Cancer Lines along with the Putative Stem Cell Marker Proteins CD44 and CD133. Cancers 2011, 3, 2870-2885.
Related Articles
Comments
[Return to top]