Surface Tension Flows inside Surfactant-Added Poly(dimethylsiloxane) Microstructures with Velocity-Dependent Contact Angles
1
Department of Biomechatronics Engineering, National Pingtung University of Science and Technology, 1, Shuefu Road, Neipu, Pingtung 91201, Taiwan
2
Department of Mechanical Engineering, National Chiao Tung University, 1001 University Road, Hsinchu 30010, Taiwan
3
Department of Power Mechanical Engineering, National Formosa University, 64, Wunhua Road, Huwei, Yunlin 63201, Taiwan
4
Department of Mechanical Engineering, Chinese Military Academy, 1, Weiwu Road, Fengshan, Kaohsiung 83059, Taiwan
*
Author to whom correspondence should be addressed.
Received: 6 January 2014 / Revised: 15 March 2014 / Accepted: 19 March 2014 / Published: 25 March 2014
Abstract
Filling of liquid samples is realized in a microfluidic device with applications including analytical systems, biomedical devices, and systems for fundamental research. The filling of a disk-shaped polydimethylsiloxane (PDMS) microchamber by liquid is analyzed with reference to microstructures with inlets and outlets. The microstructures are fabricated using a PDMS molding process with an SU-8 mold. During the filling, the motion of the gas-liquid interface is determined by the competition among inertia, adhesion, and surface tension. A single ramp model with velocity-dependent contact angles is implemented for the accurate calculation of surface tension forces in a three-dimensional volume-of-fluid based model. The effects of the parameters of this functional form are investigated. The influences of non-dimensional parameters, such as the Reynolds number and the Weber number, both determined by the inlet velocity, on the flow characteristics are also examined. An oxygen-plasma-treated PDMS substrate is utilized, and the microstructure is modified to be hydrophilic. Flow experiments are conducted into both hydrophilic and hydrophobic PDMS microstructures. Under a hydrophobic wall condition, numerical simulations with imposed boundary conditions of static and dynamic contact angles can successfully predict the moving of the meniscus compared with experimental measurements. However, for a hydrophilic wall, accurate agreement between numerical and experimental results is obvious as the dynamic contact angles were implemented.
View Full-Text
►

▼

Figures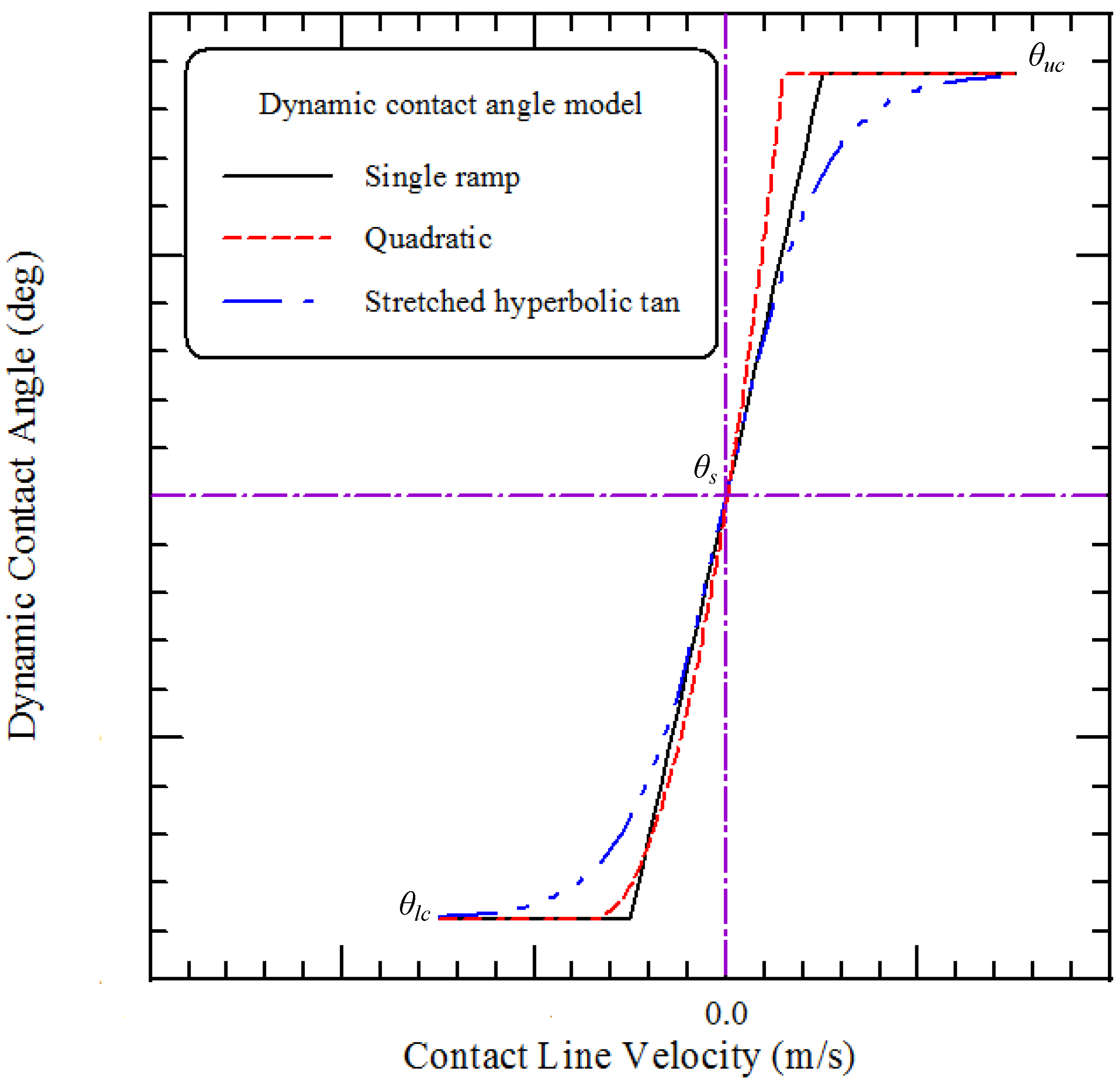 Figure 1
Share & Cite This Article
MDPI and ACS Style
Chen, J.J.; Liao, S.C.; Liu, M.H.; Lin, J.D.; Sheu, T.S.; Miao, M., Jr. Surface Tension Flows inside Surfactant-Added Poly(dimethylsiloxane) Microstructures with Velocity-Dependent Contact Angles. Micromachines 2014, 5, 116-138.
Related Articles
Comments
[Return to top]