The Effect of a Mediterranean Diet on the Incidence of Cataract Surgery
1
Department of Ophthalmology, University of Navarra, 31008 Pamplona, Spain
2
CIBER de la Fisiopatología de la Obesidad y la Nutrición (CIBEROBN), Instituto de Salud Carlos III, 28029 Madrid, Spain
3
The PREDIMED (Prevención con Dieta Mediterránea) Research Network (RD/06/0045), Instituto de Salud Carlos III (ISC III), 28029 Madrid, Spain
4
Department of Preventive Medicine and Public Health, University of Navarra, 31008 Pamplona, Spain
5
Department of Preventive Medicine, University of Valencia, 46010 Valencia, Spain
6
Cardiovascular Risk and Nutrition (Regicor Study Group), Hospital del Mar Medical Research Institute (IMIM), 08003 Barcelona, Spain
7
Department of Internal Medicine, August Pi i Sunyer Institute of Biomedical Research (IDIBAPS), Hospital Clinic, University of Barcelona, 08036 Barcelona, Spain
8
Department of Preventive Medicine, University of Malaga, 29016 Malaga, Spain
9
Institute of Health Sciences, University of Balearic Islands and Son Espases Hospital, 07122 Palma de Mallorca, Spain
10
Department of Family Medicine, Distrito Sanitario Atención Primaria Sevilla, Centro de Salud San Pablo, 41007 Sevilla, Spain
11
Department of Clinical Sciences, University of Las Palmas de Gran Canaria, 35001 Las Palmas de Gran Canaria, Spain
12
Lipids and Vascular Risk Units. Internal Medicine, University Hospital of Bellvitge, Hospitalet de Llobregat, 08907 Barcelona, Spain
13
Nutrition and Obesity Group Department of Nutrition and Food Science, University of Basque Country and Lucio Lascaray Research Center, 48940 Vitoria, Spain
14
Human Nutrition Unit, Faculty of Medicine and Health Sciences, IISPV, Rovira i Virgili University, 43003 Reus, Spain
15
Cap La Mina, University of Barcelona, 08930 Barcelona, Spain
16
Lipid Clinic, Endocrinology and Nutrition Service, IDIBAPS, Hospital Clinic, University of Barcelona, 08036 Barcelona, Spain
17
Department of Cardiology, University Hospital Araba, 01009 Vitoria, Spain
*
Author to whom correspondence should be addressed.
Received: 2 April 2017 / Revised: 21 April 2017 / Accepted: 28 April 2017 / Published: 3 May 2017
Abstract
Background: Cataract is a leading cause of vision impairment worldwide, and surgery is the only available treatment. The process that initiates lens opacification is dependent on the oxidative stress experienced by the lens components. A healthy overall dietary pattern, with the potential to reduce oxidative stress, has been suggested as a means to decrease the risk of developing cataract. We aimed to investigate the hypothesis that an intervention with a Mediterranean diet (MedDiet) rather than a low-fat diet could decrease the incidence of cataract surgery in elderly subjects. Methods: We included 5802 men and women (age range: 55–80 years) from the Prevención con Dieta Mediterránea study (multicenter, parallel-group, randomized controlled clinical trial) who had not undergone cataract surgery. They were randomly assigned to one of three intervention groups: (1) a MedDiet enriched with extra-virgin olive oil (EVOO) (
n
= 1998); (2) a MedDiet enriched with nuts (
n
= 1914), and a control group recommended to follow a low-fat diet (
n
= 1890). The incidence of cataract surgery was recorded yearly during follow-up clinical evaluations. Primary analyses were performed on an intention-to-treat basis. Cox regression analyses were used to assess the relationship between the nutritional intervention and the incidence of cataract surgery. Results: During a follow-up period of 7.0 years (mean follow-up period: 5.7 years; median: 5.9 years), 559 subjects underwent cataract surgery. Two hundred and six participants from the MedDiet + EVOO group, 174 from the MedDiet + Nuts group, and 179 from the control group underwent cataract surgery. We did not observe a reduction in the incidence of cataract surgery in the MedDiet groups compared to the control group. The multivariable adjusted hazard ratios were 1.03 (95% confidence interval [CI]: 0.84–1.26,
p
= 0.79) for the control group versus the MedDiet + EVOO group and 1.06 (95% CI: 0.86–1.31,
p
= 0.58) for the control group versus the MedDiet + Nuts group. Conclusions: To our knowledge, this is the first large randomized trial assessing the role of a MedDiet on the incidence of cataract surgery. Our results showed that the incidence of cataract surgery was similar in the MedDiet with EVOO, MedDiet with nuts, and low-fat diet groups. Further studies are necessary to investigate whether a MedDiet could have a preventive role in cataract surgery.
View Full-Text
►

▼

Figures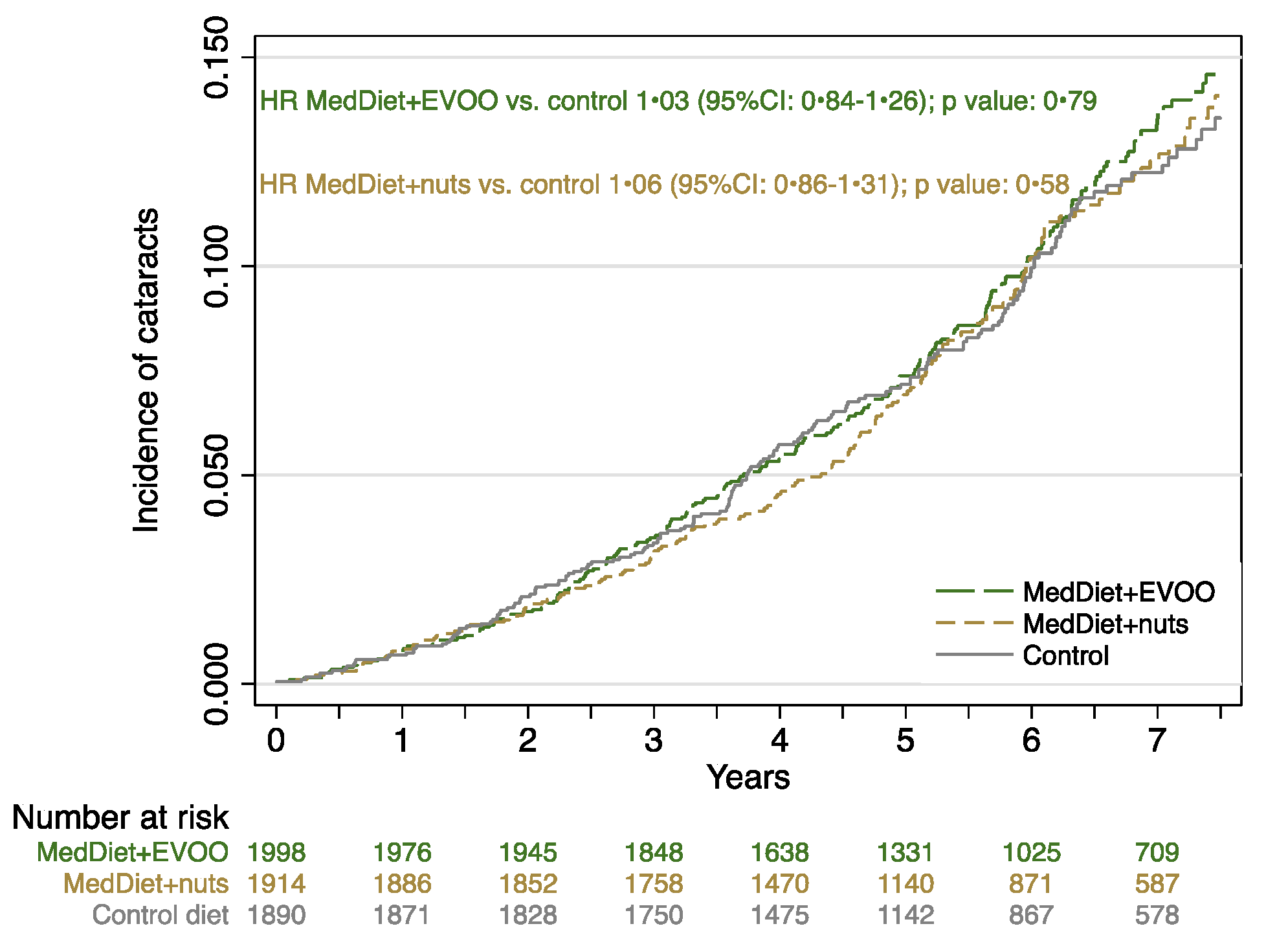 Figure 1
This is an open access article distributed under the
Creative Commons Attribution License
which permits unrestricted use, distribution, and reproduction in any medium, provided the original work is properly cited. (CC BY 4.0).
Share & Cite This Article
MDPI and ACS Style
García-Layana, A.; Ciufo, G.; Toledo, E.; Martínez-González, M.A.; Corella, D.; Fitó, M.; Estruch, R.; Gómez-Gracia, E.; Fiol, M.; Lapetra, J.; Serra-Majem, L.; Pintó, X.; Portillo, M.P.; Sorli, J.V.; Bulló, M.; Vinyoles, E.; Sala-Vila, A.; Ros, E.; Salas-Salvadó, J.; Arós, F. The Effect of a Mediterranean Diet on the Incidence of Cataract Surgery. Nutrients 2017, 9, 453.
Note that from the first issue of 2016, MDPI journals use article numbers instead of page numbers. See further details here.
Related Articles
Comments
[Return to top]