CYP1A2 Genotype Variations Do Not Modify the Benefits and Drawbacks of Caffeine during Exercise: A Pilot Study
Exercise Physiology Laboratory, Camilo José Cela University, Madrid 28692, Spain
*
Author to whom correspondence should be addressed.
Received: 7 December 2016 / Revised: 20 February 2017 / Accepted: 8 March 2017 / Published: 11 March 2017
Abstract
Previous investigations have determined that some individuals have minimal or even ergolytic performance effects after caffeine ingestion. The aim of this study was to analyze the influence of the genetic variations of the CYP1A2 gene on the performance enhancement effects of ingesting a moderate dose of caffeine. In a double-blind randomized experimental design, 21 healthy active participants (29.3 ± 7.7 years) ingested 3 mg of caffeine per kg of body mass or a placebo in testing sessions separated by one week. Performance in the 30 s Wingate test, visual attention, and side effects were evaluated. DNA was obtained from whole blood samples and the CYP1A2 polymorphism was analyzed (rs762551). We obtained two groups: AA homozygotes (
n
= 5) and C-allele carriers (
n
= 16). Caffeine ingestion increased peak power (682 ± 140 vs. 667 ± 137 W;
p
= 0.008) and mean power during the Wingate test (527 ± 111 vs. 518 ± 111 W;
p
< 0.001) with no differences between AA homozygotes and C-allele carriers (
p
> 0.05). Reaction times were similar between caffeine and placebo conditions (276 ± 31 vs. 269 ± 71 milliseconds;
p
= 0.681) with no differences between AA homozygotes and C-allele carriers. However, 31.3% of the C-allele carriers reported increased nervousness after caffeine ingestion, while none of the AA homozygotes perceived this side effect. Genetic variations of the CYP1A2 polymorphism did not affect the ergogenic effects and drawbacks derived from the ingestion of a moderate dose of caffeine.
View Full-Text
►

▼

Figures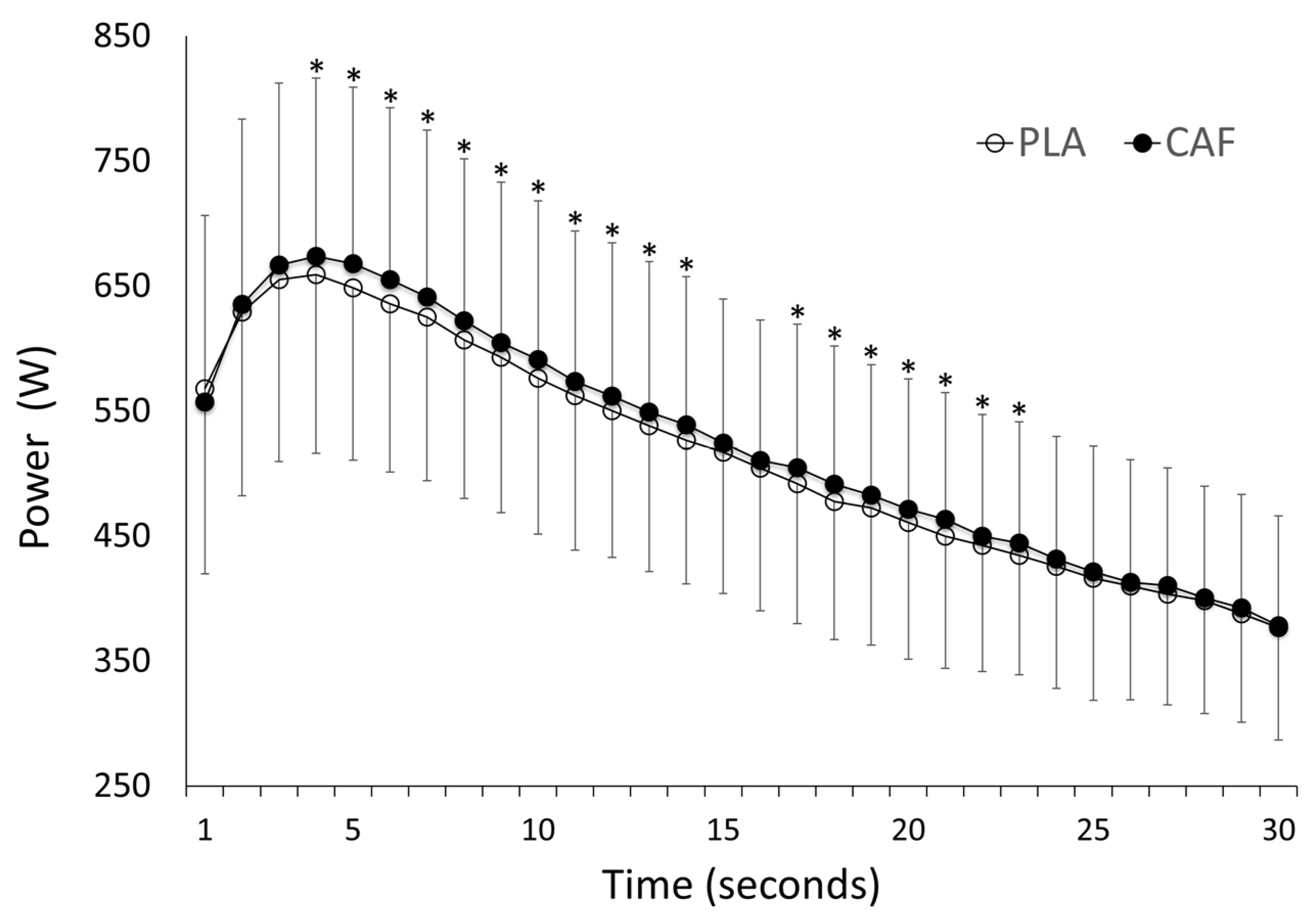 Figure 1
This is an open access article distributed under the
Creative Commons Attribution License
which permits unrestricted use, distribution, and reproduction in any medium, provided the original work is properly cited. (CC BY 4.0).
Share & Cite This Article
MDPI and ACS Style
Salinero, J.J.; Lara, B.; Ruiz-Vicente, D.; Areces, F.; Puente-Torres, C.; Gallo-Salazar, C.; Pascual, T.; Del Coso, J. CYP1A2 Genotype Variations Do Not Modify the Benefits and Drawbacks of Caffeine during Exercise: A Pilot Study. Nutrients 2017, 9, 269.
Note that from the first issue of 2016, MDPI journals use article numbers instead of page numbers. See further details here.
Related Articles
Comments
[Return to top]