Iodine Concentration in Breastmilk and Urine among Lactating Women of Bhaktapur, Nepal
1
Oslo and Akershus University College of Applied Sciences, P.O. Box 4, St. Olavs plass, Oslo 0130, Norway
2
National Institute of Nutrition and Seafood Research (NIFES), Bergen 5817, Norway
3
Department of Child Health, Institute of Medicine, Tribhuvan University ,Maharajgunj, P.O. Box 1524, Kathmandu 44600, Nepal
4
Centre for International Health, University of Bergen, P.O. Box 7800, Bergen 5020, Norway
5
Burden of Disease Research Unit, South African Medical Research Council, P.O. Box 19070, Tygerberg 7505, South Africa
6
Division of Human Nutrition and Department of Paediatrics and Child Health, Faculty of Medicine and Health Sciences, Stellenbosch University, Francie van Zijl Drive, Tygerberg Hospital, Tygerberg 7505, South Africa
7
Department of Research, Innlandet Hospital Trust, Lillehammer 2629, Norway
*
Author to whom correspondence should be addressed.
Received: 7 March 2016 / Revised: 15 April 2016 / Accepted: 21 April 2016 / Published: 28 April 2016
Abstract
Adequate iodine concentration in breastmilk (BMIC) is essential for optimal neonatal thyroid hormone synthesis and neurological development in breastfed infants. For many decades, iodine deficiency has been a public health problem in Nepal. However, recently, excessive iodine intakes among Nepali infants have been reported. This study aimed to measure BMIC and urinary iodine concentration (UIC) among lactating women in a peri-urban area of Nepal. Iodine concentration was measured in spot urine (
n
= 485) and breastmilk samples (
n
= 291) of 500 randomly selected lactating women. The median (p25, p75) BMIC and median UIC were 250 (130, 370) µg/L and 230 (135–377) µg/L, respectively. Around 82% had BMIC > 100 µg/L, 61% had BMIC > 200 µg/L and 81% had UIC > 100 µg/L, 37% had >300 µg/L and 20% had >500 µg/L. In multiple linear regression models, time since birth (β 3.0, 95% CI (0.2, 5.0)) and UIC (β 1.0, 95% CI (0.1, 2.0)) were associated with BMIC, explaining 26% of the variance. A large proportion of the women had adequate BMIC and UIC; however, a subset had high iodine concentrations. These findings emphasize the importance of carefully monitoring iodine intake to minimize the risk of iodine excess and subsequently preventing transient iodine-induced hypothyroidism in breastfed infants.
View Full-Text
►

▼

Figures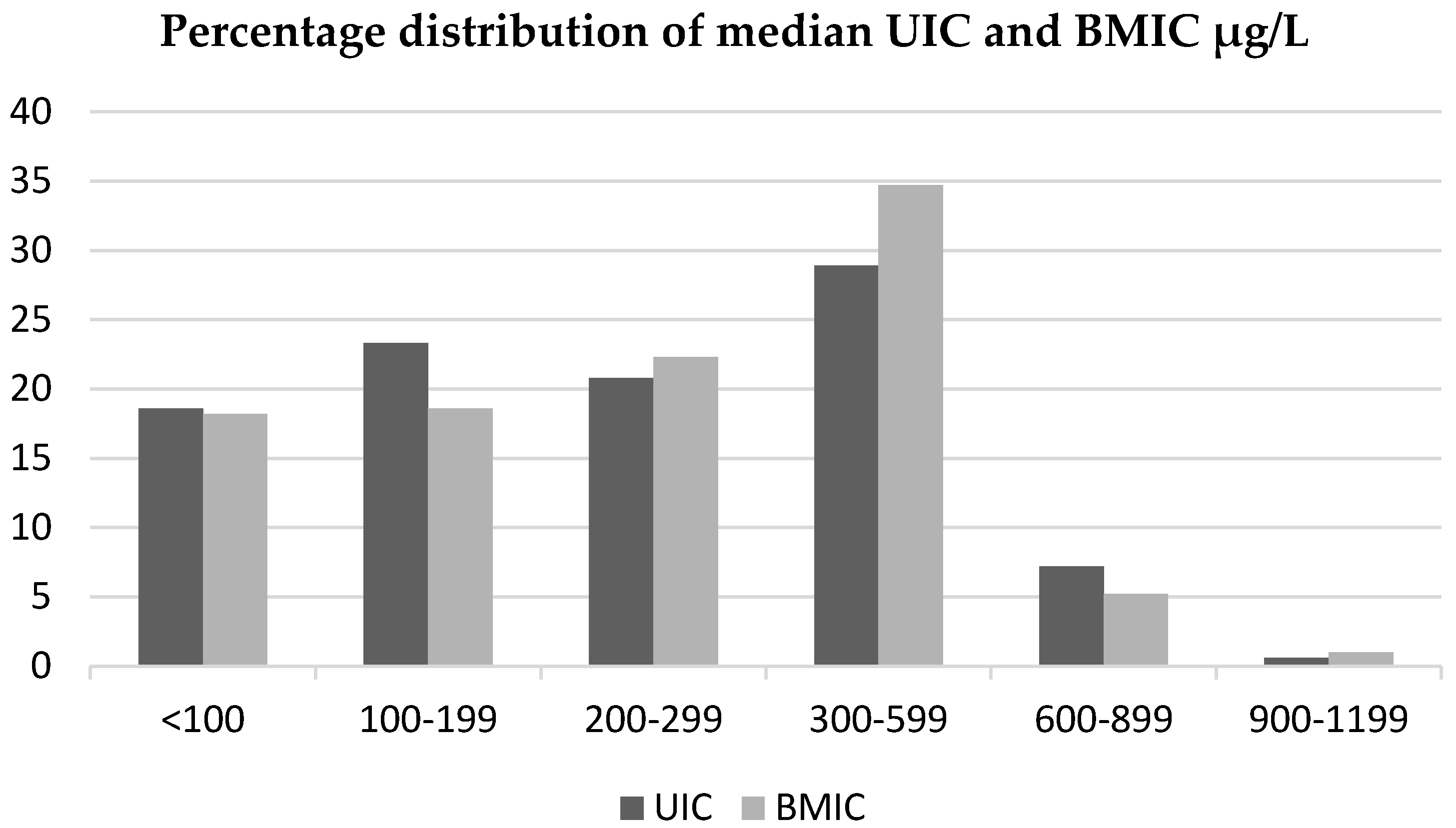 Figure 1
This is an open access article distributed under the
Creative Commons Attribution License
which permits unrestricted use, distribution, and reproduction in any medium, provided the original work is properly cited. (CC BY 4.0).
Share & Cite This Article
MDPI and ACS Style
Henjum, S.; Kjellevold, M.; Ulak, M.; Chandyo, R.K.; Shrestha, P.S.; Frøyland, L.; Strydom, E.E.; Dhansay, M.A.; Strand, T.A. Iodine Concentration in Breastmilk and Urine among Lactating Women of Bhaktapur, Nepal. Nutrients 2016, 8, 255.
Note that from the first issue of 2016, MDPI journals use article numbers instead of page numbers. See further details here.
Related Articles
Comments
[Return to top]