Predictive Validity of the Body Adiposity Index in Overweight and Obese Adults Using Dual-Energy X-ray Absorptiometry
1
Centro de Estudios para la Medición de la Actividad Física «CEMA», Escuela de Medicina y Ciencias de la Salud, Universidad del Rosario, Bogota, DC 111221, Colombia
2
Grupo de Ejercicio Físico y Deportes, Vicerrectoria de Investigaciones, Universidad Manuela Beltrán, Bogota, DC 110231, Colombia
3
Laboratorio de Ciencias de la Actividad Física, el Deporte y la Salud, Universidad de Santiago de Chile, USACH, Santiago 7500618, Chile
4
Grupo GICAEDS, Facultad de Cultura Física, Deporte y Recreación, Universidad Santo Tomás, Bogota, DC 110311, Colombia
*
Author to whom correspondence should be addressed.
Received: 27 September 2016 / Revised: 28 October 2016 / Accepted: 16 November 2016 / Published: 30 November 2016
Abstract
The body adiposity index (BAI) is a recent anthropometric measure proven to be valid in predicting body fat percentage (BF%) in some populations. However, the results have been inconsistent across populations. This study was designed to verify the validity of BAI in predicting BF% in a sample of overweight/obese adults, using dual-energy X-ray absorptiometry (DEXA) as the reference method. A cross-sectional study was conducted in 48 participants (54% women, mean age 41.0 ± 7.3 years old). DEXA was used as the "gold standard" to determine BF%. Pearson's correlation coefficient was used to evaluate the association between BAI and BF%, as assessed by DEXA. A paired sample
t
-test was used to test differences in mean BF% obtained with BAI and DEXA methods. To evaluate the concordance between BF% as measured by DEXA and as estimated by BAI, we used Lin's concordance correlation coefficient and Bland–Altman agreement analysis. The correlation between BF% obtained by DEXA and that estimated by BAI was
r
= 0.844,
p
< 0.001. Paired
t
-test showed a significant mean difference in BF% between methods (BAI = 33.3 ± 6.2 vs. DEXA 39.0 ± 6.1;
p
< 0.001). The bias of the BAI was −6.0 ± 3.0 BF% (95% CI = −12.0 to 1.0), indicating that the BAI method significantly underestimated the BF% compared to the reference method. Lin's concordance correlation coefficient was considered stronger (
ρc
= 0.923, 95% CI = 0.862 to 0.957). In obese adults, BAI presented low agreement with BF% measured by DEXA; therefore, BAI is not recommended for BF% prediction in this overweight/obese sample studied.
View Full-Text
►

▼

Figures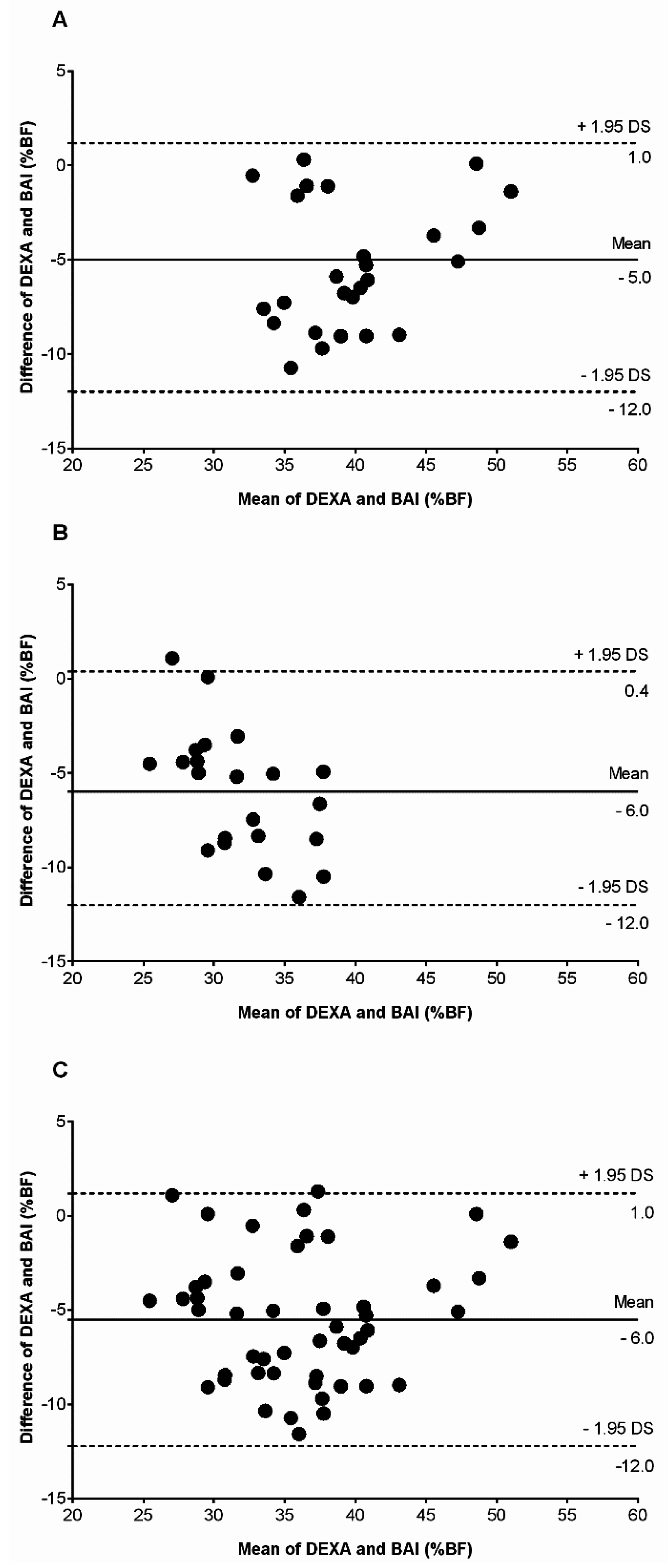 Figure 1
This is an open access article distributed under the
Creative Commons Attribution License
which permits unrestricted use, distribution, and reproduction in any medium, provided the original work is properly cited. (CC BY 4.0).
Share & Cite This Article
MDPI and ACS Style
Ramírez-Vélez, R.; Correa-Bautista, J.E.; González-Ruíz, K.; Vivas, A.; García-Hermoso, A.; Triana-Reina, H.R. Predictive Validity of the Body Adiposity Index in Overweight and Obese Adults Using Dual-Energy X-ray Absorptiometry. Nutrients 2016, 8, 737.
Note that from the first issue of 2016, MDPI journals use article numbers instead of page numbers. See further details here.
Related Articles
Comments
[Return to top]