Dietary Fiber Intake is Associated with Increased Colonic Mucosal GPR43+ Polymorphonuclear Infiltration in Active Crohn's Disease
1
Department of General Surgery, Jinling Hospital, No. 305 East Zhongshan Rd., Nanjing 210002, China
2
Department of General Surgery, Nanfang Hospital, South Medical University, No. 1838 North Guangzhoudadao Rd., Guangzhou 510515, China
*
Author to whom correspondence should be addressed.
Received: 31 May 2015 / Revised: 7 June 2015 / Accepted: 16 June 2015 / Published: 1 July 2015
Abstract
G protein-coupled receptor 43/free fatty acid receptor 2 (GPR43/FFAR2) is essential for polymorphonuclear (PMN) recruitment. We investigated the expression of GPR43/FFAR2 in the colon from Crohn's disease patients and whether dietary fiber in enteral nutrition increases GPR43+ polymorphonuclear infiltration in mucosa. Segments of ascending colon and white blood cells from peripheral blood were obtained from 46 Crohn's disease patients and 10 colon cancer patients. The Crohn's disease patients were grouped by the activity of disease (active or remission) and enteral nutrition with or without dietary fiber. Histological feature, expression and location of GPR43/FFAR2 and level of tumor necrosis factor-α (TNF-α), interleukine-6 (IL-6) and myeloperoxidase were assessed. The results of hematoxylin-eosin and immunohistochemistry staining revealed that the infiltration of immune cells, including GPR43+ PMN, was more severe in active Crohn's disease patients who consumed normal food or enteral nutrition with dietary fiber than in remission patients and colon cancer patients. This finding was supported by the results of GPR43 and myeloperoxidase expression. Active Crohn's disease (CD) patients who consumed enteral nutrition without dietary fiber exhibited severe immune cell infiltration similar to the other active CD patients, but GPR43+ PMNs were rarely observed. The level of TNF-α mRNA in active Crohn's disease patients was higher than those of the other patients. In conclusion, the use of dietary fiber in enteral nutrition by active Crohn's disease patients might increase GPR43+ PMNs infiltration in colon mucosa. This effect was not observed in Crohn's disease patients in remission.
View Full-Text
►

▼

Figures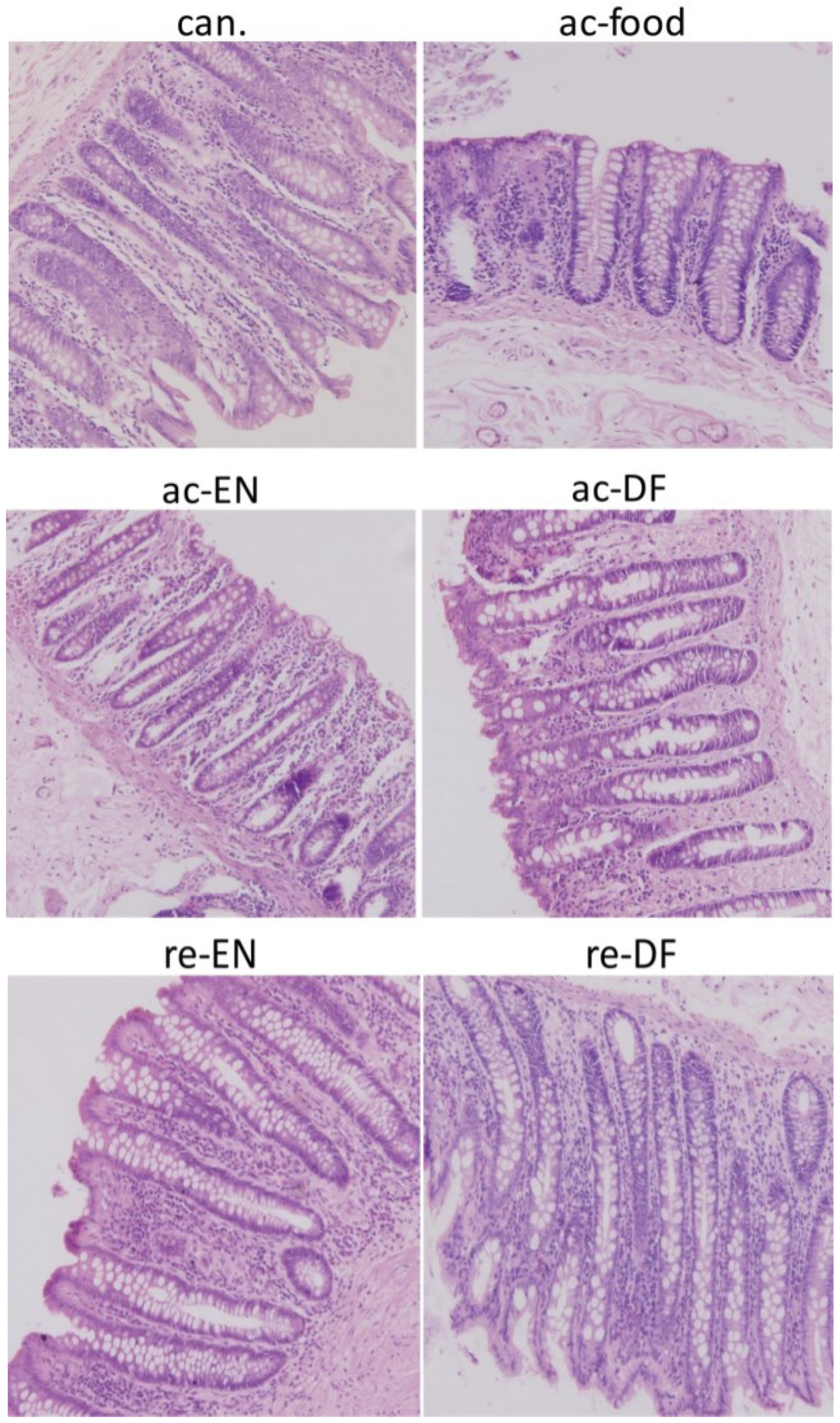 Figure 1
This is an open access article distributed under the
Creative Commons Attribution License
which permits unrestricted use, distribution, and reproduction in any medium, provided the original work is properly cited. (CC BY 4.0).
Share & Cite This Article
MDPI and ACS Style
Zhao, M.; Zhu, W.; Gong, J.; Zuo, L.; Zhao, J.; Sun, J.; Li, N.; Li, J. Dietary Fiber Intake is Associated with Increased Colonic Mucosal GPR43+ Polymorphonuclear Infiltration in Active Crohn's Disease. Nutrients 2015, 7, 5327-5346.
Related Articles
Comments
[Return to top]