Gender-Associated Impact of Early Leucine Supplementation on Adult Predisposition to Obesity in Rats
Laboratorio de Biología Molecular, Nutrición y Biotecnología (LBNB), University of the Balearic Islands and CIBER de Fisiopatología de la Obesidad y Nutrición (CIBEROBN), E-07122 Palma de Mallorca, Spain
†
'Nutrigenomics and Obesity' (NUO) Group, Member of the Fundació Institut d'Investigació Sanitària Illes Balears-IdISBA.
*
Author to whom correspondence should be addressed.
Received: 16 October 2017 / Revised: 15 December 2017 / Accepted: 6 January 2018 / Published: 12 January 2018
Abstract
Early nutrition plays an important role in development and may constitute a relevant contributor to the onset of obesity in adulthood. The aim of this study was to evaluate the long-term impact of maternal leucine (Leu) supplementation during lactation on progeny in rats. A chow diet, supplemented with 2% Leu, was supplied during lactation (21 days) and, from weaning onwards, was replaced by a standard chow diet. Then, at adulthood (6 months of age), this was replaced with hypercaloric diets (either with high-fat (HF) or high-carbohydrate (HC) content), for two months, to induce obesity. Female offspring from Leu-supplemented dams showed higher increases in body weight and in body fat (62%) than their respective controls; whereas males were somehow protected (15% less fat than the corresponding controls). This profile in Leu-females was associated with altered neuronal architecture at the paraventricular nucleus (PVN), involving neuropeptide Y (NPY) fibers and impaired expression of neuropeptides and factors of the mTOR signaling pathway in the hypothalamus. Interestingly, leptin and adiponectin expression in adipose tissue at weaning and at the time before the onset of obesity could be defined as early biomarkers of metabolic disturbance, predisposing towards adult obesity under the appropriate environment.
View Full-Text
►

▼

Figures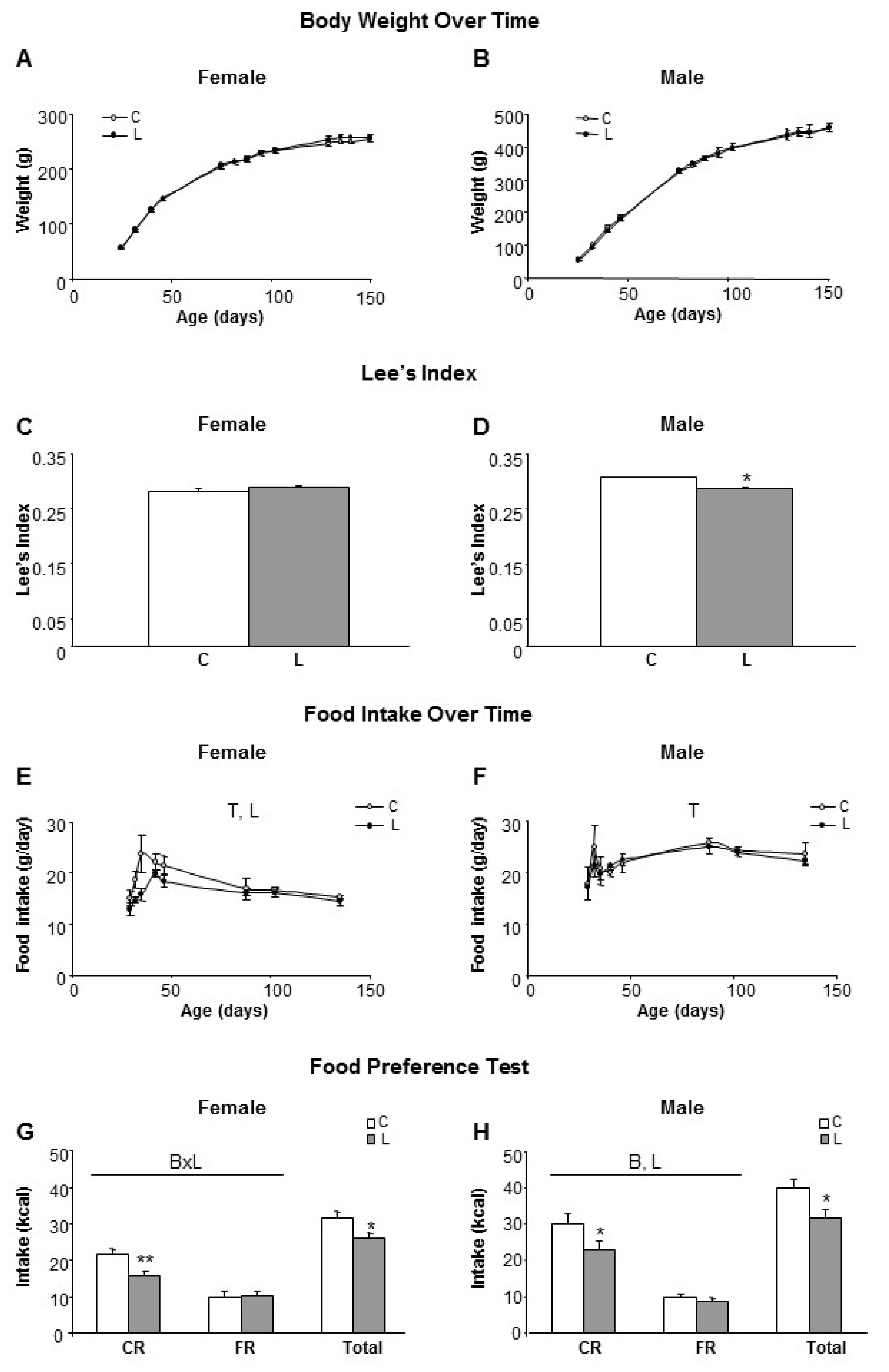 Figure 1
This is an open access article distributed under the
Creative Commons Attribution License
which permits unrestricted use, distribution, and reproduction in any medium, provided the original work is properly cited. (CC BY 4.0).
Share & Cite This Article
MDPI and ACS Style
López, N.; Sánchez, J.; Palou, A.; Serra, F. Gender-Associated Impact of Early Leucine Supplementation on Adult Predisposition to Obesity in Rats. Nutrients 2018, 10, 76.
Note that from the first issue of 2016, MDPI journals use article numbers instead of page numbers. See further details here.
Related Articles
Comments
[Return to top]