Eating Patterns in Patients with Compensated Cirrhosis: A Case-Control Study
1
Nutritionnal Epidemiology Research Team (EREN), Paris 13 University, UMR U1153 Inserm, Inra U1125, Cnam, Center of Reasearch in Epidemiology and Biostatistics (CRESS) Sorbonne Paris Cité, 75004 Paris, France
2
Public Health Department, University Hospitals of Paris Seine-Saint-Denis, APHP, Avicenne Hospital, 93000 Bobigny, France
3
Hepatology Department, University Hospitals of Paris Seine-Saint-Denis, APHP, Jean Verdier Hospital, 93140 Bondy, France
4
Hepatology Unit, University Hospitals of Paris Seine-Saint-Denis, APHP, Avicenne Hospital, 93000 Bobigny, France
5
Formation and Research Unit in Health Medicine and Human Biology, Paris 13 University, Sorbonne Paris Cité, 93430 Paris, France
6
Hepatitis Department ANRS (France Recherche Nord & Sud, SIDA-VIH-Hépatites), 75013 Paris, France
7
UMR 1162 Inserm, Universités Paris 5, Paris 7 and Paris 13, 75006 Paris, France
*
Author to whom correspondence should be addressed.
Received: 6 November 2017 / Revised: 22 December 2017 / Accepted: 9 January 2018 / Published: 10 January 2018
Abstract
Background: There is growing evidence suggesting that maintaining an adequate nutritional status for patients with liver cirrhosis (LC) is relevant to prevent complications. The present study aimed to describe dietary behaviours of patients with compensated and non-complicated LC and comparing them with those of subjects from the general population. Methods: In this case-control study, patients were volunteers enrolled in the ALICIR (ALImentation et CIRrhose) study, an observational survey nested in two French prospective cohorts of patients with biopsy-proven compensated cirrhosis related either to excessive alcohol consumption (CIRRAL) or to hepatitis B or C virus infection (CirVir). Controls were selected from the NutriNet-Santé cohort. Dietary data were collected through a semi quantitative food frequency questionnaire. Dietary and nutritional data were compared using multi-adjusted paired Student's tests. Results: Between June 2014 and February 2016, 174 patients of CirVir (
N
= 97) or CIRRAL (
N
= 77) were matched with 348 controls from the NutriNet-Santé cohort, according to gender, age, BMI and educational level. Compared to controls, patients (mean ± SD) consumed more sodas (236.0 ± 29.8 mL vs. 83.0 ± 33.0 mL) and water (1787.6 ± 80.6 mL vs. 933.6 ± 85.3 mL), and lower amounts of salty snacks (4.2 ± 1.42 g vs. 9.0 ± 1.6 g) and alcoholic beverages (71.8 ± 23.4 g vs. 151.2 ± 25.9 g), with all
p
values < 0.0001. Dietary behaviours differed according to LC aetiology. Conclusions: Dietary behaviour of patients significantly differed from subjects from the general population.
View Full-Text
►

▼

Figures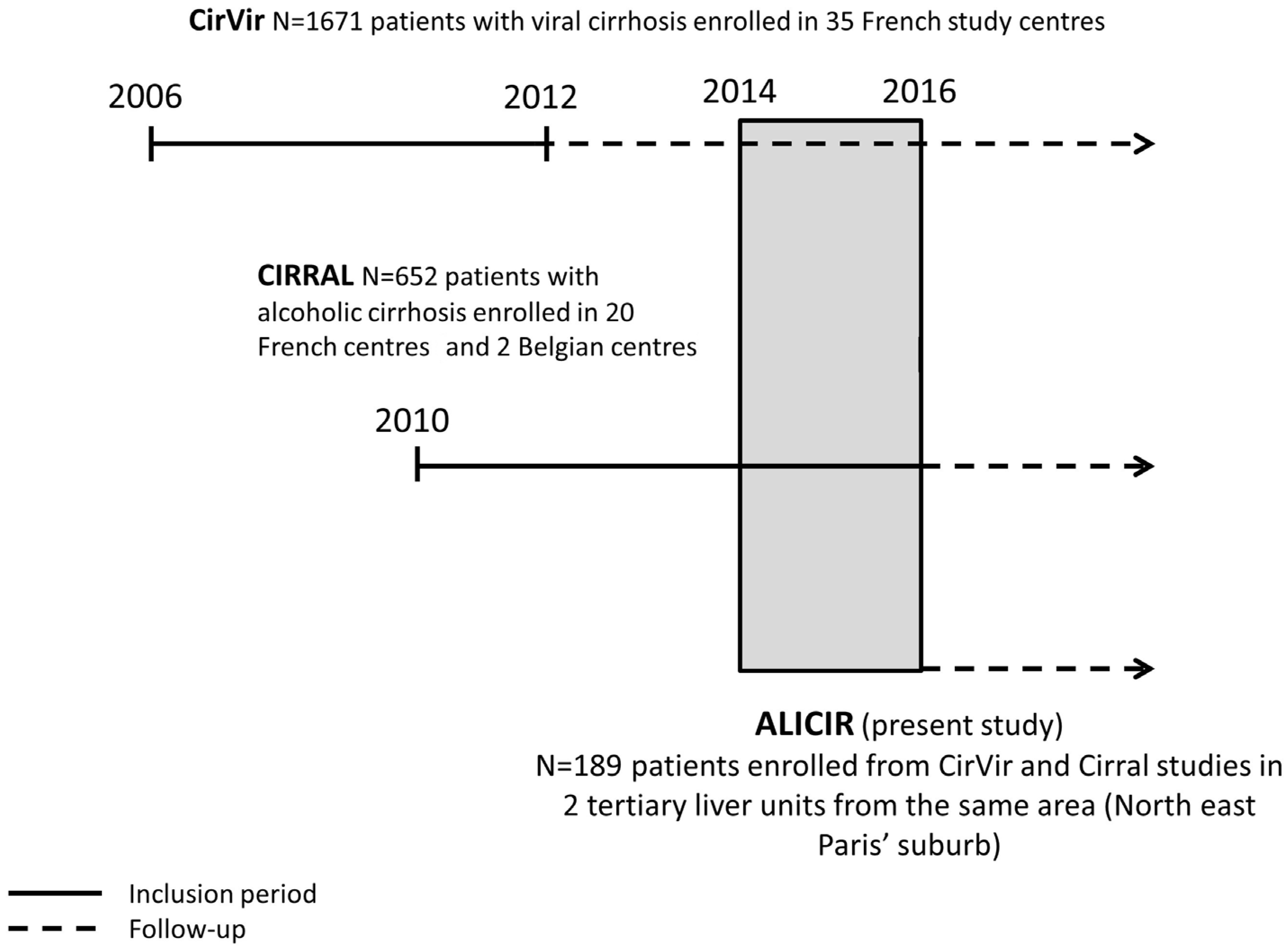 Figure 1
This is an open access article distributed under the
Creative Commons Attribution License
which permits unrestricted use, distribution, and reproduction in any medium, provided the original work is properly cited. (CC BY 4.0).
Share & Cite This Article
MDPI and ACS Style
Buscail, C.; Bourcier, V.; Fezeu, L.K.; Roulot, D.; Brulé, S.; Ben-Abdesselam, Z.; Cagnot, C.; Hercberg, S.; Nahon, P.; Ganne-Carrié, N.; Julia, C. Eating Patterns in Patients with Compensated Cirrhosis: A Case-Control Study. Nutrients 2018, 10, 60.
Note that from the first issue of 2016, MDPI journals use article numbers instead of page numbers. See further details here.
Related Articles
Comments
[Return to top]